With a history dating back to 28,000 B.C. — during the late paleolithic period — ceramics is one of the oldest industries to mankind.
Ancient Egyptians fired pottery. The Chinese invented the kiln in the 7th century. The Romans, the Greeks, the Ming — nearly every dynasty turned clay into tools — and art. In the Americas, Native Americans have perfected the art form of pottery for over 7,500 years — and some of the most prized pottery in the world is now made by members of Pueblo tribes throughout the Southwest.
The ceramic and glass industry is expected to be a $1.1 trillion industry by 2023. From up-and-coming artists with an Instagram handle and the perfect piece for your kitchen, to art-gallery quality statement pieces from world-class legends, these are one-of-a-kind pieces that always tell a story.
Photo by Katsia Jazwinska on Unsplash
#1 — Wolf Ceramics
Based in Portland, Oregon, Sarah Wolf of Wolf Ceramics creates mugs, bowls, and homegoods. With a background in geochemistry, Wolf's previous life was far from what one might expect from an artist. After getting her certificate in ceramics at the Oregon College of Art and Craft, Wolf now heads up a team of three, which includes production assistants Carson Culp and Kyle Lawson, to create Wolf Ceramics' striking pieces. Shop Wolf Ceramics here.
#2 — Farmhouse Pottery
Based in Woodstock, Vermont and Hanover, New Hampshire, the team behind Farmhouse Pottery is far from the image of a single artist toiling away in a studio all day to make a single mug. As demand for their simple yet eye-catching wares grew, the Farmhouse team expanded with it, now offering a variety of complementary goods, such as handcrafted wallets and scarves. Following in the footsteps of Bennington Potters, another famed Vermont mainstay, Farmhouse Pottery offers Wheel Workshops for those looking to get their hands dirty and learn the craft for themselves.
#3 — ANK Ceramics
ANK stands for Ariela Nomi Kuh, the artist behind ANK Ceramics based in Lincolnville, Maine, where they craft timeless vessels in eye-catching shades like cerulean blue and reds reminiscent of the desert. Founded in 2009, the ANK behind ANK Ceramics was inspired by the tactility and challenge of molding clay, and "the pace and physical possibilities and parameters of clay, glaze, and oxidation firing." By hand-mixing glazes ANK is able to create custom colors unlike any others out there – creating a truly unique piece from start to finish.
#4 — Chris Casey
The precision and detail in Chris Casey's art is enough to give you pause. There's nothing wrong with staring — his pottery is a complete and mesmerizing beauty, with eye-popping, whimsical colors and character to each piece. His Southwestern influences comes from the clay-rich soils of New Mexico, where he was raised. Chris Casey is now a resident artist at the Red Lodge Clay Center in Montana and one of the most exciting young clay artists in the country.
#5 — Russel Sanchez
Like many Pueblo potters, Russel Sanchez, a member of the San Ildefonso tribe in New Mexico, had clay in his hands from a young age. His great aunt was the legendary matriarch potter Rose Gonzalez — and, from the age of 12, she molded him into an internationally known artist himself. In 2019, Sanchez won "Best of Pottery" at the world-class Sante Fe Indian Market for his innovative work. Each of his pieces is hand-coiled, stone polished, etched, inlaid, designed, and fired while utilizing traditional Native American pottery methods. His work is shown in the Smithsonian, the Millicent Rogers Museum in Taos, and the Museum of Natural History in Los Angeles.
Photo by NordWood Themes on Unsplash
Do you have a favorite ceramics maker to recommend? Share with us on social by tagging @AvocadoMattress and #AvocadoGreenMagazine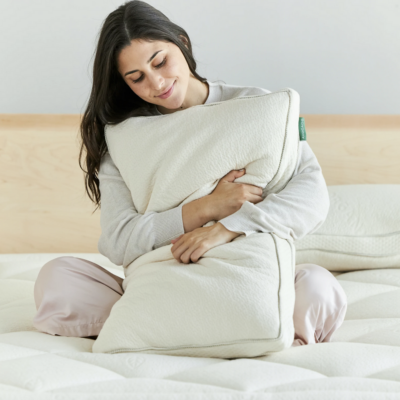 Shop Pillows
The Essential Organic Pillow Collection
Gentle, breathable, non-toxic support.
Buy Now