I don't know about you guys, but most mornings, I'm usually too busy to do anything but grab my (cold) coffee and chase down my toddler. Getting a balanced breakfast in at the start of the day can actually help to prevent you from overeating later though, so it's worth planning ahead to make sure there's something irresistible ready to rock in the morning.
Here are 13 make ahead breakfast recipes, some of them healthy, some of them, well, not, but all of which are delicious and can be whipped up the night before for an easy reheat-and-go in the morning.
Overnight oats are the breakfast sensation that has dominated mason jars for the past couple of years, and there's no sign of the trend slowing down for this nutritious make-ahead breakfast. This no-cook oatmeal recipe is 100% customizable, whether you're vegan or paleo.
To get started, just put dry oats into a mason jar, and stir your milk of choice in. Add any spices or sweeteners you may want to throw in, and then start layering your favorite ingredients. When you wake up, the oatmeal will be soft, and you'll have a high fiber breakfast, ready to go — just add spoon.
This kid-friendly breakfast is great for families on-the-go. Use any cheese you like, and try to find an MSG-free ham to use. Make them the night before, or freeze them for the week. To reheat, just toss them in the microwave or a cast iron skillet with a lid, and let them warm up for a few minutes before grabbing and going.
Brownies? For breakfast? Don't judge.
These delicious little bites are 100% flourless with no added sugar, and even have protein powder for an added energy boost. That coupled with the natural energy boost of the theobromine in the cocoa powder will keep you going well into lunch, and with a smile on your beaming, brownies-for breakfast-eating face.
These little muffins are SO easy to make, especially if you have some silicone cupcake liners handy. Add all of your favorite ingredients (even cheese, if you're not paleo), make ahead, and heat just before you run out the door with one.
These bad boys require a little bit of prep work (caution: chopping required), but can easily be made in bulk quantities, wrapped in wax paper, and thrown in the freezer. I don't own a microwave, so I just heat them with a little bit of butter in my cast iron skillet for a few minutes, turning every now and then, and voila!
Orange Is the New Black fans, rejoice — Red's famous corn and leek quiche is officially on the menu, and it is absolutely worth going to prison for. Warm up individual slices when you go to have some throughout the week so you don't dry out the eggs, and be sure to savor those little fried pieces of sage — they're indispensable.
This one's far from healthy, but sometimes, you just need s'mores for breakfast, m'kay?
If you're not keen on the ingredients in conventional marshmallows and Golden Grahams, Cascadian Farms makes some fantastic organic cereals, and that's right — they even have their own version of the famed graham cracker cereal.
For the marshmallows, you can snag some of Dandies' vegan marshmallows from The Natural Candy Store to skip the corn syrup in conventional ones.
Quinoa? For breakfast? Why not!
Loaded with protein, quinoa is a great substitute for oatmeal if you're on a restricted diet, and packs more of a nutritional punch. Store this make ahead breakfast in mason jars and grab as you need 'em.
Like with overnight oats, there are dozens of ways to customize baked oatmeal cups to your own preference. These are best made in foil or silicone cupcake liners, simply because they can be so sticky, so be sure to have some on hand before you start making them.
I don't care if it's August, I want pumpkin everything, and I want it now.
All pumpkin spice lore aside, pumpkin is actually wildly nutritious, loaded with vitamins and antioxidants, and is extremely low calorie. My advice with these? Add some mini chocolate chips and prepare for a deliciousness overdose.
Almost like a breakfast bento box, these breakfast bowls are super easy to make ahead of time, and even easier to customize for special diets.
A classic, this casserole is loaded with all things breakfast, and is great to make on a quiet Sunday and gnaw on throughout the week. Just plop some into your favorite breakfast skillet to heat up individual servings, or put the whole pan in the oven covered to warm it back up the next day.
This is a recipe that's both delicious and highly customizable (make it paleo by swapping out the oats for ground nuts). Me personally, I can't resist the combination of chocolate, peanut butter, and dried strawberries. These things are filling, but ADDICTIVE — don't say I didn't warn you.
What's your go-to breakfast? Will you give one of these a try? Show us your dish by tagging us with @avocadomattress or #avocadomattress on Instagram or Facebook.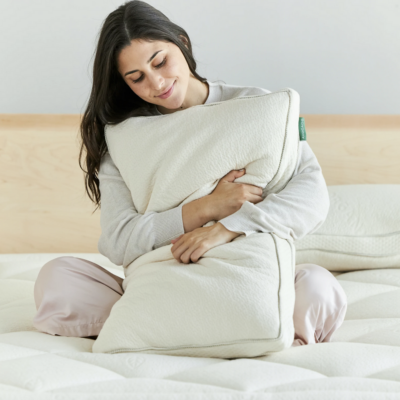 Shop Pillows
The Essential Organic Pillow Collection
Gentle, breathable, non-toxic support.
Buy Now