This past May, LEGO shocked the world when they announced they had achieved their goal of balancing their energy use with 100% renewable sources — three years ahead of schedule.
The announcement comes on the heels of its investment in the Burbo Bank Extension wind farm, located a little over four miles off the coast of Liverpool, England in Liverpool Bay. The LEGO Group now owns a 25% stake in the wind farm, which is producing enough electricity to power 230,000 British households.
The energy output of this new wind farm now exceeds the complete energy consumption of all of the company's offices, factories, and stores combined, offsetting the company's own carbon footprint by providing a renewable energy source to hundreds of thousands of British households.
After just four years and $900 million invested in the new Burbo Bank Extension wind farm, LEGO has met its goal, supporting the achievement of creating more than 160 megawatts of wind turbine energy.
This ambitious goal was set in 2012, shortly after beginning a partnership with the WWF Climate Savers program, during which the company pledged to offset its own energy consumption by 100% with renewable energy.
LEGO has also joined RE100, a group of "highly influential businesses committed to 100% renewable electricity." This group's initiative encourages businesses to set a public goal to achieve 100% renewable energy status, and use this as a driving force for both environmental change and business growth.
Among the companies participating in RE100 are industry giants such as Apple, Ikea, Coca Cola, and Google, who pledges to reach its own goal of 100% renewable energy sometime this year.
To commemorate this achievement, LEGO unveiled the world's largest wind turbine made out of LEGO bricks — 24 ½ feet tall, and built with 146,000  bricks, as a tribute to their record-setting wind turbines at the Burbo Bank Extension wind farm, which tower over 650 feet high.
More Sustainability Ambitions on the Horizon
LEGO's milestone of matching their energy consumption with 100% renewable energy doesn't mark the height of their sustainability ambitions. The company also plans to install 20,000 solar panels on the roof of its factory in Jiaxing, China, though an estimated date of completion for the project has not been released. When completed, LEGO reports that this solar panel project will generate six gigawatts of energy annually, enough to power 6,000 Chinese households.
All of this comes as a strong initiative that the toy giant has embraced over the last five years to put a stronger emphasis on environmental responsibility, getting kids involved with their LEGO Planet Crew program, and partnering with groups to help the company offset the environmental impacts of its operations.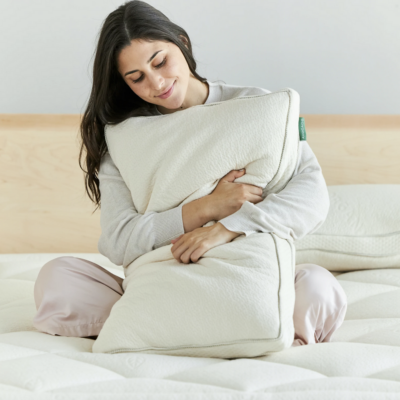 Shop Pillows
The Essential Organic Pillow Collection
Gentle, breathable, non-toxic support.
Buy Now