It's been a tough year for makers. Here are five tips for buying art that benefits your walls and your local artists.
In 2020, artist relief funds were being announced with alarming frequency. As gallery shows shut down, public commissions dried up, and artisan markets were put on hold, artists, many of whom already live in feast-or-famine cycles, were in particularly dire straits. Major arts institutions and small nonprofits alike took on the task of attempting to alleviate at least some of Covid-19's financial uncertainty for visual artists. There were grants for as little as $200 and as much as $5,000 in what seemed like an unending sea of deadlines and competition.
But there was a bigger question at play: How can the rest of us make conscious purchases during and even after the pandemic and sustain our local artists?
As it is, buying art is difficult. There are all sorts of considerations, from size and medium to price point. The most important thing to keep in mind, though, is this: buying art is an investment. First, you're making an investment in the artist, their time, and their future. Second, you're committing to buying something you'll likely (hopefully) keep for a really long time. The trick is making a purchase you'll continue to enjoy in new ways as time passes. Here are five tips for supporting local artists.
#1 — Refine Your Instagram Search
With artisan markets all but shut down, I've turned to social media, and Instagram especially, to find new artists in my area and throughout the country. My most fruitful searches usually start with searching by medium and using relevant hashtags. For instance #textileart might bring up wall tapestries, hand-tufted rugs, quilts, or embroidered hoops. This can yield a lot of entries and lead me down the rabbit hole, but often I end up on a maker's website, where I am able to look at more options. And if there's something that I like, but it's sold, I've been known to email the maker directly to see if there are similar pieces that are either in process or not yet listed.
#2 — Prioritize BIPOC, LGBTQ, and Artists With Disabilities
I tend to make it a rule to prioritize buying from BIPOC and LGBTQ artists and artists with disabilities. Now, in particular, these communities are more vulnerable to the stresses brought on by Covid-19. Some of these communities might even be more vulnerable to Covid-19 itself. Not to mention that the art world still has a lot of work to do to lessen the barriers for entry for those groups to enjoy the same privileges as their white, straight, and able peers.
#3 — On a Budget? Invest in Prints
I have become a seasoned buyer of works on paper. I own a lot of screen prints in particular, but I've also been known to collect linocuts and woodblock prints. I've found this flexible and graphic medium to be in my price point because the design is typically made in editions. Which is to say, I'm buying an original work of art, but one that is produced in multiples. And that usually means a lower price than, say, an artwork in which there is only one version. Works on paper can be framed (which is an added budgetary consideration), or hung with magnets, which is quick and easy, but less archival.
#4 — Don't Haggle
This one is hard because there is a haggler deep inside all of us. But artists who are working on a small scale don't necessarily have the ability to quibble about a price. Respect artists' valuation of their time (labor, materials, and creativity, too). When something has been out of my budget, I've had some luck asking for a payment plan that not only works for my needs, but, most importantly, the artist's, too.
#5 — Look for Gift Cards
Since the beginning of Covid-19, artists have upped their website game by adding gift card options, which make for nice stocking stuffers. But buying gift cards can also be a handy way of getting used to the idea of spending money on artwork before committing. If buying art is completely out of the question, many artists have also built patreon links into their pages. Sometimes giving a humble patreon donation opens up the door for getting special content, and sometimes it just enables artists to maintain their livelihoods.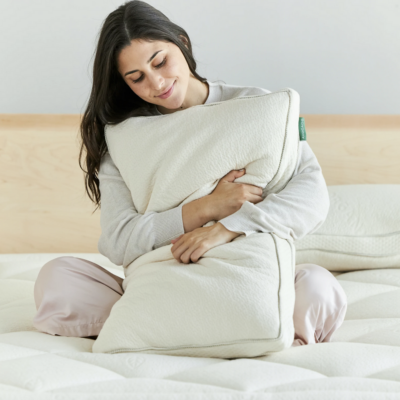 Shop Pillows
The Essential Organic Pillow Collection
Gentle, breathable, non-toxic support.
Buy Now