Plastic is a problem. Amazing, innovative, and incredibly useful, yes, but the waste and production issues surrounding this material compounded with the health ramifications of the chemicals it leaches are becoming harder to ignore, and many people (including this mama) are kicking it to the recycling bins.
Plastic has its place in the world (after all, we have to do something with all of those recycled materials), but one thing's for certain — that place is never in a landfill or our world's oceans.
But does it even belong in our kitchens? More and more, the evidence is pointing to no, not if we can avoid it.
If you're looking for the perfect reusable water bottle for portable hydrating this summer, we're here to present Eco Vessel — the stainless steel container company who decided enough was enough, and created solutions for every beverage.
From stainless steel growlers to silicone snack cups, this awesome company is shaking up the industry with insulated food containers built to last and reduce plastic waste.
Plastic Bottles by the Numbers
Looking at a few infographics on plastic bottle waste numbers is all the motivation I need to make sure everyone on my list has a reusable water bottle this year.
Just LOOK at these stats:
73.9 million pounds of plastic continue to circulate in the ocean's gyres
In the past 40 years, microplastic concentrations increased 100 fold
In a study, 92% of dead seabirds had ingested plastic up to 5% of their body weight
Chemicals used in plastics have been found repeatedly in sea life
17 million barrels of oil are used to create plastic bottles every year
The numbers are staggering, and America is well known to be the top consumer of bottled water worldwide. In a country with very few water sanitation issues, it makes perfect sense to trade up to a swanky stainless steel water bottle instead, and that's exactly what Eco Vessel is a pro at.
The Problems with Heat and Plastic
In addition to the waste problems with plastic, even BPA-free plastics have been known to leach chemicals into foods and drinks. The biggest issues stem from temperature stress on plastic, which causes it to leach chemicals into our foods much more readily.
In a recent study, over 70% of even BPA-free plastics were observed leaching chemicals that acted like estrogen. An excess of exposure to estrogen has been heavily linked to breast and prostate cancers, and poses a significant threat to babies and unborn children in particular.
Though toxins like BPA are quickly processed and excreted by the body's waste systems, the findings indicate a constant, low-level exposure to these chemicals, so the body never really gets a break from these hormone disruptors.
Plastic is all around us, and it's showing up in our body chemistry on a consistent basis.
Why Eco Vessel Rocks

There are a lot of really great plastic bottle alternative companies out there, and Eco Vessel is one of them. They're going beyond the bottle problem though, and addressing issues with plastic food containers, and even offer beer growlers.
Non-Leaching
High quality stainless steel bottles like these don't leach estrogen-mimicking compounds into our food and water, and are 100% safe with hot and cold materials.
Community Support
Partnering with an incredible organization that brings clean drinking water to people in places with poor access, Eco Vessel supports Water for People and relieves the strain of the constant search for potable water.
Food, Water and Beer

What I love most about these guys is that they have SO many unique products:
Stainless steel beer growlers
Stainless steel wine bottles
Stainless steel insulated mugs (they are SO cool you guys)
Kids stainless steel water bottles
Glass water bottles
Collapsible silicone food containers
Stainless steel insulated and non-insulated water bottles
Wholesale Branded Options

Even cooler? Eco Vessel also offers wholesale options with customization, so you can slap a family name or company logo on them just in time for the company picnic.
Shop Eco Vessel products here.
What's your favorite stainless steel water bottle? Tell us on Facebook or Instagram and tag us in the post, @AvocadoMattress or #AvocadoGreenMagazine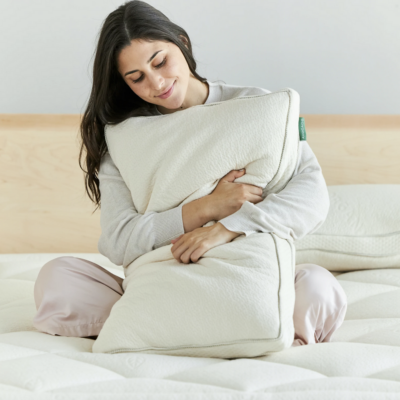 Shop Pillows
The Essential Organic Pillow Collection
Gentle, breathable, non-toxic support.
Buy Now