The Avocado Team knows good sleep. Here are our expert tips to help you get more, better quality sleep.
Sleep is essential for our health and well-being, yet millions of us suffer from a lack of sleep. Luckily, sleep is something we obsess over at Avocado, so whether you want to improve the quality of your sleep or the amount of time you spend doing it, our tips will help you get a better night's rest.
Read more: How Sleep Impacts Your Health
Before Bedtime
"I like to set the stage for a good night's sleep. I listen to this sleep playlist on Spotify while I sip tea and wind down." —Genika Simon, Assistant Brand Experience Manager
"A lot of sleep problems stem from the tension we carry throughout our day, both physically and mentally. The zero-gravity and massage feature on our Eco Adjustable Bed Frame Base are perfect for easing out the day's tension. I also love taking a bath, sipping tea, and this 20 minute bedtime yoga sequence from Yoga with Adrienne." —Maurissa DeLaMora, VX & DTLA Studio Manager
"Routine is what is best for our bodies and minds to fall asleep easily. Doing the same routine every night before bed sets a pattern in motion that tells the mind and body it's time to sleep." —Brett Thornton, Vice President of VX & Retail
Read more: The Case for Sleeping Naked, Even In Winter
While You Sleep
"They say you sleep better when your body temperature lowers, and my wife and I both sleep very hot. That's why we allow the room to get as cold as possible — we never turn its heat on. It's been about 45 degrees in there at night lately — perfect. We opt for the European-approach with our own individual twin-sized duvets, preferring to individually wrap ourselves up like tightly rolled enchiladas. We use Avocado's low-profile, four-season Alpaca Duvet Inserts and covers, and, even in a heatless mid-winter room at 8,000 feet in the mountains, we're perfectly cozy." —John Davies, Brand Editorial Director
"Having fresh, cool air circulating is super important. I open a window and have my overhead fan on — both help me sleep so much better!" —Madeleine Sheppard, Customer Experience
"I get the best sleep when the room is set to 68 degrees and I'm wearing my eye mask to block out every little bit of light." —Alison Mixon, SME
Trouble Falling Asleep & Waking Up
"If you're having trouble sleeping, don't fight it. Get up, get a glass of water, and grab a journal. Whatever it is you're thinking about, write it down or make a plan to tackle it tomorrow so you can 'let it go' for the night and fall asleep." —Brett Thornton
"If my mind is racing, even after journaling or meditating, I repeat a simple affirmation or mantra like, "Life is beautiful and I am grateful" over and over until I fall asleep. It's a great alternative to counting sheep, plus it feeds my subconscious something healthy!" —CK Ong, Area Manager of Retail and VX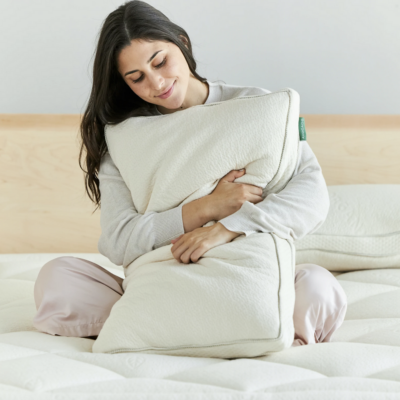 Shop Pillows
The Essential Organic Pillow Collection
Gentle, breathable, non-toxic support.
Buy Now