Restore your muscles post workout with these healthy, DIY recovery gummies.
Whether you enjoy running, lifting weights, cycling, or yoga, all workouts put stress on the body. That's why post-sweat stretch and recovery sessions are just as important to maintaining our overall health as hitting the gym.
Stretching helps your muscles get stronger, improves flexibility, and lowers your risk of joint pain, strain, and injury. Plus, stretching allows your body to bounce back after a tough workout. Think fewer days of tight hamstrings, sore calves, or difficulty walking up and down the stairs.
Equally as essential are rest days. Giving yourself a day off, especially after a strenuous workout, offers your body time to repair, recover, replenish its energy, and build strength. Recovery gummies are also a great way to supplement the body's healing and recovery process.
Even better, you can make them at home thanks to our easy DIY recovery gummies recipe. Packed with restoring tart cherry juice, protein-rich, grass-fed collagen, and immunity-supporting raw honey, these gummies are a healthy, quick, and portable post-workout snack.
Whether you're running errands after going to the gym or need a break from your regular protein shake, stash a couple of gummies to keep on hand for easy recovery support. Here's how to make them.
Read more: Our Favorite Online Yoga Classes
DIY Recovery Gummies Recipe
Ingredients
1 cup tart cherry juice
¼ cup grass-fed gelatin
Juice from ½ a lemon or lime
Raw honey, to taste
*To make this recipe vegan, substitute grass-fed gelatin for vegan gelatin and honey for agave.
Tools
Small saucepan
Silicone mold
Directions
1. In the small saucepan over medium heat, gently warm the juice and raw honey together until the honey is liquefied.
2. Add the gelatin to the mixture and whisk. The mixture will be thick. Keep whisking about 5 to 10 minutes, until ingredients are liquefied.
3. Carefully pour the mixture into the silicone molds and place in the refrigerator until set, about 1-2 hours.
4. Pop gummies out of the molds and store in a sealed jar in the refrigerator.
5. Enjoy a gummy or two as a post-workout treat.
Read more: How Sleep Affects Your Health
Have feedback on our article? Email [email protected] to let us know what you think!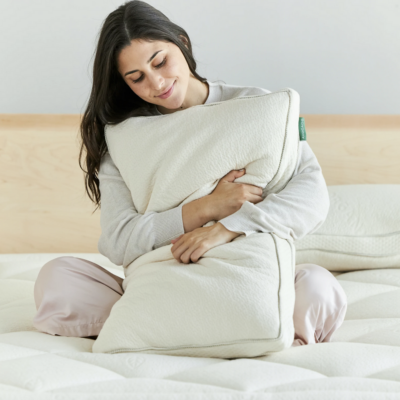 Shop Pillows
The Essential Organic Pillow Collection
Gentle, breathable, non-toxic support.
Buy Now