A DIY braided rug is the perfect upcycled, homemade gift.
A handmade gift shows thought, time, and love. This crafty project is a great way to cozy up your own space or give as a gift to someone you care about. The best part is you can use recycled clothes or old fabric to create something new. That's the idea behind sustainability; do more with less.
As we're spending more time at home, you can sort through your drawers to see what can be repurposed or donated. Depending on how much material you find, you can make a large area rug or small coasters for a coffee table. Other ideas include table mats, seat covers, or, if you have some old towels, you can make a bath mat. You can even make a decorative wall hanging. Here's how to get started.
Materials
Recycled Fabric
Strong Needle and Thread
Step 1: Prep Your Fabric
You can use any kind of fabric for your rug. Old clothing and recycled material are perfect! Tear your fabric into 1-2 inch wide strips.
Step 2: Sew the Base
Take your first three fabric strips and sew them together at one end. Tape down the base to hold the fabric in place while you braid. Braid the three fabric strips together. Don't worry about your fabric strips being the same length, because you will just attach your next strip when your material runs out.
Step 3: Continuing the Braid
When one strip runs out, sew on the next strip to the previous strip's end. Keep this going as long as you want. The longer the braid is, the bigger your rug will be.
Step 4: Start Coiling
After you have about 3-4 feet of braided fabric, you can start coiling your rug! Twist the braided strip at the end you started with, keeping it flat as you go. I recommend twisting on the floor to ensure it stays flat. Keep wrapping around and around.
Step 5: Sew As You Go
Sew the coil to itself into place as you keep wrapping your braided fabric. You'll need a heavy needle to get through the material. If you have a sewing machine, use a zig-zag setting to sew your coil in place as you keep coiling.
Step 6: Keep braiding and Coiling
Keep braiding, coiling, and sewing as you go until your rug is as big as you want. When it's the right size, tug the loose ends under and sew it. Enjoy your homemade sustainable rug!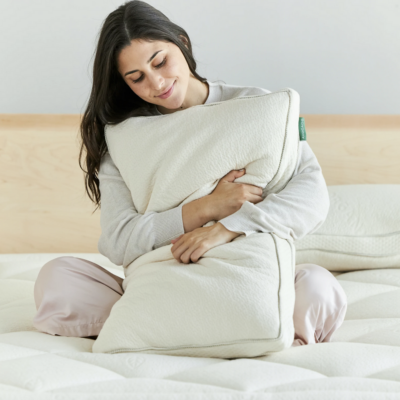 Shop Pillows
The Essential Organic Pillow Collection
Gentle, breathable, non-toxic support.
Buy Now