You don't have to give up the convenience of living in the city to grow your own food — there are tons of ways to grow food even in the tiniest spaces!

That feeling when you're a nature-lover at heart, but you've still gotta be five minutes from a coffee shop.

Hey, there's nothing wrong with liking the convenience of city life, and a person can definitely be more than one thing. If fresh vegetables have you looking at your postage stamp-sized growing space with scorn though, don't rent a U-haul and move just yet.

There are a LOT of ways you can grow food in even just a few square feet of space.

Grow Seasonal Foods In Your Garden
First and foremost, if your climate supports it, grow food year-round by doing a season rotation of produce. Squash will do well in the winter and fall (and LOVE to nosh on composted remains of summer plants), and by the time they're done fruiting, it'll be tomato and cucumber season all over again.

Set up a simple growing schedule for yourself to ensure you have seedlings robust and ready to plant as the transition approaches.

Make Use of Vertical Space

Plants like squash and cabbage really love to sprawl, but there are plenty of foods you can grow that prefer a vertical environment. This means you can use very little square footage to grow a LOT more food.

Plant things like peas, green beans, and cucumbers along fences and railings, and you won't even need to buy any stakes.

Choose Plants That Like Shade

When you're not working with much space, finding full sun for fruits and vegetables can be a serious challenge.
But did you know that a lot of plants actually dry out too easily to do well in full sun?

If you're struggling with shade, look instead at green plants that do better when they're not being baked under the sun. Spinach, kale, and chard will all bolt early if things get too hot. They're perfect for shady, cooler spaces, and there are even climbing spinach varieties for really tight spots.

Use Polyculture Gardening To Make the Most of Your Space

Polyculture is the idea that most gardens actually do better when they're diverse. It makes it harder for pests to go through and wipe out their favorite food, and actually provide some support for plants who can grow on the structure of others.

The Three Sisters Garden method is a popular one that is a really easy way to try your hand at a polycultural garden.

The basic premise is that you pick climbing, slightly more shade preferring plants (like peas, cucumbers, and climbing spinach) to grow next to tall, highly structured ones (like sunflowers and corn), with sprawling plants (like squash and tomatoes) making up the lower story.

Use Hanging Planters

I LOVE hanging small fruit and vegetable plants on my front porch. They're way more useful than a planter full of pansies, and make it easier to grow strawberries and cherry tomatoes.

Hanging cherry tomato plants aren't typically sold in stores, but in my experience do really well if started that way young. You can typically buy hanging strawberry plants at local nurseries and online.

Plan Your Space for Accessibility

When you're working with a small garden, you still need to account for a path that's about 12 inches wide to give you access to your garden for harvesting and maintenance. Even with a small space though, you can maximize your layout without compromising your access.

An arm's reach is typically about three feet, which is about as far as you'll want to be stretching over tomato plants and compost.

If you have a garden that's less than 10 feet wide, you can plan for two three-foot sections of garden, and one at least 12-inch garden path in the middle.

Make the Most Out of Sunny Windows

Window boxes aren't just a great way to grow food in a small space, they're also a wonderful way to purify your indoor air! To ensure your plants are able to really thrive in a window box, keep tabs on which windows get the most light during the day.

Most plants need at least a half day's worth of sunlight, with full-sun plants like tomatoes needing a minimum of six hours of light per day.

Since your plants will be up against a building that blocks light for a portion of the day, it's likely you'll need to either have plants on the south-facing side of your home, or pick shade-loving plants for your window boxes.

What are you growing in your little vegetable garden this year? Show us your pride and joy on Facebook and Instagram, and tag us in the post @AvocadoMattress and #AvocadoGreenMagazine!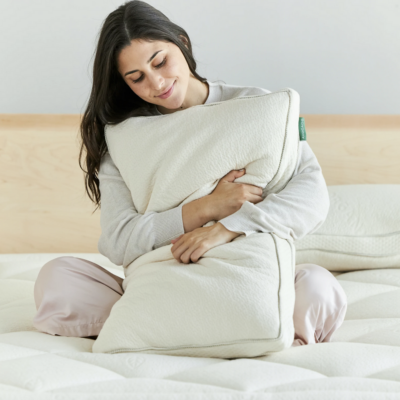 Shop Pillows
The Essential Organic Pillow Collection
Gentle, breathable, non-toxic support.
Buy Now