Talented as she is at making holiday decorating feel effortless, you don't have to be Martha Stewart to create a stylish, natural holiday ambiance in your home. Emphasis on the word natural. Tempting as most store-bought holiday decor may be, the most meaningful trimmings have a hand-touched feel — extra points if those hands were your own. Creating your own holiday decorations isn't just about the final product, though, the process is just as important. As in, it should be fun!
A Slow Holiday
Crafting a handmade ornament, garland, menorah or stocking (or anything else your heart may desire) offers an opportunity to slow down amid the hustle and bustle of the holiday season. It's a chance to use your hands for something more than gift-wrapping and cookie-baking while providing the perfect opportunity to connect with the ones you love through craft. Better yet, creating something beautiful for your home from naturally-foraged materials, like pine cones, will allow you to connect with nature, too.
This easy-to-make pinecone garland is a gorgeous way to add a touch of nature to your holiday decor. Gathering fallen pinecones from your local park or back yard can be a meditative experience as you breathe in the crisp winter air, listen to the call of the birds and watch the clouds drift over the sky. Then once you're back indoors, the fun begins! The steps below will show you the process to create your own pine cone garland, then it's up to you to make it your own! Try adding ribbon, beads or branches, or keep it simple and minimal for a stunning mantle display.
DIY Pine Cone Garland
Materials:
Baker's twine
Scissors
Pine cones with stems
Optional: Metallic paint, newspaper
Step 1
If you're choosing to paint the pine cones: In a well-ventilated area, lay the newspaper down to protect your work surface and use metallic paint to paint each pine cone fully. Allow to dry.
Step 2
Measure the baker's twine to your desired length and add about 12 inches. This will give you plenty of length to tie the pine cones and create loops to hang the garland with. Next, begin fastening the pine cones to the baker's twine by knotting the string around the pine cone stems.
Step 3
Space the pine cones out every 7-inches or so. Continue fastening them to the baker's twine. Once you've added all the pine cones, create loops with the twine at each end. You'll use these loops to hang your garland. Done!
Hang your pine cone garland above your mantle or on your tree to welcome a bit of winter magic into your home for the holiday season.
Are you creating handmade decorations for the season? Tell us how by sharing with us on Instagram or Facebook with @AvocadoMattress or #AvocadoGreenMagazine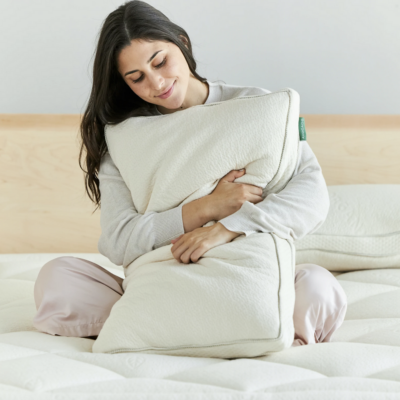 Shop Pillows
The Essential Organic Pillow Collection
Gentle, breathable, non-toxic support.
Buy Now