Okay, real talk: Easter produces a ton of garbage.
I love it. I'm a wannabe Pinterest mom all the way. I order outfits, we do photos, I set up Easter baskets for the kids the night before, and we color eggs and bake Easter bread wreaths and everything — it's a whole big thing.
But the stuff we buy and put in the baskets has definitely changed over the years, namely because it just seemed really unfair to the planet to give my kids something they'd play with for five minutes and almost immediately break.
The good news? This crunchy mom has found a zillion ways to make Easter a little less guilt-inducing without feeling like my little sugar-monsters are missing out.
#1—Baskets. Are. EVERYWHERE.
The best thing you can do for an Easter basket is also the cheapest and most eco-friendly: anything but buying a new one. Easter baskets are piled HIGH in most thrift stores. If you miss the good ones as all of the savvy parents scoop them up, remember that we're just looking for a receptacle here — no need for it to be woven.
Get creative with buckets, reusable grocery bags, backpacks. You're the Easter Bunny, and you get to call the shots.
#2—Buy Biodegradable Plastic Eggs
Fond memories of Easter egg hunts as a kid have made me nostalgic for this time-honored, albeit ridiculously wasteful tradition. That said, compostable "plastic" Easter eggs make me feel way better about the whole thing.
#3—Skip the Easter Grass (Because Vacuuming)
I mean seriously, Easter grass is like the tinsel of the spring equinox — whose idea was this stuff?
Skip the mess and opt for something that isn't made out of petroleum plastics, like a scarf, blanket, or new shirt.
If you're a sucker for basket filler, paper filling materials will scratch the itch to make a mess Easter morning and are 100% biodegradable.
SHOP SHREDDED PAPER BASKET FILLER
#4—Use a Local Candy Maker or Bakery
Just about everyone has a local sweet tooth stop in their town, and it beats the PANTS off some jelly beans and a chocolate bunny. Most candy stores do special treats for the Easter holiday, but you can also get really creative with Easter donuts.
It's still a mountain of sugar, but it winds up producing less waste and also has the added benefit of supporting local business owners.
#5—Fill It With Earth-Friendly Toys
For little kids, I LOVE Green Toys and PlanToys. They make earth-friendly toys that are educational. Green Toys makes their toys out of recycled plastic milk jugs, and PlanToys uses a sustainable rubberwood material that's durable and looks fantastic.
#6—Buy Consciously
The truth is, you can do Easter any way you want and still do it consciously. The biggest deal is buying things for your kids that you expect them to use longer than a few weeks. Single-use plastics and throwaway toys are overwhelming enough in a house, let alone a landfill.
Less is more—make it meaningful instead of just a basket full.
#7—Try a Scavenger Hunt
If more stuff isn't your MO this Easter, try a scavenger hunt instead. Most kids LOVE a good puzzle, and you can cut way down on the amount of stuff you have to buy and opt for one really great prize instead.
How do you celebrate Easter and spring with your kids? Show us on Facebook or Instagram, and tag us in the post! @AvocadoGreenMagazine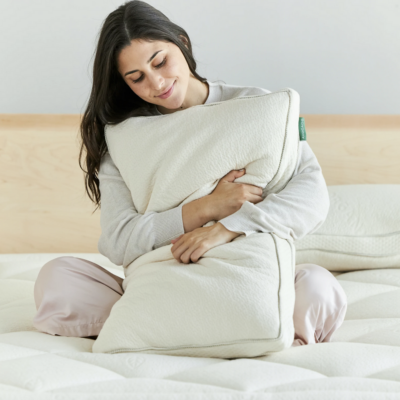 Shop Pillows
The Essential Organic Pillow Collection
Gentle, breathable, non-toxic support.
Buy Now