How Thrive Market originally entered my life, I don't quite remember. Was it instagram? A blog? (probably both). While the details remain hazy, one thing that is most definitely clear: my cupboards would be significantly emptier — and my list of errands longer — without the game-changing grocery service.
About once a month (sometimes more if I'm feeling impulsive or the gift-with-purchase is especially tempting), I'll fill up my cart with all my necessities:
Chia seeds
Probiotics
Collagen peptides
Plant-based protein powder
Olive oil
Paleo cereal (because sometimes you just NEED cereal)
Dr. Bronners
… the list goes on…
I place my order… and wait patiently by the door for six to seven days… just kidding! About that last part, anyway. But seriously, Thrive Market makes it easy to stay on top of my health game all while saving tons of money. But, maybe I'm getting ahead of myself. Before I extol the benefits of this revolutionary site, perhaps you're wondering…
"What the heck is Thrive Market?"
For those not yet in the loop, get in here! Simply stated, Thrive Market is a membership community that cuts out the middleman to deliver wholesale prices on health and wellness favorites. Thrive offers everything from pantry staples, to beauty products, to their newly-launched fresh meat and seafood offerings, shipping them directly to your door in eco-friendly packaging. By using the power of direct buying, Thrive Market is able to offer discounted prices on products and brands you know and love. Think, all your favorite superfoods and supplements at 25-50% off. Seriously. On top of that, the brand recently released their own, ever-expanding line of products, offering even more savings on all your favorites (like the chia seeds and collagen peptides mentioned above).
Thrive Market isn't a subscription service, although they make it easy to schedule auto shipments so you never have to worry about running low on your favorites again. Orders are dictated by the shopper so you're always in control and able to choose when you shop and what you order. Not into auto-ship? The easy 'Buy It Again' option makes it simple to reorder items from previous shipments. Or just go rogue and order what you want, when you want it.
If it sounds too good to be true, it's not. I've personally been a member for a couple of years and am always comparing prices at Thrive against the prices at my local health market chain. And Thrive always comes out on top (with the exception of major sales, of course). You can even earn "Thrive Cash", that is, money to use on future orders, by using their handy referral program.
But as great as saving money on your favorite grocery items is, that's not the best part.
Thrive Market Gives Back
Thrive Market made a commitment to "Make healthy living easy and affordable for everyone. Everyone. That includes people in need who may not be able to afford the yearly fee. By operating a 1 for 1 giving program, called Thrive Gives, Thrive Market gives a family in need a free membership for every membership sold (the application can be found here). Why give memberships to low-income families? Thrive Market says it best.
"Every year, 80 percent of low-income families resort to buying food they know isn't healthy just to make ends meet. Meanwhile, more than 23 million Americans today still live in "food deserts"—low-income neighborhoods without healthy food. This lack of access contributes to a number of illnesses, including: diabetes, heart disease, and more, costing our country hundreds of billions of dollars and compromising the quality of life for millions of people."
Not only that, but Thrive Market also provides free customized educational content to Thrive Gives members, including grocery shopping lists and recipes, to a 22-part video series dedicated to living healthy on a budget.
Simply by becoming a member, you're passing a membership on to a deserving family, and you can even donate a portion of your savings at checkout. Learn more about how Thrive gives back.
Convinced Yet?

Already this year, I've saved over $600 minus the cost of monthly membership ($59.99)… and that's not factoring in the time I've saved, too. I love knowing that the products I'm ordering are guaranteed quality (no fear of counterfeit, as with some other sites) and that with my membership, I'm helping others live more healthful, balanced lives. While I'll still be visiting my local farmers' market for all my fresh produce and locally-made goods, Thrive Market has taken the pain out of grocery shopping — and that's pretty revolutionary.
This is in no way a sponsored or affiliate post. We just love Thrive Market!
Are you a Thrive Market member? Share with us by tagging us with @AvocadoMattress or #AvocadoGreenMagazine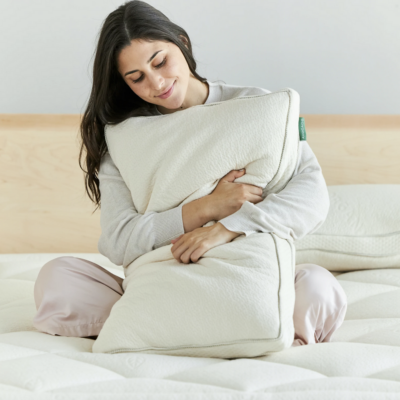 Shop Pillows
The Essential Organic Pillow Collection
Gentle, breathable, non-toxic support.
Buy Now