If you've ever dreamt of giving up the lease on your apartment and hitting the road in search of adventure, you're not alone.
A quick search of the #vanlife hashtag on Instagram yields thousands of results showcasing intrepid nomads living out of all varieties of converted vehicles – vans, trucks, trailers, and tiny homes on wheels, to name a few – home being wherever they choose to park for the night. Their numbers are many, and all of them unique, but few are quite as eye-catching as the rolling home of skiers Kellyn Wilson and Cody Cirillo: Meet the Honey House Bus, a converted circa 1962 school bus complete with solar panels and a cozy wood-burning stove. Once home to thousands of bees, Wilson and Cirillo converted the honey-yellow, bee-infused bus from a broken-down relic to a cozy, solar-powered ski-mobile in just a few short months, taking on the renovations as beginners and using the resources at hand to learn the ins and outs of a full bus build-out.
We were lucky enough to catch up with Kellyn to discuss the bus, the build-out, the bees, and the incredible adventures she and Cody have already experienced thanks to their new mobile home. Read on below – we can almost guarantee you'll be searching Craigslist for a bus of your own by the time you reach the end.
Hi Kellyn! Thank you so much for talking with us, could you share a bit about yourself and Cody?
K: Thank you for having me! First and foremost, Cody and I are skiers. And even more fundamentally, mountain people. We met skiing in Breckenridge years ago and have since traveled the world together skiing, and spending our time in the mountains.
Prior to The Honey House Bus (THHB) did you have experience with tiny homes or mobile homes? Tell us how you came to click on that Craigslist ad and ultimately what lead you to Bus life…
K: Neither of us is at all qualified for this project that we've taken on. We have never owned a mobile home (or home at all for that matter) or renovated anything… seriously so underqualified. I was actually living in Chile when Cody came across the bus on a Craigslist ad in Blackfoot, Idaho. He sent me some photos but was overall quite vague about the state it was in – I could tell he didn't want me to shoot the idea down, haha. He went out to Idaho to go visit it and it was a mess mechanically and barely drivable, so naturally, he bought it. Mind you, we have zero knowledge of cars or rebuilding engines. But Cody is so good at doing his research, utilizing his resources and teaching himself what he sets out to learn. He's the kind of person that actually reads owner's manuals.
Did you know how much work was in store or was it a surprise?
K: When I came home from South America and saw the bus, it screamed: "It needs A LOT of work". It was apparent that we were about to spend all of our free time that summer and fall working on the bus. It was overwhelming at first, but we just started working! With all of the resources to learn from online, it started to feel like we might actually be able to do it.
Mobile living is certainly nothing new, but most homes you see are new or build-outs of newer vehicles – why choose a vintage bus?
K: The choice to buy a vehicle from 1962 definitely has its pros and cons. But I love anything with character and a story, and I just felt that I could never fall in love with a newer bus or van. I actually love all the quirks that come with our old bus. Things like the speedometer that has never worked, the single old fashioned windshield wiper, the tachometer that stops working when we turn the headlights on, the faulty gas gauge and manual 'captains log' of how far we've gone and how much gas we've used… it's so wonky and fun, like living in a Wes Anderson movie.
… and was it hard to get the bees out?
K: The bees! So The Honey House Bus was just what we started calling the bus, (thinking we'd find another name later) because of the number of bees that were constantly in the bus. Every roof panel we removed had 50-year-old beehives nestled in them, and tons of little petrified bees that would come raining down. They were in all the nooks and crannies of the bus. Throughout the whole buildout, living bees came and went as well. I have no idea why, but they just loved it! And we let them come in and out- it felt like good karma.
Are there environmental advantages to starting from scratch?
K: Totally. We know exactly what went into the build, had total control over where we purchased the materials and what they were made of. We used almost all leftover and discarded wood from a house being built next door to us, or leftover materials from Cody's parents' home build. It was great to be able to use wood that was just going to be thrown away. We were able to make decisions that made sense for our lifestyle and the minimal footprint that we wanted to have. We have a simple water pump motor system with very basic clean water/gray water tanks. We installed a tiny wood-burning stove because we knew we'd be cold and wet after skiing and needed a dry heat source (opposed to propane heat, which is wetter).
We also installed solar panels on the roof for our electricity source, which is just a no brainer – they're fantastic. And on cloudy, low solar days, we use a lot of candles! Because we took the time to build it all ourselves, we not only appreciate everything more – we understand it all better, too. If someone else had built it, I feel like I wouldn't know what was going on, and certainly wouldn't know how to fix anything. There are just so many advantages from starting from scratch.
What has surprised you most about the renovations?
K: Starting with zero experience, I think I was actually surprised [by] how doable everything was in the end. I was so nervous about making mistakes and doing things wrong at first, but I quickly realized that making mistakes and doing things wrong is part of the process. It's as easy to fix something as it was to do it wrong, in most cases. And truly anything you need to know can be found online – the amount of information on this stuff has really surprised me.
One thing that was pretty hilarious and problematic during the buildout was how uneven and funky the bus' dimensions were. Nothing was even or symmetrical. We were also doing all the work on a slightly uneven hill. As Cody says, it was like working in a fun-house.
What's next on your list for the bus in terms of fixing it up?
K: There's always something! We'd love to put a little roof deck on, a back deck, a SKI RACK. We had about 8 pairs of skis under our bed in the "garage" all winter and that was just a ridiculous Tetris nightmare. And we actually just painted the bus which we've been wanting to do for a long time! It looks so cute.
Do you live in the bus full time or use it mostly for travel? Any dream destinations you haven't driven to yet?
K: We lived in it for a few months last winter, but currently not in it full time. I'd love to get some land and live in it full time soon! We took it up to Canada last winter which we want to do again – it's chilly, but there's nothing like waking up and skiing from the door. One day, we'd love to go to Alaska. (cue Into the Wild jokes here).
Do you have any tips for those looking to follow in your footsteps and find a rolling home of their own? Knowing what you do now, would you recommend purchasing vintage over new?
K: I'm all for purchasing an old vehicle, but it's completely a personal decision based on what you are looking to get out of the experience. I've been on plenty of road trips but none have ever been as interesting or memorable as a single day in the Honey House. I live for the interesting conversations that are sparked by people who come up to the bus wanting to take a peek or hear our story. In Fernie, British Columbia we had a few older men come up to us showing photos of their old school buses that they used to live and ski out of in the 70's. I think for us, the positives outweighed the negatives. And in more ways than we even really knew when we initially made the decision. We roll slow, but we get to see places we'd never have stopped in a newer faster car. We broke down, but we got to meet some of the kindest people I've ever encountered and made some really amazing memories. I think of those skiers met in Fernie – back then it was truly an adventure to get to the mountains. Everything was unknown and more magical for it. I feel like I get a glimpse into what ski culture and life used to be like before heated seats and google maps. Real adventure doesn't start until something goes wrong. (The bus is good at that)
Best experience brought by the bus?
K: Our goal was to make it to Mt. Baker in Washington. The Bus's first real trip. We broke down on the first day, we barely started up in Butte, MT where is was -17 degrees Fahrenheit, we got snowed in for three days during a historic storm in Cle Elum, we had to learn how to chain up in a sea of semi-trucks on Stevens Pass, but eventually, in the middle of the night, we made it up the Mt. Baker Highway to the single most beautiful night I've ever lived. The moon illuminated Mount Shukshan, the picturesque homing beacon of those coming to ski Mt. Baker. There were other vans, roof tents, an old converted fire truck, all waiting to wake up in paradise – like a land of misfit toys. We made friends, we skied incredible snow, we pet the lodge cats, we cooked food and stayed warm in our little rolling home. The bus has given us so much more than transportation. It is our chosen vessel of exploration, but it has brought us closer to each other, to other like-minded people, and really to the world around us. We are so fortunate to see and appreciate these places while we are visitors on this earth, and to do so from something that we crafted ourselves is quite literally a dream come true.
A big thank you to Kellyn for sharing her story with us. All images courtesy of Kellyn Wilson and Cody Cirillo/The Honey House Bus.
Do you live in a van or bus full or part-time too? Show us your adventure rig and share your eco-friendly tips for living tiny with us on Facebook or Instagram! @AvocadoGreenMattress and @HoneyHouseBus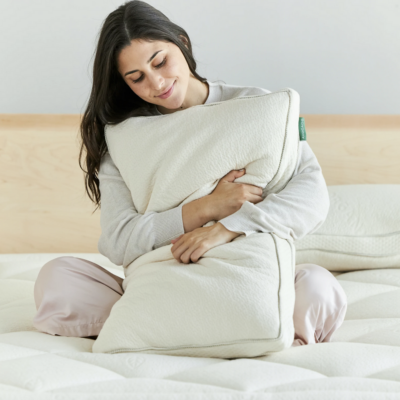 Shop Pillows
The Essential Organic Pillow Collection
Gentle, breathable, non-toxic support.
Buy Now