Traditional lawn care supplements are full of damaging pesticides. Sunday Lawn Care utilizes natural nutrients to enrich your grass.
Along with red-breasted robins hunting for worms and the gentle buzz of bees, the drone of a lawnmower on a sunny day is one of the classic harbingers of warming weather. For many, the scent of a freshly-mowed lawn brings back memories of lazy summer days and backyard barbecues, of laying in the grass and watching clouds roll by.
Likely not included in those memories? The massive amount of water and pesticides used to create that perfectly uniform, bright green grass. That's the dirty truth behind a beautifully manicured lawn, with nearly 100 million pounds of pesticides used by homeowners on their lawns and gardens annually. And those pesticides don't just stay on the grass. Of 30 commonly used lawn pesticides, 19 are linked to cancer, 13 are linked to birth defects, 21 to reproductive defects, 26 to organ damage, 15 to neurotoxicity, and 11 to hormonal disruption.
And that's just in humans.
The irony is, the chemicals we often use to produce a perfect, healthy-looking lawn are the same chemicals linked to a decline in crucial pollinators, like honeybees and birds, that feed off perimeter flora and insects within that same grass. Of the 30 most-used chemicals, upward of 17 are toxic to both birds and bees, resulting in a decline in these species, which are integral to our food systems and the health of the environment.
Until recently, traditional chemical-laden lawn care was the status quo, but as information on the effects of those chemicals on our health and ecosystems has come to light, homeowners are seeking out healthier lawn care alternatives.
One such homeowner was Colorado resident Coulter Lewis, a former mechanical and aerospace engineer and co-founder of Sunday Lawn Care. What started as a simple search for a better way to care for his new lawn — and the horror of discovering most lawn care products involve more chemicals than what's used in industrial farming — turned into developing a new product that's not only effective, transparent, and naturally-derived, but makes caring for a lawn actually easier for the homeowner.
"Sunday eliminates the harmful chemicals commonly found in competitor products and uses non-toxic ingredients, like seaweed and molasses, many of which are the same as those used by organic farmers," wrote Lewis in an email. "Sunday is also not a one-size-fits-all solution, instead creating a tailored nutrition plan using soil science, climate data, and satellite imagery for the customer's lawn that ships right to their door."
Instead of dousing your lawn with chemicals in an onslaught attack, Sunday works with the unique soil profile of your region and your needs to develop a customized subscription-based system that's not only safer for you and your family, but safer for the ecosystem as well. Because pesticide-based lawn care isn't just dangerous when it's wet, dry chemicals can be tracked indoors, rub off on clothing, and can run off into groundwater and make its way into rivers, lakes, streams, and our drinking water.
Sunday offers a much-needed alternative, challenging the status quo and demonstrating that a healthy lawn can be achieved through naturally-derived ingredients like seaweed and molasses that, over time, make caring for your lawn easier.
We corresponded with Lewis about his background, the inspiration for Sunday, and why we should all care about lawn care.
Could you share a bit about your background and where you're from?
I live in Boulder with my wife Kristy and our three boys. Before starting Sunday, Kristy and I cofounded Quinn Snacks to give families the choice to snack mindfully, with only sustainable ingredients. We were inspired to start Quinn Snacks after my son Quinn was born and we realized the lack of transparency and accountability in the production of popcorn and other popular snacks. Through this experience, we developed a network of growers and suppliers that emphasize transparency and remove unnecessary chemicals and artificial ingredients, which ultimately served as a resource when I pursued Sunday.
What set the stage for Sunday Lawn Care? Have you always been passionate about grass and lawn care?
As a first-time homebuyer with little gardening or lawn care experience, I had never taken care of a lawn before, so I turned to the internet for guidance. Instead of finding instructions, I found warnings that I was about to cover my lawn with 10 times more chemicals than used on industrial farms. I knew that if these chemicals were on my lawn, they were also in my home, and I used my background in mechanical and aerospace engineering to create a product that would be both safe for my family and easy to use.
So what makes Sunday Lawn Care different from a conventional product?
We know there's a smarter way to treat your lawn than dousing it with toxic chemicals that are banned in other countries. Sunday eliminates the harmful chemicals commonly found in competitor products and uses non-toxic ingredients, like seaweed and molasses, many of which are the same as those used by organic farmers. Sunday is also not a one-size-fits-all solution, instead creating a tailored nutrition plan using soil science, climate data, and satellite imagery for the customer's lawn that ships right to their door. We also have a customer service team that is always available by text or phone for specific questions, such as how to get rid of a stubborn patch or how to deal with heat stress.
But why should we care about what goes on our lawns?
More than 75 percent of Americans tend to a lawn, so they should have an option that is not only healthy for them, but is easy and works. At Sunday, we are creating a new way to care for our land that reconnects us with nature, supports the environment, and saves our resources, money, and time. The Sunday way is our core belief that with a more thoughtful approach to our property, we can have a positive impact on our carbon footprint, reduce pesticide output, and make our yards safer for our pets and children. So many of the ingredients you see in lawn and garden products in the U.S. are banned in Canada and Europe because of safety concerns. And it's time for us to catch up.
Our goal is to help people grow lawns that work for them and the ecosystem, lawns that crowd out weeds and resist disease. A better lawn means a better planet, for all of us.
I get the impression that lawn care has remained very much the same for the past several decades, how would you convince someone to make the switch to Sunday?
Traditional lawn care is an antiquated brute force approach that lays down 90,000,000 pounds of pesticides each year. Environmental and safety concerns aside, you're getting robbed. Traditional models make soil and grass dependent on chemical inputs, which is good for their business, but bad for your lawn.
The average homeowner spends $400 a year on their lawn, but is rarely satisfied. Starting at $129 a year, Sunday helps you cultivate rich, living soil for a healthy lawn that's more self-sustaining, meaning your lawn will eventually need less from you, not more. Instead of brute force, we use cutting-edge plant science to get back to how nature is supposed to work. We're all about helping you grow a healthy, green lawn that is people, pet, and planet-friendly.
How about bees? We've been hearing more and more about the effect of pesticides on insects, especially honeybees and birds. Is Sunday safe for them?
Yes! Sunday is all about cultivating pollinator-friendly yards that serve as healthy, nurturing ecosystems to your region's critters. We understand that pollinators are one of the cornerstones of our planet's ecosystem, and keeping them healthy and happy is crucial. Our lawn nutrients — many of which are used by organic farmers — are wildlife and pollinator friendly. Our liquid nutrients get down to your soil quickly. Plus, we measure every lawn down to the square foot and precisely time shipments to reduce any risk of pollution or runoff. Beyond effective, ethical lawn care, our goal is to help people reconnect with nature and build richer ecosystems in their own backyards. We include free regional wildflower seeds with every plan to help diversify yards and support pollinators.
What's next for you and Sunday — anything exciting in the works?
Our mission at Sunday is to help people be better stewards of their land, creating a new generation of green thumbs and healthy lawns that are self-sustaining. We're creating the future of lawn and garden.
How about you? Do you have a lawn to care for or are you grass-free? Share with us on social by tagging @AvocadoMattress and #AvocadoGreenMagazine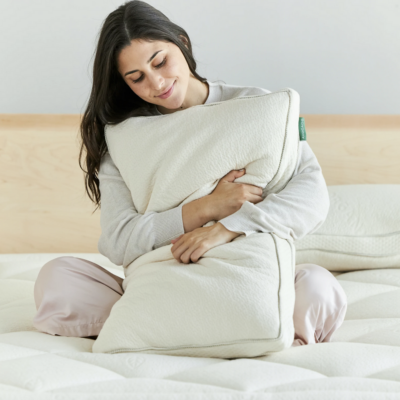 Shop Pillows
The Essential Organic Pillow Collection
Gentle, breathable, non-toxic support.
Buy Now