Tech company Airseas tackles the maritime shipping industry's massive carbon footprint by harnessing the power of the wind to reduce cargo ship emissions.
There are several ways to power a cargo ship, which carries materials and consumer products across the ocean. The most obvious — and most common — is to rely on fossil fuels to power diesel combustion engines that turn the propellers and move the giant vessel through the water. Most ships also use diesel generators to power onboard electronics, although some still use heavy bunker fuel, too. 
The benefits: Diesel is cheap, and most cargo ships are set up to use it. But the exhaust produced by diesel creates a huge quantity of carbon emissions, which negatively affect human and environmental health — and are the primary cause of the climate crisis.
Tech company Airseas imagined an alternative method: paraglider wings. That's the basis of their Seawing kite, a giant, 5,400-square-foot kite that flies 200 meters above sea level, in a figure-eight pattern, catching wind like a big sail and powering container ships, cargo ships, and other merchant vessels. Its job is to reduce fuel consumption and emissions while propelling ships forward with minimal diesel required. The Seawing is smart, too. The innovation operates with an advanced automation system based on flight control technology that allows crews to deploy the kite with minimal training and simultaneously offers insights into the most fuel-efficient route for ships to take. In other words, the Seawing can almost fly itself.
Read more: What You Need to Know About The Wind Energy Revolution
Shipping and the massive container ships that transport our goods are the backbones of our international supply chain. Cargo ships move 90 percent of all globally traded goods, and there were more than 55,000 merchant ships sailing across our oceans in 2021, according to Statista (based on UN records). There are likely more today. And in a 2018 article for Spectrum magazine, author Maria Gallucci called shipping "the linchpin of our modern economy." But the shipping industry has an enormous environmental footprint.
"At Airseas, we believe that wind propulsion solutions will work hand-in-hand with alternative fuels to decarbonize shipping. We believe that future ships will need both sails and future fuels."
Maritime shipping contributes two to three percent of the world's annual carbon dioxide emissions, according to the International Maritime Organization. That number is set to surge 17 percent by 2050 if ships don't reduce or eliminate their reliance on fossil fuels. That's why the Seawing — which former Airbus engineers designed — is so revolutionary. Reducing the carbon spend of overseas shipping is critical to preventing the projected drastic increase in emissions year-over-year and stopping the acceleration of climate change. Airseas representatives say their kite technology could reduce greenhouse gas emissions on each shipping vessel by 20 percent (and up to 40 percent, depending on the route the ship takes). 
The Seawing is also a unique solution because it can be installed on virtually any ship, and it takes up less room on deck than traditional sails. It's quick and relatively easy to set up. And unlike most sails typically used for smaller boats, the Seawing can power large container ships and tankers because it doesn't interfere with cargo operations. The kite technology is a jack-of-all-trades wind catcher.
"At Airseas, we believe that wind propulsion solutions will work hand-in-hand with alternative fuels to decarbonize shipping. We believe that future ships will need both sails and future fuels," Vincent Bernatets, CEO and Founder of Airseas, said in an email interview.
Read more: The CarbonFund Project: Reduce and Offset
By "future fuels," Bernatets is referring to other ways of moving ships, like hybrid options (which use chargeable polymer batteries to power ships, in addition to diesel generators). There's also talk of using ammonia and hydrogen to get ships on the move — an innovation that is still in the works. However, these solutions are in their infancy and until they gain widespread adoption, alternative fuels are likely to be incredibly expensive and less efficient than fossil fuels. Using wind to propel ships forward can bridge that gap by balancing the cost and efficiency equation for shipping companies. In other words, it's a temporary, "yes and" solution that could help us innovate faster.
"Given the urgency of the climate crisis, there is no time to waste, and shipping must make the most of solutions that already exist today and can make an immediate difference," says Bernatets.
It's also worth noting that the Seawing doesn't help ships speed up. In fact, it's the reverse: a 2009 study found that container ships need to slow down. The slower their speeds, the less fuel they need to burn from traditional diesel engineers. And the Seawing isn't meant to replace engines, either; engines will always be necessary in port, but the less they are used, the better.
Curious how you can help? Reduce your own shipping-related footprint by only buying products you need; fewer orders mean fewer items to ship, both at sea and on land. Those Amazon trucks you see at your house everyday cause emissions, too, and choosing one-day or Prime shipping often means they're taking less-optimal routes, which means using even more fuel. Instead, shop local when possible. Every small action adds up.
Read more: How To Be a Backyard Carbon Farmer
Have feedback on our story? Email [email protected] to let us know what you think!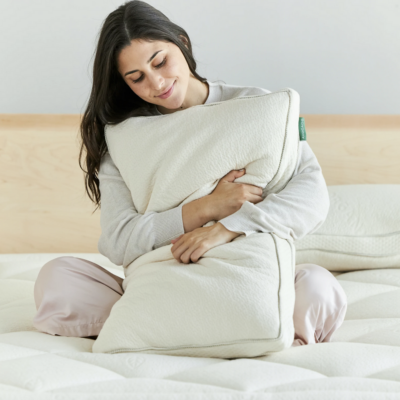 Shop Pillows
The Essential Organic Pillow Collection
Gentle, breathable, non-toxic support.
Buy Now