Gratitude. Gratefulness. Hard qualities to oppose, wouldn't you say? Few people would argue that gratitude is a trait worth cultivating (you'd be hard pressed to find someone out there not in support of feeling grateful), yet we often brush aside our own gratefulness — or forget to feel grateful at all. Why does this matter? Turns out, tapping into our gratitude could open the doors to improved relationships, quality of life, and empathy — it may even help you sleep better and feel more confident!
Yes, really. Turns out, there have been entire studies on gratitude, and what those studies found is that gratitude and gratefulness could a be some of our most underutilized qualities. An article from Harvard Health states "In positive psychology research, gratitude is strongly and consistently associated with greater happiness" the simple act of cultivating gratitude —or to put it simply, focusing on the positives in your life and giving thanks — could positively shift your worldview and perception of your life and even keep you out of the doctor's office. Gratitude is so powerful in fact, entire industries and products have been launched in support of it. Most notably, gratitude journals.
Writing your thanks
So what, exactly, is a gratitude journal anyway? Gratitude journals, like the '5-Minute Journal' make giving thanks easy. With pages offering daily prompts to be filled out in the morning, as soon as you wake up, and night, right before bed. These journals keep the pressure low, with space for only one or two lines of words, and the prompts simple. The name of the game with these gratitude journals is simplicity. With an easy, uncomplicated format, recording your gratitude has never been easier, meaning reaping the rewards of being grateful is within arms reach.
Why make your own
While there are a myriad of options of ready-made gratitude and mindfulness journals on the market for those crunched on time, taking the extra time to make your own has a wealth of benefits. First and foremost, starting with a blank journal means you decide what goes into it. Stick with the same questions each day, or change things up to stay inspired. Not feeling like writing out your feelings? Skip the long-form words for a day and fill up a page or two with collage, a watercolor painting, or stream-of-consciousness word dump.
By keeping things free-form, you may be better able to tune in to how you're feeling from day to day while opening up opportunities for self-expression. Artists and creatives — and, really, anyone who suffers from occasional creative blocks — may find this especially helpful, as journaling welcomes the chance to create without consequence while potentially highlighting areas where those creative blocks could stem from. "Not creative"? Not a problem. Even those who say they don't possess a single creative bone in their body can benefit from a creative project, and may even find a free-form gratitude journal the perfect "unstructured-structured" way to open the creative floodgates. (Pro tip: Everyone is creative. Everyone.)
Ready to make your own? Grab the supplies below — and any additional embellishments you feel like adding — and set aside five minutes. Yes, that's really all it takes to start a new creative project — use these instructions as a base, then go wild. The end result is up to you!
DIY Gratitude Journal
Materials:
Blank journal, such as those from Moleskine
Colored pens
Extras:
Washi tape
Watercolors
Collage supplies
Stickers
How to:
Grab your pens and write out prompts on as many pages as you'd like to get started. Leave a few pages blank here and there to encourage creativity on those days. Be sure to add the date so you can keep track as you fill up journals!
Ideas for daily prompts:
3 things you're grateful for daily
3 good things that happened today
What you're looking forward to about the day
How could today be great?
How could the day have been better?
Quote of the day
As you fill up pages, use washi tape, watercolor paint, stickers and collage materials to embellish your journal pages.
Challenge yourself to journal first thing in the morning, when your mind feels fresh, and right before bed to reflect on the day. Commit to journaling for 30 days straight and see how you feel — you may find yourself feeling more inspired and tuned in to the positive things in your life!
What prompts would you add to your journal? Have tips to share on creating your own? Share with our community by tagging us with @AvocadoMattress or #AvocadoGreenMagazine on social!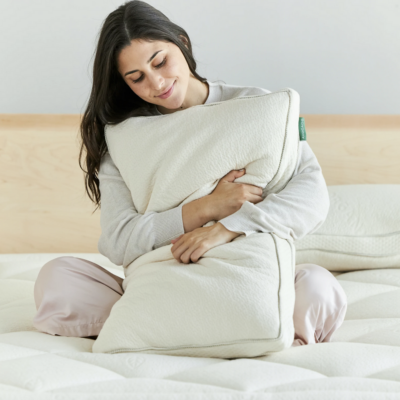 Shop Pillows
The Essential Organic Pillow Collection
Gentle, breathable, non-toxic support.
Buy Now