Agrotourism is the escape that lets you connect with food and support sustainable agriculture. This regenerative goat creamery turned their farm into a tourism model to support their cause.
The way we grow our food in this country is such a big problem, it's hard to even wrap your brain around sometimes. Erosion and desertification happens at a mind-boggling pace as commercial farms drain the soils of their organic matter. Reports of water table contamination from the overuse of pesticides run rampant.
In the midst of all of that dialogue, we know two basic things:
The way we grow our food in this country is not sustainable and is contributing to climate change.
We need to produce a lot of food to feed everyone.
Meanwhile, scalable sustainable agriculture is a work in progress. I spoke with Gloria Putnam, the owner of the Angeles Crest Creamery in southern California, to learn more about their ranch and how they're combining sustainable agricultural research with a resort model to generate awareness and funding for their project.
The Little Goat Farm That Could
Putnam has a lot on her plate, and even so, she makes time to create a special experience for guests of the Angeles Crest Creamery, a 70-acre regenerative goat ranch and agrotourist destination.
Gloria began raising goats in an unexpected way. Several years ago, she got the idea to purchase two dairy goats so she could have access to her own fresh milk. In an abandoned lot near her home that was too densely treed for gardening, she raised her first two goats, Rosie and Lily.
Over time however, Putnam realized raising goats for milk wasn't really sustainable where she was living because of the intense water resources they demanded. During her cheesemaking classes, her customers raved about her products and praised her for her work, but she wasn't satisfied.
"Water is a real problem in California," she says. "Aquifers were being drained to grow hay to feed my goats. To me, I was just buying a bunch of stolen water to feed these goats, and that really wasn't sustainable to me."
Determined to raise her goats more ehtically, she set out to find a piece of property that would provide her goats with natural forage. She found her home base in the San Gabriel Mountains of southern California on 70 acres of paradise, and Angeles Crest Creamery was born.
What Is Agrotourism?
Agrotourism is when visitors come to a farm or agricultural operation, sometimes staying as a guest, taking classes and participating in daily farm life.
Agroutourism is a relatively new thing that's popped up in the last decade or so as sustainable agriculture has earned its rightful seat at the center of the climate change discussion. With desertification claiming an estimated 1.61 million square miles of land annually and industrial agriculture draining entire seas, it's never been more important to innovate in this space.
The only problem? Innovation in agriculture is risky — and expensive.
Most conventional farmers have a hard enough time scraping by with tried and proven methods to recoup their investments. For innovators in sustainable agriculture who get left out of the subsidies larger operations receive, there is less of a safety.
For farmers like Putnam, agrotourism provides a source of income that can support her, freeing her up to innovate in her space without fear of financial doom.
Sustainable Agriculture Is a Complex Idea
When I spoke to Gloria about her farm, I asked her how our readers could really make sure the food they were buying was sustainable. The answer, she said, wasn't a simple one.
"The thing is, food that's locally sourced may not always be the most sustainable, because if they have to change the landscape or rob the aquifers to grow it, then it's arguably more taxing on the environment than just trucking something in from across the country," she says.
Sustainable agriculture is multi-pronged, and to really understand how to support it, you need to understand how your food grows. That's where agrotourism helps.
Getting up close and personal with your food and touring these farms gives you an education the internet can't always provide.
Says Putnam, "The best advice I can give you is to know how food grows and what food grows well near you."
Have you ever stayed at an agrotourist destination? Tell us about your experience on Facebook and Instagram — pics or it didn't happen! @AvocadoMattress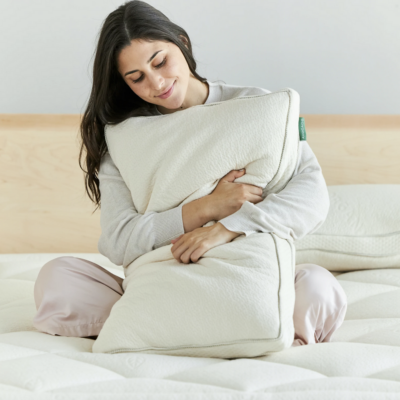 Shop Pillows
The Essential Organic Pillow Collection
Gentle, breathable, non-toxic support.
Buy Now