It's that time of year again! The holidays are upon us, which means you're probably racking your brain trying to think of gifts your loved ones will use and enjoy. We know shopping ethically and sustainably can be difficult … and even more so when you're shopping for men! So we've put together a gift guide to help you shop consciously this holiday season.
THE TECH GUY
CAUSEGEAR operates on The CAUSEGEAR 5X JOBS Model, which employs people living in poverty and pays them 5 times the norm. This allows them to access food, education, medical care, and provide for three other people in their care.
This laptop sleeve is designed in Chicago and handmade in India by a crafter whose name is on the tag that comes with your purchase.
Pela is a company looking to find sustainable, plant-based alternatives to plastic products. Pela products are made in Canada and the company is a member of 1% for the Planet.
This iPhone case is made out of a blend of BPA-free, plant-based biopolymers and flax fibers (a sustainable shock absorber!)
THE FOODIE
Joshu+Vela products are made with quality and durability at the forefront. When combined with the best natural materials, Joshu+Vela goods are made to last a lifetime. The Chambray Baker Apron was handmade in San Francisco and is perfect for the man in your life who loves to bake!
Green Chef is a sustainable meal-plan delivery service that's perfect for the eco-friendly foodie. All of the food included is USDA Organic, which means it's free of pesticides, GMOs, and hormones. Plus, every meal is delivered in eco-friendly packaging.
You can easily choose meals based on diet as well, weather you're looking for gluten-free options, vegan or vegetarian, Paleo, or meat lovers.
THE TRAVELER
The Smith Roll Pack is a weatherproof backpack that will hold all of his belongings, including a laptop. It's made of sustainable Bionic Canvas, which is 57% recycled and 30% stronger than regular canvas, meaning it's made to last.
Nau is committed to working with partners that value sustainability and performance, as well as reducing waste and minimizing their environmental footprint. 2% of their sales are donated to one of their Partners for Change.
Shinola chooses not only to manufacture their goods in America, but everything is 100% made in Detroit, a city many have all but given up on.
Shinola combines technology with craftsmanship to make sure their watches are built to last, while providing jobs to thousands of people in the city.
If you're looking to splurge on a gift for a special someone, a Shinola watch is the way to go.
THE ATHLETE
Allbirds might just be your new favorite tennis shoe brand. Allbirds shoes are made from New Zealand Merino Wool which is ZQ-certified, which means it meets the strictest standards of sustainable farming and animal welfare.
Allbirds is a B-Corp, which means they are committed to using business for good, and they also have a partnership with Soles4Souls, which uses shoes to help communities in need.
All Victor Athletic apparel is made in small batches in the USA. Their clothing is made out of organic materials, grown and sewn in America.
They also give back 5% of their after-tax profit to the factories in which their goods are made, in order to fight back against outsourcing and invest in the communities instead.
THE DAD
Prosperity Candle invests in women refugees who now live in the US, helping to provide them with a sustainable future. Each candle is hand-poured in small batches with 100% natural essential oils.
The wax is GMO-free, all natural, vegan, biodegradable, non-toxic, kosher certified and is not tested on animals. Tell Dad how much he means to you and provide a brighter future for someone else in the process!
Aendee brings new life to old clothes by upcycling them into something special.
Send Aendee an old shirt or coat that is no longer used and they will create a new family heirloom that can be passed down through generations.
THE "HAS EVERYTHING" GUY
Everlane is committed to transparency, and is proving that companies can scale well, keep up with trends, and operate in a way that is good for the earth and good for the supply chain.
For each item, you can see the breakdown of costs, so that you know exactly why your product costs what it does and where your money is going. You can even peek inside the very factories where your Everlane products are made.
Good Guys shoes are vegan and sweatshop-free, which means no animals or humans were harmed in the making of these shoes.
Good Guys is committed to strict ecological testing, so their products are not harmful to your health or the earth. Plus the microfibers used are 100% recyclable.
Fed By Threads is a sweatshop-free company that creates jobs and uses their products to feed hungry people in America.
99% of their products use organic, sustainable materials. Plus, the company is committed to body positivity, are committed to diversity, and never photoshop their models.
Over the past few decades, Patagonia has been a trailblazer in the world of transparent supply chains and ethical manufacturing. They discourage over consumption and encourage mending of old clothing instead of just throwing it away.
The fabric used in this jacket is bluesign approved, which means the materials and processes used are as safe as can be for the environment, the makers, and you.
This is called the World's Greatest Beanie for a reason! It's made in Peru out of some of the best fibers in the world: 100% all-natural baby alpaca yarn.
Krochet Kids is committed to complete transparency, from the farms where their yarn is sourced, to the shearer, yarn maker, and craftspeople who sew the hats together.
A DIFFERENT KIND OF GIFT
The holidays can all too easily become just about stuff rather than celebrating the people in your life and spending quality time together. This year, the average American is planning to spend $1,175 on holiday shopping, up 12% from last year.
Thanksgiving has almost been completely taken over by Black Friday, with stores opening as early as 5PM on Thanksgiving evening — before your turkey and mashed potatoes have even had the chance to digest!
So, you may find yourself wanting to opt for a different option this year. Instead of buying something, do something fun together instead! Or get creative and DIY a gift. Here are some ideas to get you started:
Take a class together.
Would he like to learn a new language? Improve his cooking skills? Channel his inner artist? Do a simple Google search for classes in your area, or Groupon is a great place to look as well!
Give a donation in his name.
You can't go wrong by replacing a gift with a donation to a charity or cause that he's passionate about.
Give him a card with encouraging words about why you chose this organization and how much you love how generous he is.
Go on a family outing.
Instead of exchanging gifts with your family members, get everyone together to do something fun instead.
Visit your local zoo or family museum. Go to a holiday light show or concert. Or plan a Christmas murder mystery dinner!
Use your talents.
What are you good at? Could you make your Christmas gifts by hand this year? Can you write a book of love poems for your significant other?
What about paint a piece of art for his office? Use Pinterest to get inspired and create something beautiful.
Start a new tradition.
It's easy to get caught up in gifting, but the holidays are truly about spending time with the ones you love.
Start a new family tradition or two this year as something that will not only make the holiday season more enjoyable, but something you will be able to look back on years later and reminisce about.
What will you be gifting for Christmas this year? Will you be going with a traditional gift, or something out of the box? Share your ideas for creative, ethical holiday gifts below!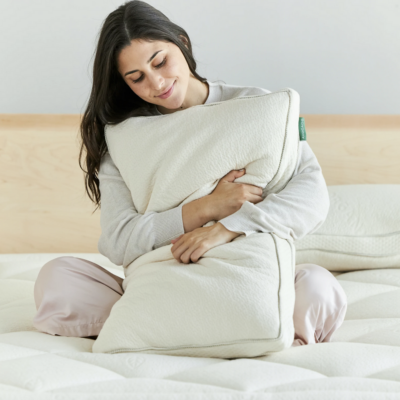 Shop Pillows
The Essential Organic Pillow Collection
Gentle, breathable, non-toxic support.
Buy Now