Hi there! My name is Sapana Chandra (pronounced "Sup-na Chun-dhra"). I'm a certified health coach, wellness blogger, professional plant-based cook-in-training, and yoga teacher. My motto is simple: eat real (food) + live well + feel vibrant. Real health starts from within, in the smallest of ways….taking care of ourselves, living in gratitude, waking up feeling refreshed. It requires feeding our body clean foods that are non-toxic and good for us. It also means looking deep into other parts of our lives.
Tis the season for delicious heavy meals and family gatherings. While these moments are meant to be cherished and enjoyed, they can leave us craving lighter nutritious meals. This buddha bowl is packed with flavor, seasonal produce, and nutrition. The warm roasted delicata squash is a great source of dietary fiber, vitamin A, vitamin C, vitamin B6, manganese, and copper as well as a source of potassium and folate. Avocados are packed with healthy fats, loaded with fiber, and delicious alone or in salads, on toasts, in smoothies.
This simple buddha bowl is easy to make and can be easily swapped with other ingredients based on what you have in the kitchen. The pomegranate seeds add a burst of sweetness and flavor while being a great source of antioxidants, vitamin C, and vitamin E. You can't go wrong with this simple post-holiday meal.
Avocado & Delicata Squash Buddha Bowl with Cilantro Lime Dressing
Servings: 2 bowls; Time: 35 minutes
Ingredients:
For the Bowl:
1 delicata squash
4 handfuls of arugula
½ cup of pecans
½ cup of pomegranate seeds
1/4 cup of fresh cilantro
1 cup of cooked quinoa
1 avocado
1/4 cup of radishes, sliced
2 tablespoon avocado oil
1 teaspoon toasted sesame seeds
Sea salt and pepper, to taste
For the Dressing:
1/2 cup of cilantro, chopped
1/2 cup olive oil
1 lime, juiced
1 small clove garlic, minced
1 teaspoon maple syrup (optional)
Sea salt and pepper, to taste
Directions:
Preheat oven to 424F. Meanwhile, slice the delicata squash into 1/3-inch rings. Remove the seeds. In a bowl, toss delicata squash with avocado oil, sea salt, and pepper. Place rings in a single layer on parchment paper and roast for 25 minutes or until tender and starting to brown, flipping halfway.
Make the dressing by combing all ingredients in a blender. Blend until smooth and creamy. Adjust seasoning, if needed.
Assemble bowls by dividing the arugula between the two bowls. Top each bowl with pecans, pomegranate seeds, radishes, cilantro, cooked quinoa, sesame seeds, and slices of avocado.
Drizzle with the desired amount of dressing and enjoy.
Find more delicious recipes from Sapana at Real + Vibrant and keep up with her on Facebook, Instagram, and Twitter.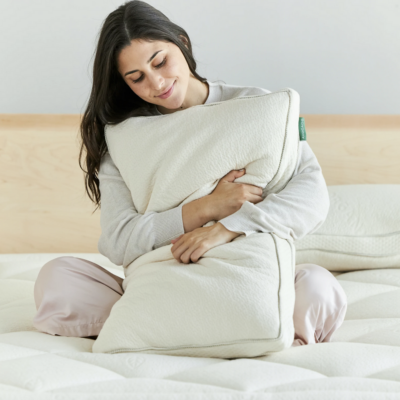 Shop Pillows
The Essential Organic Pillow Collection
Gentle, breathable, non-toxic support.
Buy Now