Hi, I'm Allie, also known as "the Health Mason," and I'm a blogger, certified health coach, and recipe developer. Today I'm here to share one of my go-to recipes with a secret green ingredient.
Let's face it, there are too many green smoothie recipes on the Internet to count, and believe me, I've tried many combinations! However, my all-time favorite must be this green smoothie (called my Go-To Green Smoothie on my website), which of course includes avocado!

Avocado is my secret trick for smoothies. It makes them super creamy and fluffy, while giving you a good boost of healthy fats. I usually start my morning with this smoothie, and thanks to the fats from the avocado, fiber from the ground flaxseed and protein powder, I am full for hours!
I like starting my morning with this smoothie in particular since it is nutrient-dense, because I add tons of greens! I can rest assured knowing that even if I don't have another veggie the rest of the day I started my morning with handfuls of spinach.
It is the perfect breakfast especially as we start shifting into the warmer months of spring! Enjoy!
Go-To Green Smoothie
Ingredients:
1 cup organic baby spinach
½ cup Non-Dairy Milk of choice
¼ avocado
¼ cup frozen blueberries
1 scoop Collagen Peptides or protein powder of choice
1 tablespoon nut butter of choice
½ tablespoon ground flaxseed
1-2 drops of liquid stevia (optional)
½ cup ice
Instructions
Add all ingredients to your blender and blend until well incorporated.

Image courtesy of Sarah Miller Photography
Keep up with Allie at her blog, The Health Mason, or on Instagram.
Have you tried Avocado in your smoothie? Share your favorite recipe and tag us @AvocadoMattress or with #AvocadoGreenMagazine.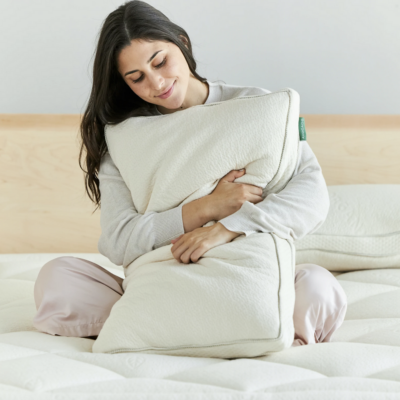 Shop Pillows
The Essential Organic Pillow Collection
Gentle, breathable, non-toxic support.
Buy Now