You wear clothes (well, most of the time anyway), and you sleep in a bed — do the math, and you spend almost ALL of your time snuggled up against your laundry. But with your skin absorbing most of the chemicals it comes into contact with, are you absorbing toxins from your laundry routine?
Artificial fragrances and harsh surfactants are only the start of the worries with the conventional laundry routine. From petroleum-based ingredients to additives that have been proven harmful to marine life, laundry detergent is ready for a green overhaul in a big way.
We teamed up with MyGreenFills to learn more about how we can green our laundry routine and still stay so fresh and so clean.
When I look at eco-friendly laundry detergent options, I look at three main criteria:
#1 — Packaging (Waste)
#2 — Biocompatibility and Biodegradability (How kind is it to the water supply?)
#3 — Ingredients and Irritants (Is it safe for my skin?)
#1 — Homemade Laundry Detergent
I used homemade laundry detergent for YEARS — it's relatively eco-friendly, cheap, easy to make, and is very gentle on skin. It also uses ingredients that can be purchased in bulk, making its waste footprint nice and small.
The typical recipe looks something like this:
Shaved bar soap (like Kirk's Castile or Fels Naptha)
Borax
Washing soda
The biggest hangup with this particular recipe is that there's a lot of debate out there about how clean it actually gets your laundry. Additionally, some users report that over time, the recipe can create buildup in a washing machine and cause mechanical failure.
Use with caution, and you be the judge.
#2 — Soap Nuts
Soap nuts are a really cool laundry detergent option. Essentially just seeds from an exotic tree, soap nuts are coated in a naturally occurring saponins that releases when they get wet. You can use them over and over again, they come in almost no packaging, and they can be thrown right into the compost pile when you're done with them!
#3 — 100% Natural Detergent
MyGreenFills is the coolest concept ever — a laundry detergent subscription service that eliminates that monthly plastic jug by sending you refills for the same jug every month!
Just sign up for a plan, get the powder, mix it in your jug with some warm water, and voila — detergent (with or without scent) that produces almost no waste.
MyGreenFills also makes other laundry products, like stain-removing powders and incredible fabric softener liquids. They're 100% natural, fragranced lightly with essential oils, and biocompatible, so you can feel good about using them.
Our buddies over at MyGreenFills want you to give their laundry soap a try — Avocado readers, use code CODE to get up to $47 of their products FREE to try!
#4 — Make it Cloth-Diaper Approved
Crunchy moms know cloth diaper laundry is a whole other ball game, and unfortunately, most natural detergents simply aren't up to the task of dealing with human waste. The bacteria you deal with in a load of soiled diapers is no joke, so don't skimp here.
Fluff Love University has a comprehensive list of approved detergents for cloth diapers, and unfortunately, you won't find many natural ones on the list. You can either bypass this by hand washing your cloth or settle somewhere in the middle with a detergent like Seventh Generation Ultra Power Plus.
It comes in a plastic jug, but it's powerful enough to break down the contaminants in a load of cloth diapers while still being plant-based.
#5 — Wool Dryer Balls
Wool dryer balls are the latest and greatest thing in the eco-friendly laundry craze. Wool dryer balls work to soften laundry simply with friction. The course fibers of the wool rub up against the fibers of the laundry in the dryer, softening them up for your skin.
What's more, they help to break apart clumps of laundry in the dryer, reducing static and getting everything dry at the same time. If you crave a little fragrance in your laundry, just sprinkle a drop or two of essential oils on them.
#6 — Aluminum Balls
Users of this method swear by it for static elimination. Make a few balls of aluminum foil and throw them into your dryer with a load of laundry. They'll absorb the static electricity created!
#7 — Fabric Softener Alternative
MyGreenFills also makes a "liquid" fabric softener you can add to your washing machine's rinse cycle. Like with their detergents, you'll get a plastic jug and a packet of the powder to mix up your own batch each month. Available in their signature scent as well as in an unscented version, it's great for softening up your fabric without compromising on ingredients!
#8 — Eco-Friendly Stain Removal
Believe it or not, natural stain removers aren't just safe and eco-friendly — they work pretty darned well, too. There are a few different ways you can tackle stains without reaching for a jug of bleach.
Sunning
One of my favorite (and the most effective) ways to remove stains from just about anything, the sun's rays are one of the most reliable ways to get just about any stain out. Just wash the afflicted item, then hang it up damp on the sunniest day of the week.
UV rays naturally sterilize, and the powerful rays of the sun will naturally bleach out just about anything. If you need a little extra oomph, spray some diluted lemon juice on the stain before you sun it, then give it a rinse after.
Enzyme Stain Remover
Enzymes are where it's at with stain removal, and MyGreenFills has a product for that, too! Their enzymatic stain remover powder comes in a paper pouch and works with natural enzymes — not harmful additives.
Peroxide + Baking Soda
For blood stains, peroxide works incredibly well on its own, but to lift stains out of tricky materials like furniture and mattresses, use it with baking soda.
Are you ready to green your laundry routine? Do you have any tips we missed? Share them on Facebook or Instagram by tagging @AvocadoMattress or using #AvocadoGreenMagazine.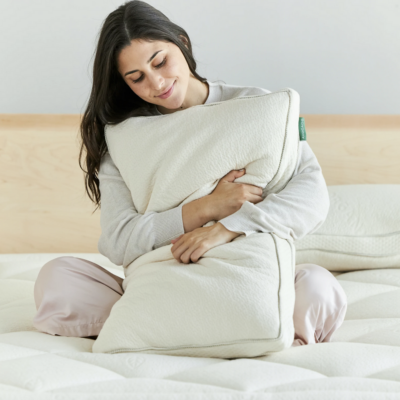 Shop Pillows
The Essential Organic Pillow Collection
Gentle, breathable, non-toxic support.
Buy Now