Wrapping presents doesn't have to mean a trash bag full of paper at the end of the day. Try wrapping with biodegradable and reusable materials for beautiful gifts that are low impact!
Wrap with Fabric — Furoshiki
The Japanese art of wrapping with fabric is both beautiful and low-waste, and you can even add another element to your gift by doing it with some seriously beautiful fabric, a scarf, or a blanket. The possibilities are endless, and it's crazy fun. Learn more about different techniques for gifts of every shape and size in this LifeHacker Guide.
Cut Up Brown Paper Bags
Save all of those brown paper bags from the store, and reuse them for your holiday gift wrapping! Use them as rustic gift bags, or cut them up to wrap smaller gifts. Though this kind of paper can be a little stiff to work with, it looks hopelessly adorable decorated with chalk, so don't be shy about getting creative (and you seldom need tape to hold it all in place).
Use Natural String Instead of Ribbon
Ribbon is way too much fun, but it often gets thrown away, so make sure whatever you use on your gifts is biodegradable. I love thin jute string for my gift wrapping, but if you plan to wrap with brown paper, try something white like cooking string, or even just some simple 100% cotton yarn.
Use Biodegradable Tape
Because yes, it totally exists. One of my favorite stores, Life Without Plastic, sells this awesome cellulose tape that is 100% biodegradable, totally sticky, and can be torn by hand. A lot of gift wrapping techniques won't require any tape at all, but if you need a little help, this is the stuff to reach for.
Reuse Newspapers
Newspapers make for some really unique wrapping paper, and with pops of red among all of that black and white, it can be beautifully festive. Make sure you have some biodegradable tape handy, as this paper isn't stiff enough to hold its shape on its own. Add a sprig of fresh coffee berries (ask your local florist for a bundle of them) to add a pop of red.
Reusable Burlap Bags
Any kind of cloth bag is a GREAT way to wrap without waste, but I love these little 10″ X 14″ Burlap Bags with Drawstring especially for tiny gifts like makeup and candles. They're 100% reusable, biodegradable, and so easy to decorate — just add some red cotton yarn and call it a day!
Seed Paper Gift Tags
Sure, you can just write their name on the paper, but these Rustic Plantable Wildflower Seed Paper Gift Tags are soooo cool! You can buy them pre-made, or just punch your own shapes out of the colors of your choice. Make sure you let your friends and family know what it is so they can plant it and watch it grow!
Mason Jars All Around
I put EVERYTHING in mason jars — food of course, but also beauty products, scarves, hats, whatever I'm passing along. It's a great way to package something up without creating any waste at all!
Use Real Plants Instead of Bows
Speaking of coffee berries, fresh plants beat the PANTS off of those plastic bows, so skip the bargain bag and stop by the florist instead. One of my favorite things to do is create a gorgeous holiday floral arrangement — and a big one — for my dining room table, and then pull bits from it as I wrap. It's beautiful, it's functional, and it's 100% biodegradable.
Better yet, if you're not keen on fresh cut flowers, take a walk outside and see what you can find. Evergreen trees and bushes make for a fragrant addition to any package — just clip a sprig and tie it to the front with a festive tag!
Add Some Sparkle
One year, I picked up a pack of little glass beads and some wire and decided to add little charms that would sparkle to my gifts, in lieu of that crazy tinsel stuff. It. Was. GORGEOUS. And yea, I totally don't have pictures, so you're just going to have to take my word for it and try it. Snag some broken jewelry, bargain bin broaches at the thrift store, even little ornaments — whatever you can find — and use it to adorn your gifts. Some things are just too sparkly not to be reused.
What do you do to reduce waste when you wrap gifts? Share your tips with us on Facebook or Instagram and tag us in the post, @AvocadoMattress or #AvocadoGreenMagazine!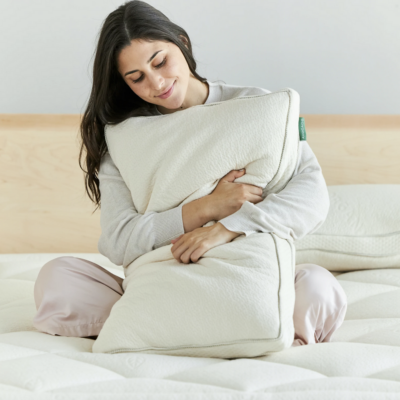 Shop Pillows
The Essential Organic Pillow Collection
Gentle, breathable, non-toxic support.
Buy Now