These brews are green in the best way possible — no artificial dye required.
Look, there's no shame in my game. I eat a cheeseburger from McDonald's sometimes. I drink a shot of disgusting lemon vodka like it's going out of style (and it definitely is). But I also know none of these things are good for me, in any way — and neither is green beer.
Swilling down a pint of green beer for St. Patrick's Day festivities might be one night of harmless fun, but let's face the facts here: that is nasty. Food coloring is made from petroleum byproducts and is linked to cancer in mice and hyperactivity in children. Not great in high volumes — like, say, a pitcher of beer.
I'm not knocking your desire to get green and festive this St. Patrick's Day, but what I am saying is that these guys are brewing a different kind of green beer. It's eco-friendly, and it's worth checking out.
Kona Brewing
Kailua-Kona, Hawaii
Kona Brewing takes pride in their determination to brew great-tasting beer that embodies everything they love about life — making connections surrounded by the beauty of our planet.
That's why they brew all of their beer on the Big Island using solar energy. They also recycle their spent grains into pizza crust, recycle water from the brewery back into their gardens, and try to reduce their dependence on fossil fuels.
I haven't had a Kona yet that wasn't amazing. They brew IPAs, lagers, wheats, and blonde ales, and all of them have a smooth, bright taste that's easy to enjoy, but not bland or watered down. The flavor is almost always bright and fruity, with a subtle tropical tang.
New Belgium Brewing
Fort Collins, Colorado
New Belgium is one of those brewing companies that didn't just stop at sustainable — they created a business as a force for good.
Since its founding in 1988, the brand has brought the bold flavors of Belgium beer to the U.S., and in 2003 the brand became a certified B-corp. They're also employee-owned!
Today, the company generates 16 percent of its electricity from an on-site solar array. They're a platinum-level certified zero-waste business, a 1% for the Planet member, and a supporter of a wide range of social and environmental programs.
They brew highly-praised beer for a wide range of tastes, from the famously mild Fat Tire Belgian White, to the intense and glorious Voodoo Ranger Imperial IPA.
Deschutes Brewery
Bend, Oregon
It's not often you find a brewery capable of not just reducing their water consumption, but eliminating it entirely. Bend's Deschutes Brewery is able to do that, thanks to their continued water restoration efforts on the Deschutes River, the same place they get the water for their beer.
Since 2012, the company has restored over one billion gallons of water to the Deschutes River, offsetting their own draw from the river for everything from beer brewing to packaging by a whopping 400 percent.
In addition to their massive impact on the water restoration project on the Deschutes River, the Deschutes Brewery takes most of their spent grain to farmers to use as natural fertilizer, while the rest is baked into their breads and pizzas.
Any remaining food waste is composted at their facilities in Oregon.
You can read more about the long list of Deschutes Brewing sustainability efforts here, but be sure to make your way to their shop to check out the brews on their list. With IPAs, limited quantity reserve editions, and even whiskey, there's something for everyone under the sun at this Pacific Northwest brewery.
Alaskan Brewing Company
Juneau, Alaska
Started by a couple in Juneau with a determination to create living wages in a sparsely populated area, Alaskan Brewing also takes care of the beautiful place where they make their craft beers.
In addition to donating a portion of their profits to organizations like humane societies (through sales of their Husky IPA), Alaskan Brewing dedicates 1 percent of the profits of their Icy Bay IPA to ocean cleanup projects to protect the state's famous 6,500-mile coastline.
In addition to their line of beer (you've gotta try the Amber), Alaskan has a new line of hard seltzers brewed with Sitka spruce tips.
Sierra Nevada Brewing
Chico, California
When Sierra Nevada Brewing first opened its doors in the 80s, it was in an old warehouse. Today, their two breweries sit in sustainably-designed hubs.
They shade vehicles while generating their electricity with solar panels, which they use to generate 67 percent of their Chico facility's energy needs. They offer electric car charging on-site for their employees. They use biogas created in their wastewater treatment process to provide fuel for the boilers in their brewery. They even own and operate their own railroad transfer facility that allows them to eliminate packaging from their malt shipments, keep trucks off the road, and offset their carbon emissions.
I could write all day about the incredible design elements in play at the Sierra Nevada Breweries, but instead, why don't I just tell you which beers to try?
For the brewery aficionado at heart for whom there is never a flavor too bold, you can't go wrong with Sierra Nevada's signature Pale Ale. For the milder flavor enthusiast who wants to taste their beer, but is not a fan of tangy, hoppy bitters, go for the Summerfest, a mild lager whose bite is on the lighter side.
Full Sail Brewing
Hood River, Oregon
This might be my favorite brewery on this list (and not just because I'm so fond of nearby Mount Hood, Oregon). Full Sail Brewing goes above and beyond not just with their sustainability practices, but with the side of their brewing that matters most to beer drinkers like myself: what's in it.
Most beers contain undisclosed ingredients like high fructose corn syrup, artificial flavors, and even dyes. Not Full Sail's. Their beer is made from water, malt, hops, and yeast — that's it.
In addition to their clean beer formulation, Full Sail is totally engaged in their local environment, with sustainability practices that cut their water consumption in half compared to most other breweries. Even more, they purchase wind energy to fuel their operation, offsetting their carbon footprint by what equates to planting 33,000 trees per year.
As far as which beers to try, you can't go wrong with a nice middle of the road amber ale, and Full Sail's is amazing. It's hoppy and flavorful, but won't knock you down like an IPA.
On the milder side, their Sessions are a nice light lager that's great to drink on a hot sunny day. For IPA fans, there's a wide range to choose from, but the Milkshake IPA is a fun one with a really different taste.
Hops and Grain Brewing
Austin, Texas
What I really like about Hops and Grain is what they do with their spent grain: they turn them into healthy dog biscuits!
Hops and Grain's Brew Biscuits are only available in their taproom in Austin, Texas, and a few stores. In addition to making upcycled dog treats, Hops and Grain donates 1 percent of their profits to local environmental organizations.
Their beers include several IPAs, a couple of lagers, and even a Baltic Porter.
Fremont Brewing
Seattle, Washington
Fremont Brewing is taking climate change into their own hands, with sustainable brewing practices that keep them on the cutting edge of positive change.
They run a zero-waste operation, shipping thousands of pounds of spent grain to farmers to feed their cattle. What they don't send to farmers goes to biodigesters, which use anaerobic composting processes to generate clean, sustainable energy. Amazing, right?
In addition to their focus on zero waste, they take measures to reduce water and energy consumption, recycling the heat generated by their brew kettles to their hot water tank.
Fremont Brewing is located in the Ballard neighborhood of Seattle and features a seriously wide variety, from barrel-aged bottled selections to a stunning array of IPAs and a couple of pilsners and lagers.
What's your favorite eco-friendly beer? Raise a glass to your favorite brewery this St. Patrick's Day and tag us in the photo on Facebook or Instagram — @AvocadoMattress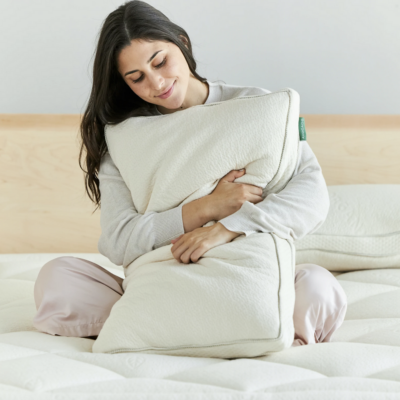 Shop Pillows
The Essential Organic Pillow Collection
Gentle, breathable, non-toxic support.
Buy Now