People have so much stuff it's literally causing them anxiety. Send this list of experiences to your family and friends this holiday season to reduce clutter and the anxiety that comes with it.
Shopping is fun. Having nice things feels good. But at a certain point, consumerism takes a turn from scratching the itch to spend money, to actually creating anxiety and depression.
American homes are overwhelmed with stuff, and, as it turns out, women are particularly susceptible to clutter-induced anxiety. In a UCLA study, doctors discovered that stuff excess increased cortisol levels in women especially. More stuff means more organizing, more toys to pick up, more to do, and after a certain point, you have to ask yourself, Is it even worth it?
This holiday season, if you're sitting in dread of the deluge of gifts that is still to come, tell your friends and family thanks but no thanks to packaged presents this year. Instead, share this article on social media, and tell everyone what experiences you would love to be gifted in lieu of scented candles and more fleece throws. A massage is better anyway.
Experience Gifts For Kids
Psychologists have found that a cluttered playspace actually creates stress for kids, too. They have a harder time focusing, and ultimately, will always have to go to bat with mom about whose turn it is to clean the playroom.
Experience gifts for kids keep clutter to a minimum and give kids more of what they often struggle to get: quality time and great learning and life experiences with the family.
#1 – Children's Museum Membership
Almost every major city has a children's museum full of fun games, exhibits, and learning activities. Getting a membership gives kids access to the museum for a full year, without having to pay the admission fee every time. This is a great way to keep kids active and entertained in the winter, especially if you live in a place with a cold, rainy, or snowy climate.
Annnnnd it keeps a whole mess of educational toys and playgrounds outside of your own home. You're welcome.
#2 – Music Lessons + Instrument
Learning how to play an instrument has many benefits — it can build confidence, enhance memory, give a sense of achievement, increase discipline and time management skills, improve patience, and, best of all, it's fun!
Most music instructors will tell you to rent an instrument for your child to make sure they like it before buying. If your child has expressed an interest in music, sign them up for classes and present the rental instrument on Christmas morning as the gift.
#3 – Planetarium Tickets
Planetariums are seriously underrated and great for kids old enough to sit quietly and enjoy them. Grab some tickets and present them to your kids with a book on our solar system, or a star projector for their room if you feel the need to include something they can interact with on Christmas Day.
#4 – KiwiCo
For doting grandparents and moms and dads who just can't resist getting the kids a thing they can play with right away, KiwiCo crates are a nice in-between. Kiwi Crates are a monthly subscription box with a new STEM activity each month for kids of all ages, from newborns to grownups. Each month, your child will get a new activity that's age-appropriate and educational.
#5 – Fort Building Kit
If your kids are always pushing together couch cushions and chairs to build forts, continue to let their imagination run will by giving them some pro supplies. Include a flashlight, a sheet, clamps, and a length of rope, and show them how to get creative building elaborate structures in the living room.
#6 – Toy Rental Subscription Box
Green Pinata Toys is a subscription toy rental service for kids (up to five years old) that delivers safe, educational toys right to your door. It's a GREAT way to let your child play with new toys every month, without actually having to buy them (and subsequently get rid of them).
For $24.99 a month, you get four new toys every month, they are sanitized in an eco-conscious way, and ready for play. Then just send them back and get your new batch next month.
For Grownups
Grownups are just as guilty of shiny object syndrome as kids. We see it, we've gotta have it, and a month later, we're wondering why we have so much stuff collecting dust in the garage.
No. More.
These gifts are going to be deeply appreciated, enjoyed for more than 20 minutes, and won't take up any space in your trunk this holiday season.
#1 – Book a Class
As adults, we tend to forget about learning or trying something new, but it can be a lot of fun (and good for your brain)! If you're feeling extra bold, get someone you love to try something new and sign them up for a class. Pottery, painting, photography, cooking — find something that pushes them outside of their comfort zone a little bit. Better yet, sign yourself up too and get some quality time with your loved one while you're at it.
#2 – Propagate a Plant
Flowers are always nice, but a plant that your family or friend can enjoy for years to come is even better. Succulents look beautiful and are easy to care for, even for a beginner. If you have your own succulents, you can create a unique and thoughtful gift by propagating yours, read how here.
#3 – Spa Day
Who doesn't need a little self-care? The truth is that we could all use more. This is a gift that most everyone will appreciate and often something they will not splurge for on their own. Check reviews and choose a spa that is close to your friend or family. Self-care is an affordable experience gift that is clinically proven to improve immune system function and reduce stress. The best gift ever if you ask me.
#4 – Bake Something
Is there a better way to show you care than delicious homemade goodies? We love these easy (and healthy!) fudges from Flora & Vino. They taste amazing and aren't filled with refined sugars. Or create something signature that your family and friends will be looking forward to all year long.
#5 – A Staycation
Encourage a loved one to explore their own backyard! There's nothing better than taking the time to be a tourist in your own town. Choosing something local means there is no added cost for your family or friend. And very little planning is required on their end to utilize the gift. Book the new restaurant, escape room, or fancy hotel in town, you could even plan an itinerary to make it extra special.
What experience gift would YOU love to get this holiday season? Tell us (and your friends and family) on Facebook or Instagram and tag us in the post! @AvocadoMattress and #AvocadoGreenMagazine!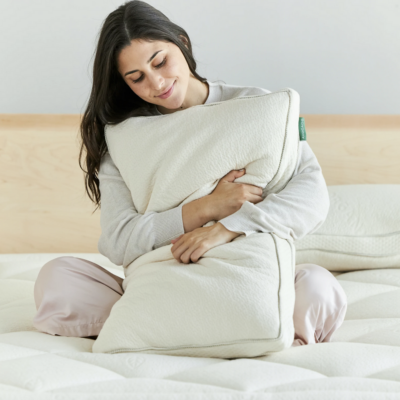 Shop Pillows
The Essential Organic Pillow Collection
Gentle, breathable, non-toxic support.
Buy Now