Despite all the ads you see, you don't need expensive gear or apps to get fit. Here are a few free ways to meet your fitness intentions.
Whether you're looking to improve your sleep, mental acuity, mood, or overall wellness, the importance of incorporating some type of fitness into our daily lives can't be denied. While it's often lumped into the unfair category of weight loss solutions, physical fitness is about so much more than a number on a scale (which is a poor indicator of health, by the way — scales can't tell you muscle mass, water weight, etc). Along with keeping our bodies healthy, a regular fitness routine can improve many aspects of daily life.
Mental Well-Being
You know that feeling of happiness that comes after a walk outdoors or a super-challenging workout? It's not just due to the beautiful weather or finishing that final set of reps, exercise can support better mood, including a potential decrease in anxiety and stress. Feeling anxious or down or just need to clear your head? Take a walk or lift some weights and pay attention to how you feel afterward, we're willing to bet you'll be feeling pretty good after 20 to 30 minutes. Not only that, but fitness may support more restful sleep, and a good night's sleep is one of the cornerstones of good health, impacting everything from weight management to mental health.
Improved Self-Image
It's hard not to feel accomplished after a good sweat sesh. You worked hard! You feel good! Is that a muscle you see? Physical fitness can help improve confidence, and not necessarily through weight loss, but through the feeling of accomplishment after a workout and how you've better-supported your health. Personally, I always walk a little taller after a workout and the "flaws" I have been previously hung up on seem a little less important in the grand scheme of things.
Longevity
Regular exercise could help you live longer, thanks to improving overall health, like reducing the risk of heart disease and preventing — or at least delaying — chronic illness. Not only that but continuing to exercise as you age could help you remain independent and able-bodied. Moving regularly may help you remain independent for those longer-lived years.
So just how much should you exercise? That largely depends on your goals, but a good baseline would be the 2.5 hours of moderate activity a week recommended by the American Heart Association. As a largely sedentary society, we should all be moving often, sitting less, and making movement a priority in our lives — but it's not always easy. Gym memberships aren't always affordable and depending on where you live and your work schedule, may not be a viable option. While our feeds may be flooded with ads for Mirror, Peloton and other expensive at-home devices and equipment, the truth is all you need to enjoy the benefits of exercise is the body you have and the drive to work up a sweat a few times per week. While we can't provide the motivation, the good news is there are plenty of ways to get fit with minimal, affordable equipment — or none at all. These are our favorites.

Join a Run or Fitness Club
If you like fitness classes for the group dynamic and social aspect, but can't spare the expense, why not join a run or fitness club? Most cities have some version that meets at specific days and times for a group workout. With 52 worldwide locations and nearly 5,000 weekly members, the November Project is a free early morning fitness movement. Founded in Boston as a way to stay in shape during the cold winter months, the groups are now worldwide and growing every week. Looking for something else? Try meetup or search local Facebook groups for run clubs or other fitness opportunities in your area.
Lift Without the Weights
Lifting weights isn't just about building muscle tone — adding weight to your routine can support improved posture, bone strength, and injury prevention. But you don't need a full rack of weights to get the job done. Body weight exercises like push-ups, sit-ups, and lunges, will help you build muscle. And when you're ready for more? Check out the Empack, a backpack and weight training tool that uses water weight to add resistance.
Add Resistance
A set of resistance bands takes up nearly no space at all and can add the same effect as weights. Plus they're travel-friendly, making fitness on the go something you'll actually want to do. Resistance bands are also a great tool to use for warming up before a cardio workout. Just stash 'em in your gym bag or car to have on hand for your next workout.
Use Your Environment
A set of stairs, a hill, or your local beach can be a great opportunity for a full-body workout. The natural resistance will have you breathing hard in no time and 20 to 30 minutes is all you need. Not only is this type of workout good for your heart, but it will also build some of the largest muscles in the body — your glutes, quads, and calves. No fitness experience is needed, but start slow and work your way up. And don't forget to go slow or walk on the down to protect your joints.
YouTube
Not a runner and not sure where to start when it comes to home workouts? YouTube is your friend! There are thousands of body weight and at-home workout videos available at your fingertips, you need only to search for them. Try Yoga with Adriene to get your flow on or the Adidas Women channel for everything from pilates to HIIT to mindful breathing. There's something to suit nearly everyone's fitness preferences on YouTube — just be sure you're subscribing to a credible channel.
What's your favorite way to workout? Share with us by tagging us on social at @avocadomattress and #avocadogreenmagazine!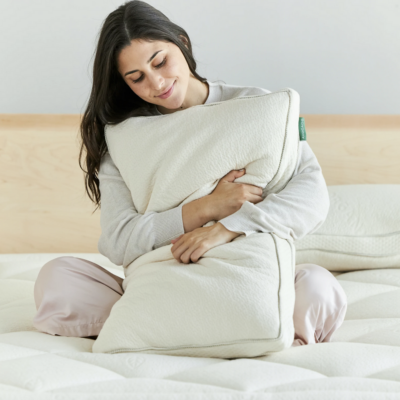 Shop Pillows
The Essential Organic Pillow Collection
Gentle, breathable, non-toxic support.
Buy Now