Blue jeans aren't the rugged, tough pants they were a few decades ago. Today's denim is pitifully thin, made of more elastane than cotton, and worn to a sad, pilly bundle of threads within a couple of years.
When fabric is too cheap and thin to hold together with patches and the demand for jeans never stops, the environment takes a hit. The notoriously devastating fashion industry has left its mark on the planet, and now, another big name is changing all of that.
Meet G-Star
For almost 30 years now, G-Star has been making some of the coolest, highest quality denim that cold hard cash can buy. Their look is always on point, their style always edgy, and now the business has successfully become more transparent and sustainable than ever. Here are just a few reasons why we love their product and their manufacturing model.
Ethical Manufacturing
Ever wonder where your pair of jeans came from? At G-Star, there's no need to. That's because this company discloses the names and locations of ALL their suppliers, so you can investigate for yourself the origin and working conditions that led to your rockin' denim.
G-Star holds its overseas suppliers to a high set of standards for worker safety and environmental standards, based on several international standards for environmental safety and human rights. Their suppliers are regularly audited to ensure they're playing by G-Star's rules.
They also enforces a strict ban on chemicals hazardous to health and the environment. Thanks to these initiatives, their manufacturing process has been free of phthalates, PFCs, and APEOs, and is actively working to completely eliminate any toxins released into wastewater as a result of their production practices.
Sustainable Materials
Though you can definitely get some stretch denim from G-Star, they've put a large focus on improving the sustainability of the materials they source for their clothes, and have come a long way.
At this time, about 30% of G-Star's collection is made from organic cotton, recycled cotton, Better Cotton, recycled polyester, and Tencel®, and they even came out with a special line in 2010 made from innovative new fibers like RAW Nettle!
The brand has also put a blanket ban on sandblasting, a jean distressing method that has been proven to have catastrophic health consequences for the employees who administer it.
Instead, they've adopted safer and more sustainable finishing practices, like with their unique Hydrite Denim. This fabric's finishing process uses 95% less water, and significantly less energy.
Reducing Plastic Waste
A few years ago, G-Star removed plastic bags entirely from all of its retail locations, and has since been using biodegradable paper bags.
In addition, they're currently working on a compostable alternative to the poly bags they use to keep their denim its finest during shipping, and plan to replace those as soon as a workable alternative becomes available (you GO G-Star!).
They've also partnered with musician Pharell Williams to curate an co-design a collection (RAW for the Oceans) innovated from recycled ocean plastic.
Community Support
Another big part of who G-Star is a company that believes in empowering people through training and education. Through their GSRD Foundation, G-Star is helping children and adolescents by giving them the tools and training they need to succeed professionally.
In India, China, and Bangladesh, the program provides knowledge and training, in addition to grants and loans, to encourage participants to strike out as entrepreneurs and broaden their opportunities.
Getting It Done
G-Star isn't a 100% organic clothing line by any stretch, but the initiatives of this large and successful clothing designer show that the industry is turning a corner, and that green is possible, even when a great looking booty is at stake.
Have you ever tried G-Star denim? What did you think of it? Tell us on Facebook or Instagram, and tag us in the post @AvocadoMattress or #AvocadoGreenMagazine.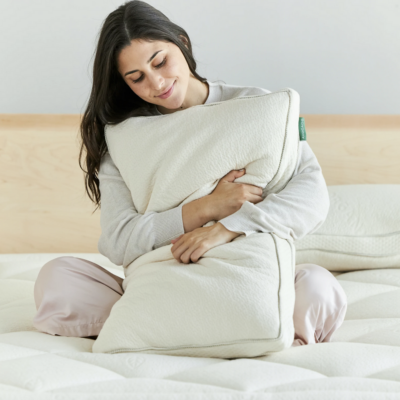 Shop Pillows
The Essential Organic Pillow Collection
Gentle, breathable, non-toxic support.
Buy Now