By now, you've likely stumbled across recipes for "N'ice Cream" — or ice cream made from bananas — one way or another. Maybe it was a headline touting the ease of this 1-ingredient wonder, maybe it was featured in a favorite healthy cookbook; popular among vegan bloggers and sweets-craving paleo folk (and vegans, and people who are gluten-free, and… the beauty of this recipe is that it can be consumed by nearly everyone), this simple, sweet treat has been growing in popularity thanks to its sheer simplicity and utter deliciousness. And that popularity is hard to argue with once you make it yourself.
What makes n'ice cream so incredible?
At its most basic, n'ice cream can be created from one ingredient: bananas. Just like basic vanilla ice cream, the basis of this recipe is, well, pretty basic. But unlike banana bread, where the older the banana the better the bread, for n'ice cream, nearly the opposite is true. In this recipe, a little green on your bananas is a good thing. By blending frozen banana chunks in a high-speed blender or food processor (and you really have to blend them), you're left with an end result similar to that of soft serve — silky, smooth and ultra tasty.
Stick it in the freezer for a few minutes to firm up and you've got yourself a creamy, delicious treat. It's that easy, really. Not only that, but the recipe is simple to scale — use a one to two bananas for one serving, or a whole bunch for two, three or more servings. Then add your favorite toppings, mix-ins — go crazy.
It's up to you to make things as complicated and healthy — or completely indulgent — as you like. If dairy is in your repertoire, the addition of condensed milk during the blending process creates a dreamy flavor similar to banana pudding. Or try stirring in chocolate chunks and bits of granola to emulate your favorite store-bought ice cream treat, or use almond butter and cacao powder… the combinations are truly endless.
This is the perfect recipe to make with kids — but full grown adults are encouraged to try it, too. Banana n'ice cream is the ideal answer to a 9pm craving for something sweet but not completely unhealthy or a last minute rainy day recipe. Ready to make some yourself? Try the basic recipe below, then experiment with the provided suggestions or your own inspiration — the end result is up to you!
1-Ingredient Banana N'Ice Cream
Makes 1 serving — increase number of bananas to increase volume
Ingredients:
1 large just-ripe banana or 2 small to medium bananas
Tools:
Blender or food processor
Knife
Baking sheet or cutting board
Freezer-safe container
Directions:
Step 1
Peel and slice the bananas into small chunks. No need to be precise. Place on the baking sheet or cutting board and freeze for at least two hours.
Step 2
Remove from the freezer and put your banana pieces into the blender or food processor. Pulse for a minute or two to break up the pieces into smaller chunks, then blend until smooth and similar in consistency to soft serve. As you blend, you'll notice your bananas breaking up and getting softer – keep blending until you get the right consistency.
Step 3
At this point, your basic banana n'ice cream is done. You can scoop it into a freezer-safe container and freeze until set and scoopable or add your mix-ins, such as those suggested below, then freeze.
To serve
Scoop into a bowl or dish, add toppings, and serve.
PB Banana Buzz N'Ice Cream
1-2 tsp peanut butter (per banana – increase based off number of bananas used)
Honey
Chopped peanuts
Bee pollen
How to Make
Add peanut butter at last step and blend. Freeze, then top with Honey, peanuts, and bee pollen to serve.
Salted Cacao Nib N'Ice Cream
1-2 tsp cacao powder (per banana – increase based off number of bananas used and to taste)
Pinch of Maldon flaked sea salt, or to taste
Sprinkle of cacao nibs
How to Make
Add cacao powder and flaked sea salt at last step and blend. Freeze, then top with cacao nibs.
Toasted Coconut N'Ice Cream
½ -1 tsp coconut extract
Small handful dark chocolate chips
Unsweetened toasted coconut flake to top
How to Make
Add coconut extract and chocolate chips at last step and blend. Freeze, then top with toasted coconut flake and additional chocolate chips.
Have you made n'ice cream? Have a tip or trick to share? Connect with our community by tagging us with @AvocadoMattress or #AvocadoGreenMagazine on social!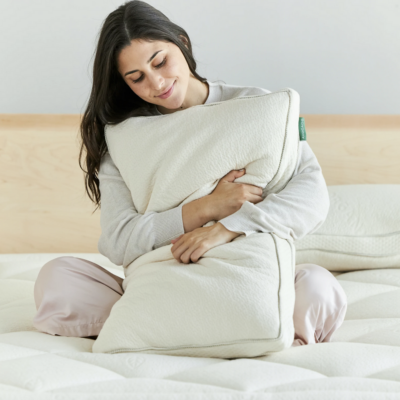 Shop Pillows
The Essential Organic Pillow Collection
Gentle, breathable, non-toxic support.
Buy Now