How Bakers Against Racism used a bake sale to raise $200 million for social justice causes.
Like most events and celebrations of 2020, the year's largest bake sale took place virtually. It spanned 200-plus cities across five continents. There were loaves of sourdough — the year's trendiest bread — full-sized butter crust pies and cookies (so. many. cookies). Some participants were pros, others just your everyday home baker, but all had one goal in mine: to be, as the Instagram account that inspired them is called, Bakers Against Racism.
The social media-driven exchange came to three Washington D.C.-based chefs — Willa Pelini, Paola Velez and Rob Rubba — as protests sparked by the killing of George Floyd swept the nation. Pelini, hoping to raise money for the Minnesota Freedom Fund, approached Velez, a fellow furloughed pastry chef who recently ran a doughnut pop-up benefitting immigrants rights organization Ayuda. Velez drew up some helpful tips she learned from her experience and they launched the Instagram account using a GIF by Rubba, a former graphic designer. The message was simple: "We are armed to fight racism with the tools we know how to utilize, our FOOD."
Their goal was equally humble: to enlist 80 or so participants and possibly raise a dollar amount in the five digits. They didn't expect a hundred bakers to sign up on day one, followed by hundreds more. By the time the sale was over, the movement was nearly 3,000 strong and collected a stunning $1.8 million for organizations such as The Okra Project, Equal Justice Initiative, and New York Civil Liberties Union.
To host a bake sale in the midst of a pandemic required a flipping of the traditional model. There were no school gymnasiums or church basements as venues, no strolling around from table to table to see what was available or even a designated group to support. Instead, bakers — who were asked to sell a minimum of 150 pieces each — registered via a Google Form and donated proceeds to a charity of their choice that supports communities of color. They posted their sweets online, allowing friends, family, and complete strangers to scroll and order — the presale buzz was so high, some bakers found themselves sold out long before the delivery or pick-up date.
While this certainly was not the first time a bake sale was used to support a cause, it came at a time when more people than usual had both the time and motivation to help. Many had already turned to their kitchens to pass time during quarantine and felt inspired by the Black Lives Matter marches. The fact that anyone from anywhere could join turned Bakers Against Racism into a global phenomenon, when in the pre-Covid past it would have been a small local event. It was a way for everyone to connect from a distance — and eat something delicious, too.
Since Bakers Against Racism officially launched in June, affiliates have sprung up across the world — in large cities such as New York and London, but also Binghamton, Kansas City, and Richmond, proof that conversations about equal rights and social justice are taking place in communities big and small around the world. When bakers sign up, they're given recommendations for reading materials and podcasts so they can continue their anti-racist education. The account has also become a place to highlight BIPOC chefs and food businesses — the industry has been hit especially hard by the pandemic and like many others, continues to struggle with its own history of discrimination and inequity.
In September, Bakers Against Racism held a "Bake the Vote 2020" sale, and an ongoing holiday fundraiser ends soon. There's been a slight upgrade to the process, a map partnership with order platform Minimart makes it far easier to find a nearby participant. That might be a pastry shop, an out-of-work chef now baking from home or an amateur with a lot of passion and a whisk.
Whatever the case may be, there's no doubt this grassroots bake sale has been one of the most inspiring events of 2020.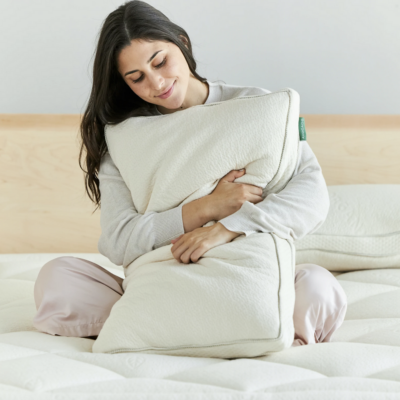 Shop Pillows
The Essential Organic Pillow Collection
Gentle, breathable, non-toxic support.
Buy Now