The hospitality industry is one that takes its toll on the environment, and a rising wave of resorts and retreats are looking to change that. More and more, eco-resorts are taking it upon themselves to protect and preserve the ecosystems their guests often travel so far to see, if not to protect their businesses, than to protect the beauty and biodiversity in these stunning locales.
All over the world, you can stay, play, and relax in style, all while knowing you're supporting private conservation efforts and enjoying the world-changing innovations that are the future of the hospitality industry. Prepare for wanderlust. Here are our top 16 picks for the best eco-resorts, ecolodges, and eco-friendly hotels.
#1 — Lapa Rios, Costa Rica
LUXURY ECOLODGE NATURE EXPERIENCE
Nestled on a 1,000 acre nature preserve, Lapa Rios provides a secluded getaway with a little bit of everything. From sweeping ocean views to nature walks through the surrounding rain forest, at Lapa Rios you can soak in an otherworldly connection with nature.
The entire resort was built with sustainable, local materials, and employs only local staff to assist guests in its private bungalows, which start at $720/night
#2 — Kasbah du Toubkal, Morocco
SECLUDED MOUNTAIN ECOLODGE
Exotic, lush, and remote, Kasbah du Toukbal is the stuff of fairytales. Nestled against the stunning Morroccan Atlas Mountains, mules have to carry your luggage for the 15 minute walk to the mountainside resort.
Kasbah du Toubkal employs only local staff, and they've renovated their facilities using only local resources. They're also responsible for providing support for the local school children, and allow guests to make contributions as part of their stay.
Stay for a while — rooms at the Kasbah du Toubkal start at just $208/night.
#3 — Chumbe Island Coral Park, Tanzania
AWARD-WINNING NATURE RESERVE
Conveniently located by one of the "most spectacular coral gardens to be found anywhere in the world", Chumbe Island Coral Park is a sustainable, highly eco-conscious resort in Tanzania that goes above and beyond to protect the ecosystem its guests enjoy.
The coral gardens are protected by a private nature preserve, where guests can snorkel, go on nature walks, and explore historic monuments in the area.

The facility boasts rainwater catchment, solar energy, solar water heating, composting toilets, greywater filtration, and strives to be extremely low waste because of the isolated nature of the island.
With private bungalows for guests, $260/night gets you a slice of this eco-friendly heaven.
EXPERIENCE CHUMBE ISLAND CORAL PARK
#4 — The Lodge at Chaa Creek, Belize
LUXURY BELIZE ECO-RESORT
If you're looking for less rugged and more resort, check out The Lodge At Chaa Creek in Belize. With an eco-friendly infinity swimming pool, private cottages, a horse stable, spa, nature preserve, restaurant, working farm, and a butterfly exhibit, there's something for everyone at this incredible destination.
Their sustainability initiatives are impressive too. This resort makes an effort to support the surrounding community, with 10% of their accommodation revenues going to social and environmental causes. They also support local healthcare and education initiatives.
At their facility, The Lodge recycles, buys in bulk to reduce packaging, and even composts kitchen waste for their organic farm. They use only eco-friendly products, source part of their power from solar energy, and even supplement their water supply with rainwater collection!

Cozy up and settle in — this tropical eco-retreat starts at $279/night, with romantic private cottages available as well.
EXPLORE THE LODGE AT CHAA CREEK
#5 — Natura Cabana, Dominican Republic
BOUTIQUE HOTEL & SPA ECOLODGE
Located in the lush Dominican Republic on the northern coast, Natura Cabana is an unspoiled oasis for those looking to unplug and reconnect with themselves. With an on-site yoga temple and no TV or phones, guests can disconnect from the hustle and bustle and truly relax in this paradise.
When you're not lounging in your private beachside cabana, you can go horseback riding on the beach, explore underwater caves, or zipline through the jungle.
Their entire resort is constructed with natural, local materials, and much of the food supplied for their guests comes from their on-site garden.
Ready to book your stay? Go for it, because private cabanas start at just $135/night.
#6 — Adrère Amellal Oasis Ecolodge, Egypt
SUSTAINABLE DESERT ECOLODGE
An unforgettable trip takes you beyond the Cairo city limits to one of the remotest resorts on this list — the Adrère Amellal Oasis Ecolodge in Siwa Oasis.
Operating completely without electricity and by the light of locally made beeswax candles, prepare to see every star in the Egyptian sky as you sleep peacefully in this earthen resort.

Nestled on the edge of an oasis in the middle of the desert, this ecolodge attracts guests from around the world for its serenity and humbling beauty. Rooms are stocked with linens and goods made by local artisans, and local dishes are served on the expansive, breathtaking grounds.

This is a resort that's eco-friendly by design, and its exquisite, otherworldly experience is what keeps people coming back to experience the romantic serenity of this unique locale. Rooms start at $605/night.
EXPERIENCE ADRÈRE AMELLAL OASIS ECOLODGE
#7 — Milia Mountain Retreat, Greece
ZEN CRETE ECO-RETREAT
If you swoon for Greecian vacations with lush spreads of mediterranean cuisine, stop in the Milia Mountain Retreat, where you can stay in a refurbished 17th-century room-house.
Solar panels provide electricity for the resort, and a nearby spring provides fresh water. Coco-mat mattresses in every room make for a cushy, eco-friendly slumber while soaking in the breathtaking surroundings of the Kissamos region.

With their on-site restaurant featuring dishes like Cretan pasta and sauteed lamb and rates super low at just
$87/night
, the Milia Mountain Retreat is a must-see off the beaten path resort for anyone looking for a unique, tranquil Mediterranean vacation.
EXPERIENCE MILIA MOUNTAIN RETREAT
#8 — Daintree Ecolodge and Spa, Queensland
RAINFOREST RETREAT ECO-RESORT
Fancy an outback vacation? The Daintree Ecolodge and Spa in Queensland, Australia is located in the oldest rain forest in the world, and features Great Barrier Reef tours, guided rain forest walks and zip-lining excursions for the adventurers at heart.

Their jungle facility is partially solar powered, supplies its guests with eco-friendly toiletries, and uses rainwater catchment.Guests can explore this unique, adventurous eco-retreat for
$287/night.
DISCOVER THE DAINTREE ECO LODGE AND SPA
#9 — Belle Mont Farm, West Indies
FARM TO TABLE GREEN RESORT
Caribbean vacations top the list for most wanderlusters, Belle Mont Farm is the perfect mix of seaside beauty and upscale hospitality.
This unique farm-to-table resort features edible landscaping, with private guesthouses and villas for a truly private and tranquil experience overlooking the Caribbean Sea. Its traditional style bedrooms with large, colonial style furniture and pane glass windows are reminiscent of another time in this alternative to the hustle and bustle of Caribbean resort life.
At $232/night, it's a getaway that takes you away from busy hotels, to a place where quality and service is everything.
#10 — The Green House, United Kingdom
LUXURY BOUTIQUE ECO-HOTEL
Ironically, The Green House, located in the hustling and bustling resort area known as Bournemouth on the southern coast of England is perhaps one of the greenest destinations on this list! It boasts an impressive green resume, and has rightfully earned the title of the greenest hotel in the United Kingdom.
Inside the rooms, guests sleep on eco-friendly bedding and furniture made by storm-felled wood. The luxe carpets that adorn the floors are 100% and locally made, and the bathrooms are made of stunning natural stone.

On the walls, The Green House uses local Farrow and Ball Eco Paint or Forest Stewardship Council certified wallpaper, which is made in the UK using only vegetable-based inks. The water in the hotel is heated by the sun, and much of their electricity is produced by an on-site with a system that also heats the hotel.
In the restaurant, local and organic foods are sourced whenever possible, and the company car is run off of used oil from the kitchen. The bar stocks local and sustainably produced spirits and wines, with the carbon footprint of every bottle taken into account before it is stocked.
This isn't a preachy hotel though, and one that prides itself on its dedication to luxury, while not abandoning its eco-friendly principles. Guests can stay at the Green House for $192/night.
#11 — Dominican Treehouse Village, Dominican Republic
TROPICAL JUNGLE TREEHOUSE CABINS
Looking to try something really wild? The Dominican Treehouse Village is exactly what the doctor ordered. With open air treehouses situated in the lush surrounding jungle, you can enjoy a resort experience unlike anything else.
With a yoga dome, pool, bike rental, and a seasonal waterfall with a rope swing, this place provides for adventure and relaxation, while also preserving the surrounding paradise from further development.
The Dominican Treehouse village employs locals, and even offers programs that allow guests to personally get involved with the surrounding community and help locally.
Absorb the culture and beauty of your surroundings, and lend a hand where it's needed at the Dominican Treehouse Village for just $125/night.
EXPERIENCE DOMINICAN TREEHOUSE VILLAGE
#12 — Eco Retreat B&B, British Columbia
CANADIAN WILDERNESS ECO CABINS
Adjacent to the breathtaking Othello Tunnels in British Columbia, Canada, the Wilderness Eco Retreat B&B sits ready for your stay. These rustic cabins are anything but rugged, though. With lush feather beds, a wood fired hot tub, and eco-friendly toiletries, this simple backwoods retreat is the perfect place to unplug, unwind, and relax in the wilderness of Canada.
Just 90 minutes from Vancouver, the property features an organic garden and friendly staff that are happy to accommodate the special dietary requests of their guests. Local dairy products are supplied for meals, line dried linens for the beds, and bathrobes and bedhead are highly encouraged breakfast attire.
Rates for these comfy refurbished rustic cabins start at $99/night.
#13 — Jean-Michel Cousteau Resort, Fiji
LUXURY ISLAND ECO-GETAWAY
Jean-Michel Cousteau Resort is an ultra high-end resort. It boasts two nature preserves in the waters off the island of Fiji, where they aim to preserve the natural wonders below from fishing efforts, and showcase to their guests the natural wonders of the surrounding waters.
The Jean-Michel Cousteau Resort boasts several programs and initiatives to protect and rebuild the ecosystems surrounding the resort, from their Mangrove reforestation program, to their giant clam re-population initiative.
The resort utilizes 100% non-toxic pest control, and employs a full-time marine biologist to ensure that all other practices, including cleaning products at the resort, are safe for the surrounding environment.
The on-site organic garden supplies 20% of the resort's food, and a unique and highly energy efficient wastewater treatment and filtration system ensures that the resort's water usage has no impact on the local wildlife.

Guests at this ultra-exclusive 5-star resort can embark on glass-bottom boat tours, relax in the world-class spa, explore the reef, and even enjoy a picnic for two on the private island.
With rates starting at $1,069/night, this once in a lifetime experience has even attracted guests like former President Barack Obama.
EXPLORE JEAN-MICHEL COUSTEAU RESORT
#14 — Star Island, Bahamas
SUSTAINABLE ISLAND DESTINATION
When you think of the Bahamas, you usually think of high-rises and water slides — it's time to reimagine it. The Bahamas Eco-Resort on Star Island is a private getaway for two, complete with a king-sized suite and energy efficient appliances. When you're not soaking up the sun on the beach or reading on your balcony overlooking the ocean, you can tour the organic gardens or go fishing for some dinner.
The facility is on a 100% closed-loop water system for conservation, and utilizes rainwater collection for fresh supply. Though it's a working prototype, the Star Island resort is solar powered and comes with all of the amenities of a cushy vacation pad.
Want to book it? Get the whole island to yourself for $950/night.
#15 — Six Senses Ninh Van Bay, Vietnam
LUXURY ECO-RESORT AND SPA
Sitting in beautiful Vietnam is the Six Senses Ninh Van Bay, and this resort is the stuff dreams are made of. On the edge of the Vietnam Sea, you're surrounded by stunning rock formations, white sand beaches, and turquoise waters.
This incredible resort features more than just breathtaking views though. With an on-site spa, yoga pavilions, intimate restaurants with exquisite local fare, fishing trips, snorkeling, and so much more, there's never a shortage of things to do, and ample opportunity to get out and explore the stunning scenery.
More than anything though, this is a resort that focuses on sustainability without compromising luxury. With an on-site farm, all of the food is provided either by their organic garden, or by the local market of seafood and fresh produce. They even have a small chicken farm, where guests can enjoy fresh eggs!
The buildings are all designed with passive cooling in mind, minimizing the need for air conditioning and electric measures to keep the rooms comfortable for the guests. A reusable glass bottle system is used for hotel guests to eliminate plastic bottle waste, and the resort employs a policy to reduce waste whenever possible.
This resort also makes every effort to support the surrounding community, funding education, community initiatives, and always employing local staff whenever possible.
Book it now, and sink into your little slice of paradise at $576/night.
DISCOVER SIX SENSES NINH VAN BAY
#16 — The Barefoot Island Resort, Maldives
ECO-HOTEL AND ISLAND RESORT
Who hasn't seen those gorgeous aerial videos of island resorts in the Maldives? It's one of the most sought after destinations right now, and with good reason. The crystal clear waters, serene setting, and unbelievable bungalows have made the Maldives the center of wanderlust attention all over social media these past few years.
The Barefoot Island Resort, nestled in the Maldives, is no exception to the luxury you swoon over on social media. This resort focuses on giving guests a new way to experience the Maldives — through awareness, sustainability, and conservation.
Tucked away on Hanimaadhoo Island and surrounded by virtually untouched forest, the Barefoot Island Resort faces the crystal blue waters of a turquoise lagoon where guests can snorkel and sunbathe on the white sand.
Beachfront rooms stocked with locally-sourced goods provide guests with stunning ocean views, right outside their door, and all of the buildings were made with sustainably grown wood. Solar panels supply a portion of the resort's electricity, and the heat generated by the air conditioning units is actually recycled to heat water for guests.
From just $95/night, guests can enjoy the stuff Pinterest boards are made of at The Barefoot Island Resort.
EXPERIENCE THE BAREFOOT ISLAND RESORT
Have you been to an eco-resort? Did our list make you want to try one? Continue the conversation on social media by tagging us with @AvocadoMattress or #AvocadoGreenMagazine.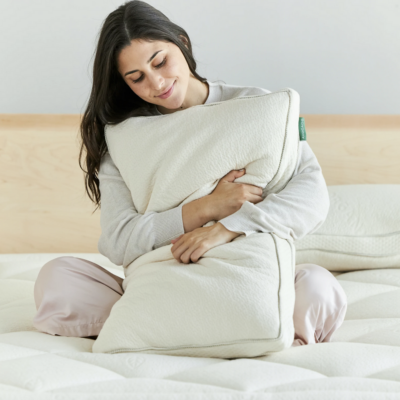 Shop Pillows
The Essential Organic Pillow Collection
Gentle, breathable, non-toxic support.
Buy Now