Getting hitched? The people that love you want you to have everything you need to get started right, so let's set you up with a gift registry that reflects your values.
A Registry With What You Want
Before we dive into some great eco-friendly wedding gift recommendations here, let's address the issue of not necessarily wanting a Bed Bath and Beyond or Macy's gift registry.
If there are things scattered across the interwebs that you need, or if you want to support some small businesses with your wedding registry, set up a custom registry through MyRegistry, and add anything you want from any store to your list.
Eco-Friendly Registry Must-Haves
If you're an eco-conscious couple that wants to lessen their impact on the environment while still living with modern conveniences, check out this gift registry to ensure you get it all on your list.
Top o' my list, because man do I wish I had gotten one of these (the plastic closure tabs on my Wilton cupcake carrier broke after about a year). This wooden box can hold either 18 cupcakes, or a 10" cake if you remove the slats. It's sturdy, it's beautiful, it's 100% biodegradable, and it's from one of my all time favorite stores, Life Without Plastic (seriously, half of your registry is going to be from this place).
Speaking of living without plastic, if you need a coffeemaker, prepare to be sorely disappointed by the lack of plastic-free automatic options on the market. The next best thing is the beautifully crafted Chemex coffeemaker, available in a variety of sizes, and now, in an automated version.
Hey you, over there, with the same lumpy, stained pillow you've had since you graduated high school. Yea, I see you, because I was you. It's time to level up and get some fresh pillows for your fresh, beautiful new life together. Natural latex pillows are free of flame retardant chemicals and petroleum-based products, and are like sleeping on clouds. Recycle your old ones, and add these to your wedding registry today.
Cotton is one of the top consumers of pesticides worldwide, so if there's anywhere to go organic, it's here. Add some soft, fluffy, organic cotton towels to your registry, and never look back.
We spend 30% of our lives in bed, so make sure the bedding you get is 100% organic, and not saturated with pesticides. There are SO many beautiful, affordable bedding sets that use 100% soft, organic cotton, so there's absolutely no need to settle.
These adorable reusable sandwich bags will get used a lot — register for several sets in all of your favorite prints, and never buy disposable sandwich bags again. (Looking to replace disposable items in your home with reusable alternatives? Check out this post.)
Even if you love your dryer to the moon and back, a clothes drying rack is an easy way to dry delicates when you don't have a clothesline. Get a beautiful wooden collapsible one that can be tucked away when not in use.
Yes, sustainable flatware is a thing, and it is STUNNING. One of my all-time favorite stores, Bambeco, sells several sets in several styles made of recycled stainless steel, and they're every bit as beautiful as something you'd buy in a high-end department store.
Don't let those food scraps go to waste — add a countertop compost pail to your registry to keep the smell and bugs away, while still putting organic food waste to good use in your garden.
Speaking of composting, there's no time like starting your new life together to begin creating fertile soil together (I promise, no pun intended). If you like a contained system, add a compost bin to your wedding registry, and start nurturing the earth where your lives will grow.
What sets the mood better for newlyweds than candles? Avoid petroleum wax candles with synthetic fragrances, and opt instead for some beautiful, handcrafted beeswax candles, like these from the Beeswax Co..
Antique Cast Iron Cookware
Cast iron of all kinds is fantastic for cooking, simply because of its lack of chemicals like Teflon, it's ability to transfer iron into your food, and the longevity of it. However, I'm a bit of a cast iron snob over here, so I'd be remiss if I didn't tell you that new cast iron has nothing on antique cast iron.
Add a few eBay listings to your gift registry so that your family gets the idea, and look for vintage pans and dishes made by fantastic companies like Griswold and Wagner. These pieces were actually cast, and as a result are much smoother than new cast iron is today. But if modern cast iron is all you can find, it will still do the job.
Don't waste your time with expensive pitches and on-the-faucet filters — very few come close to being as high-quality as the Berkey filter, which can even remove fluoride from water. Get the beautiful stainless steel Big Berkey for your kitchen counter, and never buy bottled water again.
Plastic tupperware can leach chemicals into your food as you store it, so I prefer either glass or stainless steel food storage containers. There are some fantastic stainless steel options you can get from Life Without Plastic, or you can try a glass set with plastic lids, like this one from Snapware.
Even if you are already married, these make great wedding gifts for the people you love. (Or an upcoming birthday!)
Are you wedding planning or attending any weddings this summer that you are in need of gift ideas for? Tag us on Facebook or Instagram @avocadomattress or with #avocadomattress and let us know any products we missed.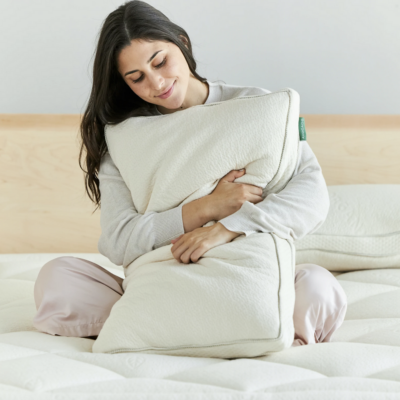 Shop Pillows
The Essential Organic Pillow Collection
Gentle, breathable, non-toxic support.
Buy Now