I remember when I instituted a no plastic toys rule a few years back, just in time for the holidays. My family was irritated, and mildly horrified as the thought, "Well then what are we supposed to buy them for Christmas?"
I had a two-year-old son at the time, who even at this young age, was absolutely DROWNING in toys. Cheap, flimsy, pieces of plastic that broke and fell apart if they so much as sat in the sun for a day.
It was maddening. Watching package after package come in with more toys that never seemed to survive past the 90-day mark made an impression on me.
Because all of this stuff was winding up right in a landfill.
So I drew a line in the sand and started looking more closely at quality instead of quantity. The no plastic toys rule eventually fell away (most of our toys are still wooden). I've since shifted my focus to limiting quantity, buying better quality toys (even if they're plastic), and buying from sustainable brands whenever I can.
A lot of people don't realize this, but there are a TON of really amazing sustainable toy companies out there changing the game. Even big brands like LEGO are getting on board, with a pledge to switch to 100 percent plant-based plastics in the next decade.
Spam your family and friends with the link to this article (even if it's they've completed their holiday shopping). Here are some of my favorite eco-friendly toy brands for kids.
Green Toys
Green Toys makes all of their toys out of recycled milk cartons, producing a nice thick, durable plastic that's BPA-free and putting to use a massive waste stream. They make toys for babies all the way up to bigger kids, with things like rattles and cars, to barns and activity sets.
All of their toys come packaged in 100 percent recycled materials, too — that means there's no annoying plastic packaging to throw away when you buy most Green Toys.
Green Toys sent us one of their tea sets to try out for ourselves, and my boys absolutely LOVED it. It was the perfect toy for an 18-month-old and four-year-old who are constantly bickering over toys.
The set may be made of plastic, but again, the material is obviously SO different from the cheap stuff you cringe at your kids drinking from. It's non-toxic, so I didn't have a problem with my kids pouring little tea cups of water and drinking it from the set.
PlanToys
PlanToys is a super cute toy brand that makes toys out of sustainable rubberwood. PlanToys make their sets for kids from babies to big kids, with plenty of activity sets to get kids up and moving.
Eco-Kids Finger Paint
Eco-Kids makes a bunch of eco-friendly art supplies for kids: finger paints, crayons, play dough — anything you need to make a mess and make some memories.
What I really love about their stuff is that it's all eco-friendly and non-toxic, made with natural pigments and ingredients. If your toddler is like mine and eats as much play dough as he plays with, this makes arts and crafts time a little less stress-inducing.
Apple Park
Apple Park makes some SERIOUSLY cute baby toys, clothes, and bedding, all with organic cotton and natural fillings. Most of their toys are for babies, but some of their dolls and stuffed animals make great gifts for older kids too.
What I really love is their packaging. These toys are really whimsical, with forest themes, and come in cute boxes that make them look great sitting under the tree.
Green Sprouts
Green Sprouts makes toys primarily for babies, including rattles, teethers, and lovies made from materials like organic cotton, muslin, and silicone. I really love how they design the shape of their toys to be tiny hand-friendly. Their toys are bright and colorful and really thoughtfully made for babies and toddlers.
EverEarth
This toy brand is not NEARLY well known enough in the United States. Their toys are adorable, made from sustainably sourced, FSC®-certified wood, and produced with solar energy. Needless to say, I LOVE EverEarth.
They make toys for babies and big kids, ranging from stacking toys to activity sets and outdoor toys. All beautifully designed, all built to last.
Under the Nile
Under the Nile makes some of the cutest, sweetest organic baby clothes and toys on the planet. Their entire line comes in soft muted colors, delicate squishy organic cotton, and eco-friendly fillings that are non-toxic and planet safe.
These toys are perfect for babies and expectant moms, and are truly heirloom quality — you'll want to hold onto these for keepsakes.
I have an 18 month old son named Oliver who we call Ollie for short, so we were THRILLED when Under the Nile sent us their Organic Baby Ollie Doll to snuggle with. The first thing I noticed was this doll had some weight to it — not your typical lightweight rag doll.
The cotton is smooth and doesn't seem like it will pill with washing, but is also super soft. My baby Oliver INSTANTLY pulled this doll in for a big hug and mushed his face into the doll's toboggan — I think he likes chewing on it. And with no flame retardant chemicals or pesticides, I'm okay with that.
LEGO Plants Made from Plants
LEGO shocked the world when they announced they planned to use their new sugarcane-based plastic in ALL of their products by 2030.
Though the material isn't biodegradable, it isn't made with petroleum, which means it doesn't require fracking and oil refineries to produce. Winning.
For now, the plant-based plastic LEGOs can be found in their Plants from Plants sets. Buy these sets for your kids and show LEGO that we as consumers want MORE of this — maybe we can get some Star Wars LEGOs made from sugarcane by 2025.
Magic Cabin's Deluxe Kitchen Playset
Magic Cabin is this great online store that sells toys designed to stimulate imagination. I LOVE this place.
Not all of Magic Cabin's inventory is sustainably made, but they stock really well-made toys, many of which are wooden, this like this wooden kitchen play set.
Windmill Generator Kit from Lehman's
Lehman's is a family-owned and operated hardware store in the Midwest that has become famous for their high-quality, old-fashioned goods. They buy a lot of handmade things directly from local craftsmen. I LOVE this store — for me and my kids.
This Windmill Generator Set isn't made from sustainable materials or anything, but it's an EXCELLENT educational activity to teach kids more about sustainable energy sources and the mechanics behind them.
Solar Car Kit
Sun Wind Solar is on a mission to spark curiosity about solar energy in adults and kids. Their solar kits are super fun to build, and every bit as educational for a grownup as they are for a kid.
My four year old and I built this Sunnyside Up car this year, and it's AMAZING. It takes off in the sun, and as soon as it gets to the shade, it stops, perfectly illustrating the sun's energy to my kids.
Sustainable toys are SO much fun — which eco-friendly toys are you getting your kids this holiday season? Show us your secret stash of presents on Facebook and Instagram and tag us in the post — @AvocadoMattress.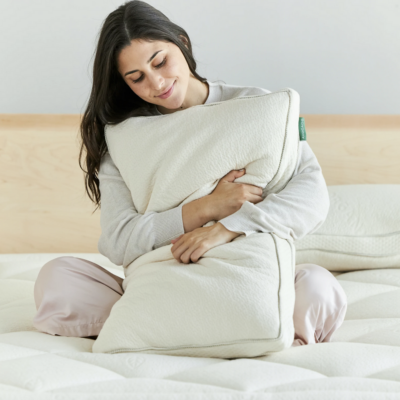 Shop Pillows
The Essential Organic Pillow Collection
Gentle, breathable, non-toxic support.
Buy Now