With Father's Day right around the corner (June 18th, 2017), it's time to start thinking about how we're going to honor the man with the Mickey Mouse pancake magic.
Holidays are notoriously fraught with waste, but we can still get the fathers in our lives something to show our appreciation, without putting a strain on the environment. Here are 15 eco-friendly gift ideas to get your Father's Day shopping started right.
Bourbon and Brews
Local everything is always more sustainable and packs a lower carbon footprint than something shipped from a thousand miles away. Stop in to the local brewery and fill up a growler of his favorite brew, or find a distillery nearby to get some of his favorite liquor, right from the source.
Keep in mind, though — dad might want to come along for a sampling. Microdistilleries are smaller operations, more reminiscent of a mom and pop shop than a factory, and often offer tastings, as well as recommendations for their customers. These little bourbon beauties are made in small batches, making the finds all the more unique.
The Bourbon Trail in Kentucky is riddled with these little distilleries, but if you can't make the voyage, you can try to track down a few like Whiskey Row Bourbon in stores or online to make sure Dad gets a bottle of the good stuff.
Beard Grooming Kit
If Dad has a scraggly beard in need of some attention, give him the tools to make him feel like king of the castle again. Beard oils and balms help to moisturize and add shine, while taming the wild hairs flying every which way.
Get him a wooden beard comb and a military-style boar bristle brush to polish off the gift set – the Texas Beard Co. has some great products, made from all natural ingredients, in manly, natural scents that will make every dad feel his mountain man best.
A Safety Razor
Safety razors intimidate a lot of people because of the double edge of the blade, but they're surprisingly simple to use safely, and contain almost no plastic. Even better, the blades can actually be recycled and replaced, instead of constantly throwing away cartridges.
This one by Edwin Jagger makes a great gift for dads that don't care for the bearded look.
A Homemade Treat He Can't Resist
Sure, eco-friendly gifts are great, but making something yourself or with the kids is always a great way to honor Dad, without caving in and just buying something.
You can't go wrong with his favorite dessert. Make something decadent, and let the kids help so that everyone can proudly present it to him on Father's Day.
With cherries coming into season, I plan on making a Black Forest Cake for my husband – you can take a peek at the recipe here.
Sustainable Wallet
If Dad's wallet is completely falling apart, it might be time to recycle it and find him a new one. There are so many fantastic companies out there right now creating a more sustainable alternative to the chemical leather process and PVC options all over the market.
One of my favorites right now is completely unconventional, but great for minimalists – the wooden Union wallet by Madera. Constructed of wood with a strap for carrying additional cards and cash, it's slim, modern, and very striking in appearance.
Jerky
Jerky is a big winner with a lot of dads, but finding some without corn syrup, artificial flavors, and preservatives in it can be really challenging.
Last year, a small family business funded a Kickstarter for the first ever pasture-raised pork snack sticks, and the idea has really taken off. Get Dad a case of Roam Sticks for Father's Day, and skip the fillers in those jerky gift sets.
Bamboo Bluetooth Speaker
This is not a drill – bamboo bluetooth speakers actually exist, and they're probably the coolest thing I've seen all week. Beautifully designed and much more biodegradable than plastic ones, these bluetooth speakers from Bambeco even featured recycled plastic interior components and hemp speaker cloths.
With a 30 foot range and 15 hours of power between charges, this speaker looks beautiful sitting on a desk, but is practical enough to everyday use.
Learn more about the bamboo bluetooth speaker here.
Sustainable Socks
I've never met someone that didn't legitimately want and need socks for any occasion. Dads that are on their feet a lot and work in the elements tend to put a lot more wear and tear on them, and the endless cycle of purchase, use, throw away just keeps on going.
Encourage dear old Dad to recycle a few of his holey-est pairs, and get him a few pairs from Osom to replace them with. These new socks are another product born of a Kickstarter from last year, and are made from an incredible 95% recycled clothing.
Solving the polyester production and waste problem in one fell-swoop, these socks are comfortable, breathable, and come in a few different varieties, depending on the activities of the wearer.
A Green Pillow
Great dads are always thinking of everyone else first, and that means that most of them sleep on the same pillows they've had for the last 10 years. Lumpy, stained, and flat to the point of almost being pointless, it's time to mail these old pillows in for recycling and get him something that will actually give him a good night's sleep.
Avocado Green Mattress' pillows are made from all natural latex, soft organic cotton, and plush Kapok fill from the Ceiba tree. Like down, Kapok is fluffable, but a completely vegan alternative. The result is a full, yet supportive pillow that never gets lumpy, and is made from plant-based sustainable materials.
You can learn more about giving Dad a good night's sleep with an eco-friendly pillow here.
Hand Tools
Power tools are great, but classic hand tools only use people-power – no carbon footprint – so they make our list of great gifts for eco-conscious dads.
From hand drills to crosscut saws to scythes, it's a great way to give him the tools he needs to get projects done – albeit with an added challenge – and kindle an interest in an age-old skill.
Plastic-Free Water Bottle
As a parent, I have searched high and low for the very best in plastic-free products, and have found that Pura without doubt, makes some of the most impressive water bottles, sippy cups, and baby bottles out there.
Completely devoid of plastic, these bottles are stainless steel with silicon sleeves and spouts. For cold beverages, Pura even makes the world's first and only 100% plastic-free insulated sports bottle. These things are amazing, last forever, are incredibly easy to clean, and are sure to wow any Dad still buying bottled water.
You can learn more about Pura's bottles here.
Pick a Place Day Trip
Like most busy families, there might be places Dad has been itching to visit, but simply hasn't made the time. Give him a heads up, and tell him he can pick anywhere he wants to go for a Father's Day day-trip. Pack up a cooler full of snacks, bring the kids some distractions for the road, and set out to finally make it happen.
Make Time to Be Together
If being on the road all Sunday sounds like more than he wants to get into, plan instead for a truly carefree, relaxing day at home. I mean it – no rushing around making a big dinner, no cleaning, no running errands – get everything caught up ahead of time, and make time to just be present in the moment.
Enjoy playing with your kids together, make a frozen pizza for dinner, and let the dishes wait til tomorrow – it's Father's Day.
Hemp Hammock
If kicking his feet up sounds like exactly what Dad wants to do this Father's Day, get him an eco-friendly gift that will let him do just that. These hemp hammocks by Rawganique are reasonably priced, made from sustainable materials, and are sturdy to enough to withstand years of lazy sunny Sundays.
A Handmade Knife
Whether it's for self defense or the odd task that requires an impromptu sharp object, a high quality knife isn't just a practical gift – it's a meaningful one. Well-built ones like these will last for decades to be passed on to other children. Get him a handmade knife, and then have it engraved for an extra meaningful present that will last for countless years to come.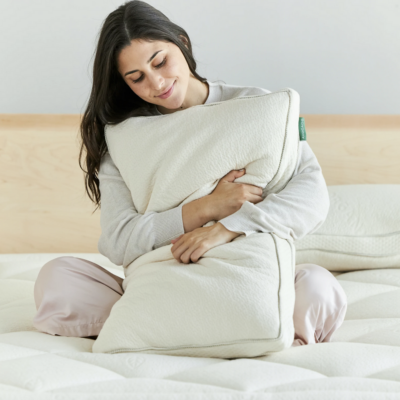 Shop Pillows
The Essential Organic Pillow Collection
Gentle, breathable, non-toxic support.
Buy Now