I remember when Febreze came out, and you guys, I was SO excited, it was ridiculous. I loved the idea of spritzing furniture and curtains and having them smell so fresh, without ever having to break out the cleaning supplies and grab the rubber gloves.
Then I did my research, and my heart sank.
I wanted to love the commercial fabric refreshing sprays. I really did. But those ingredients made it impossible.
The Toxicity of Store-Bought Fabric Refreshers
A slew of ingredients classified as lung, skin, and eye irritants — in addition to being harmful to marine life — made me think twice about lavender scented fabric softeners and cinnamon fabric sprays.
After looking through the data on the Environmental Working Group's website, I was shocked to learn that several of the ingredients contained in sprays meant to be used directly on my clothes, bedding, and mattress were actually proven to cause respiratory distress, allergies, skin irritation, and even nervous system effects.
You can take a closer look at their report on the popular fabric spray, Febreze, here.
When In Doubt, DIY
The bottom line is, scented fabric sprays are crazy easy and cheap to make, and they work extremely well. There's just no reason to rush to the store to buy something with ingredients proven to cause health and environmental problems when you can make something this good, right in your own kitchen.
It doesn't just coat your clothes and couch in a fragrance to mask the odor — sprays like this one actively work to deodorize at the source of the funk, freshening up your house just as well as the commercial-grade stuff.
DIY Scented Fabric Freshener Spray
Ingredients:
1 ½ cups warm water
½ cup rubbing alcohol
10-20 drops essential oils
1 tsp vegetable glycerin
¼ cup baking soda
Directions:
Pour the warm water and rubbing alcohol into a large spray bottle, and add your baking soda. Put the lid on and give it a vigorous shaking to combine.
In a small bowl, mix the essential oils of your choice with the vegetable glycerin. Then add it to your spray bottle, and shake again to combine.
A Note About the Ingredients
Rubbing alcohol — This ingredient kills bacteria and helps prevent any residue from minerals in the water from showing up on your fabrics or hard surfaces (i.e. water spots).
Vegetable glycerin —  A natural emulsifier, this ingredient helps your essential oils to be more evenly distributed throughout the mixture (though I would still give it a good shake before use).
Baking soda — Did you know that baking soda is a great deodorizer, even when it's mixed with water?
A Note About Essential Oils
I hate artificial fragrances as much as the next person, but I think it's really important to remember that essential oils are powerful ingredients, and should only be used when you're fully aware of how they react with your body chemistry.
Households with pets, children, and pregnant women should be particularly careful. Children and pets can be more susceptible to adverse reactions to essential oils, like peppermint and eucalyptus, and some essential oils can actually interfere with hormone production, putting pregnant women at risk. There is also some research that indicates that essential oils may cross the placenta to the developing baby.
In short, never take advice about essential oils from a sales rep — talk to your doctor or a naturopath before adding an oils you're not familiar with to your household cleaning routine.
Join us in DIY-ing and share your photos with @AvocadoMattress or #AvocadoMattress.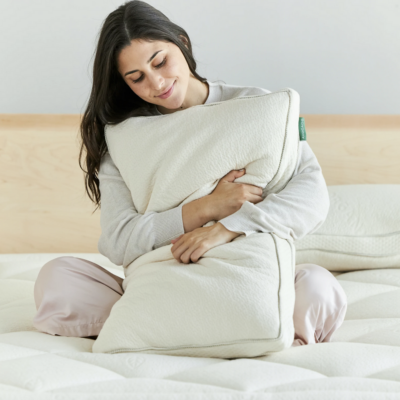 Shop Pillows
The Essential Organic Pillow Collection
Gentle, breathable, non-toxic support.
Buy Now