Could there be a better holiday to ring in May than Mother's Day? A time to celebrate the caregivers in our lives who fulfill the important role of "mother-mom-mama".
Whether she's your mom, your sister, your grandmother, a guardian – or even if he's your dear old dad, Mother's Day is a time to shine a special light of appreciation and say "hey, thanks for putting up with me!"

The problem, of course, is what do you get the person who has done so much for you? A simple bouquet is lovely – but may not feel like enough (let us go on the record to say we have a feeling the one who accepted all those macaroni necklaces would be thrilled with a handful of weeds), jewelry may be out of budget, and other gifts often feel so expected. Our solution? Opt for a handmade gift that encourages self-care. Because the same person that hung your hand-scribbled artwork and report cards on the fridge for the better part of two decades and dealt with your teenage mood swings deserves a little relaxation in their life. Why go DIY? While you could overspend on store bought scrubs and potions, creating your own DIY scrubs is cost-effective, better for the planet, and shows an extra level of care – plus, if you have multiple people to gift, the cost of your ingredients rings in far less than purchasing ready-made scrubs in multiples.

Today we're sharing the how-to to create your very own 2-in-1 sea salt soak and body scrub. This pretty mixture is gorgeous dissolved as a bath soak but doubles as a scrub with the addition of sweet almond or jojoba oil. Mix it up for your loved ones to help them relax and reset on their special day – or any day of the year.
Ingredients:
Clean glass jar (we recommend recycling an empty food storage jar – this one used to hold sauerkraut!)
1 part fine sea salt or fine epsom salt
1 part fine himalayan pink salt
Dehydrated rose petals
Optional: 10-15 drops essential oils (we used a combination of bergamot and ylang ylang)
*Note: To make this a scrub, gift with a small bottle of sweet almond oil

How to:

1. In a small bowl mix together equal parts sea salt and pink salt. If using, add the essential oils and stir to disperse.

2. To make the pretty rose petal layered look shown here, fill the jar half way, then add a small scoop of rose petals. Add more salt over top, then another layer of rose petals.
3. Done! Yes, it really is that easy. To make this a gift, pair with a wooden scoop and a bottle of sweet almond oil to create the optional scrub.

To use as a soak: Add a generous scoop of rose petal/salt mixture to a steaming bath and allow to dissolve before getting in. Soak and relax.
To use as a scrub: Add a small scoop of salt mixture to a shower-safe bowl. Add about 1 Tbsp sweet almond oil and mix. Scrub on damp skin in circular motions before rinsing and patting dry with a fresh, clean towel.
Are you creating a DIY Mother's Day gift? Share your creations with us on social by tagging us @AvocadoMattress and #AvocadoGreenMagazine!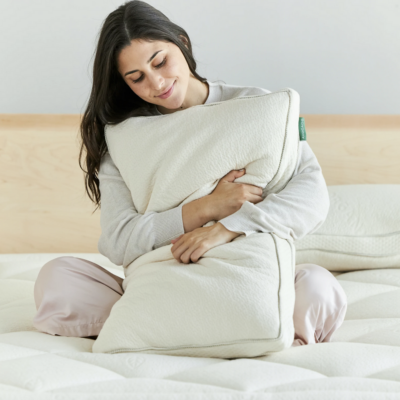 Shop Pillows
The Essential Organic Pillow Collection
Gentle, breathable, non-toxic support.
Buy Now