Valentine's Day and chocolate go together like pink and red, cupid and arrows… the two were practically made for one another. But it's more than savvy marketing by a certain card company that has us feeling the love when we bite into a bar of extra dark chocolate (sorry to all you V-day naysayers out there). Turns out, there's actual science behind those warm fuzzies you feel when you smell and taste chocolate (especially the good-quality, organic, all-natural variety).
By now we've all heard some version of the same fact – dark chocolate is good for you! (just like red wine, right?). While that fact is mostly true, whether or not the chocolate in question is healthy comes down to the origin and processing. Think of it this way, what's better for you: A plain baked sweet potato with a dab of coconut oil… or a basket of sweet potato fries? The answer is pretty clear. Chocolate works the same way – thanks to stabilizers, white sugar, emulsifiers and milk, you won't get much nutrition from a bar of Hershey's milk chocolate. But a super dark, organic and all natural bar of chocolate? That's a different story altogether.
Where does chocolate come from?
Native to South America, the chocolate in the bars and products you see on store shelves begins its life as Theobroma cacao. When ready, harvesters gather the pods of the plant and remove the beans, which will eventually become chocolate in all its forms. The beans are then fermented and dried, and turned into any number of delicious chocolate products. The less processed the product, the more benefits there are. Cacao nibs, which are made from the fermented, cracked beans, and cacao powder, which is the less processed, unsweetened version of cocoa powder, typically rank highest in health factors, with super sweetened milk chocolate products ranking lowest.
The Benefits of Chocolate
So, what are these benefits? Notoriously rich in antioxidants, cacao, cacao nibs, and super dark chocolate could boast some of the highest levels of antioxidants out there, which could support full-body health. Along with antioxidant power, chocolate contains magnesium, which could promote relaxation, muscle recovery and cardiovascular health; iron, which delivers oxygen to tissues; and zinc to support stellar immunity.
"Yeah, yeah," you're probably thinking, "but what about those #romancevibes?"
Lucky for the romantics among us, chocolate also contains three organic compounds that are powerful alone, but when combined create those feelings of bliss we've come to associate with cocoa and its counterparts. These compounds are anandamide, phenylethylamine (PEA) and theobromine. Literally known as "the bliss molecule", anandamide could positively stimulate the brain, theobromine could widen blood vessels, and PEA could have a positive effect on mood. So it's not just the red roses and professions of adoration that have you feeling the love on Valentine's Day – it's potent chemical compounds, too!
The Perfect Valentine's Gift
This Valentine's Day, the gift of high-quality chocolate (whether to yourself or someone you love) isn't just showing you care from the heart, it's showing you care for their heart (and mood, and blood vessels, too!). With a few simple tools, a couple bars of high-quality chocolate and about 20 minutes of active time, you can make your own DIY V-Day gift that will impress even the most skeptical Valentine. Learn how to harness the power of chocolate with DIY rose chocolate bark below.
DIY Rose Chocolate Bark
Ingredients:
2 3.5 oz bars organic extra dark chocolate
1/8 cup organic white chocolate (about ½ a 4 oz. bar)
1/2 cup food-grade organic dried rose petals (available at most natural foods stores)
Finely-ground Himalayan pink salt
Tools:
Double boiler
Small dishes
Chopstick or skewer
Parchment paper
Baking sheet
Step 1
Line a baking sheet with parchment paper, place the rose petals and Himalayan pink salt in two separate small dishes. Set aside.
Step 2
Fill up the bottom of your double boiler with water and set the upper compartment in place. Break up the dark chocolate and add to the upper compartment. Place over medium heat until chocolate is melted, stirring occasionally with a clean, dry chopstick or offset spatula.
Tip: Be sure not to get any water in the chocolate or it could seize and become unusable.
Step 3
While the dark chocolate melts, place the white chocolate pieces in a small dish or bowl and melt in 20 second increments in a microwave set on half power (the 'defrost' setting works well for this).
If you don't have a microwave, or would rather not use one, melt the white chocolate in a separate double boiler.
Step 4
Now you're ready to pour your chocolate! When the dark chocolate is melted, remove the double boiler from the heat and remove the upper compartment. Use a dish cloth to carefully wipe away any condensation on the bottom of the pot so that it doesn't drip when you pour.
Step 5
With the parchment-lined baking sheet on an even surface, pour the dark chocolate into the center of the parchment, allowing it to spread organically. Use a spoon to drizzle a few small spoonfuls of white chocolate over the poured dark chocolate.
Step 6
Use a chopstick to swirl the white chocolate – across, over, around and through.
Step 7
Sprinkle with pink salt and rose petals. Carefully slide the baking sheet into the freezer and allow to set, at least 1 hour.
Step 8
Once the chocolate has hardened, remove from the freezer and use your hands or a large knife to break into smaller chunks. Store in an airtight bag in a cool, dark place away from heat or place into a Mason jar to give as a sweet Valentine's Day gift!
Tip: You can make a white chocolate version of this recipe by reversing the dark chocolate and white chocolate directions – the two look beautiful together in a jar!

What are you making for Valentine's Day? Share with us on Instagram or Facebook with @AvocadoMattress or #AvocadoGreenMagazine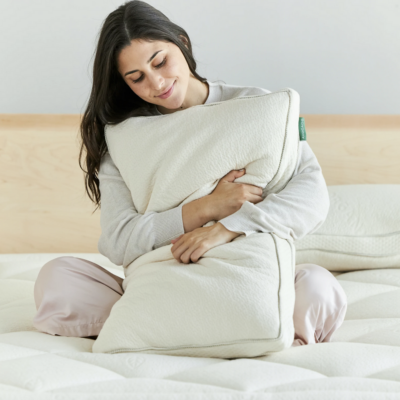 Shop Pillows
The Essential Organic Pillow Collection
Gentle, breathable, non-toxic support.
Buy Now