Canola oil, soybean oil, vegetable oil… what do these highly refined, highly manufactured oils have in common? Well, for one thing, they're made from some of the most genetically modified crops out there, and for another, they're often hiding in in places one wouldn't expect to find them. Need an example? What's the one beauty product you reach for again and again?
That you always have on hand, maybe there's even two on your person at any given time? We're talking lip balm and yes, even your favorite "natural" brand of balm often harbors these very unexpected ingredients – vegetable oils.

But what makes vegetable oils, like canola and soybean oil, so bad? By now, you've likely read something about these oils—perhaps something about their low smoke points and how they so easily turn carcinogenic when overheated, or the fact that they're treated with high levels of pesticides. Maybe, like most of us, you've rid your cupboards of all traces, replacing them with avocado oil, coconut oil, or unfiltered extra virgin olive oil. So if you won't cook with them, why would you want them in your beauty products? Along with their GMO status and pesticide content, these oils, when applied to the skin in the form of a balm or when hiding in your makeup, can also clog pores and cause inflammation. It's the opposite of what most of us are going for when we apply a beauty product to our skin. A better choice? Make your own! Today we're sharing a quick and easy DIY to create your very own lip and cheek balm. Free of any nasty oils, this simple balm is filled with only the good stuff, and when applied to lips and cheeks, adds hydration and a dewy look that's perfect for summer. Make it as-is, or add a little tint for a rosy glow. Ready to get started? Read on!
Crafting Your Own Balm
Materials:
1 part beeswax, grated
1 part organic virgin coconut oil
1 part raw cacao butter
Small bowl or dish
Lip balm container (available online but we recommend reusing one you already have)
Toothpick
Optional: Beetroot powder or natural food coloring for tint
How to:

1. Depending on the size of your lip balm container, you'll want to use about ⅛ tsp each of beeswax, coconut oil, and cacao butter. Increase these measurements evenly to make more balm or to fill multiple containers.

Place beeswax, coconut oil, and cacao butter in a small dish and melt slowly, either in short increments in the microwave or by nesting the bowl in a small saucepan with water and gently heating.
2. If adding color, add a drop or two of natural red food dye or a small amount of beetroot powder and stir, using a toothpick.

3. Carefully pour the balm mixture into the empty balm containers. Allow to cool, uncapped and upright, until set. Once hardened, add the cap and go! Swipe on lips and cheeks for a dewy finish and extra hydration.
Have you made your own natural beauty products? Share your tips with us on social by tagging us @AvocadoMattress and #AvocadoGreenMagazine!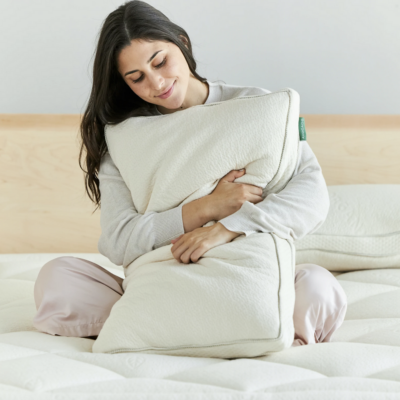 Shop Pillows
The Essential Organic Pillow Collection
Gentle, breathable, non-toxic support.
Buy Now