February is a cold month. The last gasp of winter, when ice and snow lie somewhere between at odds with one another and in cahoots to make life miserable, when the dry air of the past three months culminates in even drier skin. Spring may only be a few short weeks away, but there's something about the shortest month of the year that can make the distance feel even longer. If there were ever a month to devote to self-care, February would be it.
This month, show yourself some love — and do your dry winter skin a favor while you're at it — by whipping up a simple DIY sugar scrub to slough away scaly skin and provide deep moisturization in the process.
Dry Air = Dry Skin
If you've noticed your skin gets drier in the winter, you're not imagining things. Along with exposure to dry air caused by forced-air heating systems, wood stoves, and fireplaces, we're less likely to notice when we're dehydrated in colder months. Along with a decrease of physical indicators (our sweat evaporates more quickly in winter), the body experiences a drop in thirst response of about 40%. This means, you won't notice just how thirsty you are. This lack of hydration, coupled with dry air, spells trouble for our skin, which becomes parched and scaly without proper hydration. What's more, when that dry skin isn't scrubbed away, it can be tougher for moisturizers and oils to do their job.
A Second Line of Defense
While it's best to always hydrate from the inside out, sometimes our skin needs a helping hand. Dry brushing, scrubs, exfoliating mitts or a good old-fashioned loofah are all great ways of clearing away dead skin, and coupled with a moisturizing oil, can help smooth things over. If you're pressed for time, a sugar scrub made with a light oil is especially efficient — but many of the scrubs sold at stores are laden with preservatives, dyes, synthetic fragrances and other undesirable ingredients. What to do? Make your own!
Creating your own DIY sugar scrub is not only incredibly easy, but allows you to completely customize your ingredients. Use a coarse turbinado sugar for a rougher scrub, or fine white sugar for a more delicate texture. Experiment with your favorite essential oils to uplift or relax, and add the oil that works best for you. No fake dyes or fragrance in sight! The DIY below comes together in just a few minutes and makes the perfect gift for Valentine's, Galentine's… or just a much needed self-care day. With 10 minutes and a few simple ingredients, you'll reveal gorgeous winter skin in no time flat.
DIY Sugar Scrub
Materials:
1 cup fine white sugar
½ cup light oil of choice (sweet almond, apricot kernel, etc.)
10 drops essential oil
Energy: grapefruit + rose
Calming: lavender + chamomile
Rejuvenating: Mint + Eucalyptus
2 Tbsp dried flowers (roses or lavender)
8 oz resealable glass jar
Mixing bowl
Offset spatula
Step 1: Gather Materials
Step 2: Mix Sugar & Oils
Step 3: Stir in Dried Flowers
Step 4: Pour into Jar. Store in Cool, Dry Place
To Use
Use a small amount of scrub on damp skin, scrub in circular motions before rinsing with warm water.
What are you making for Valentine's Day? Share with us on Instagram or Facebook with @AvocadoMattress or #AvocadoGreenMagazine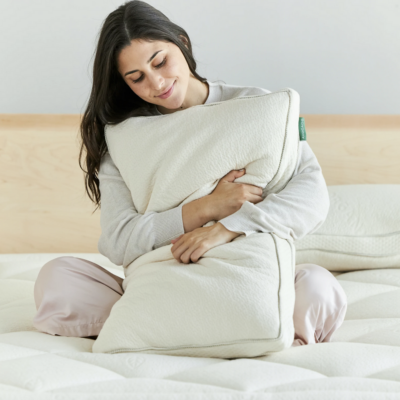 Shop Pillows
The Essential Organic Pillow Collection
Gentle, breathable, non-toxic support.
Buy Now