Valentine's Day has come and gone and whether you welcome the excuse to be as lovey-dovey as possible or remain firmly in the camp of the dark-hearted, you have to admit: this big pink heart of a holiday is a solid reminder that love deserves to be celebrated — in all its forms. But why relegate that celebration to just one day a year?
All too often we reserve our feelings for special days or celebrations: we become more generous around Thanksgiving and Christmas, we reach out more frequently on our loved one's birthdays, and we reserve our true feelings for February 14th — to be celebrated with a box of chocolates and a pre-written card. Allow us to make an argument for making everyday Valentine's Day.
No, we're not advocating you give a dozen red roses to your sweetie 365 days a year (a recipe for disaster, if you ask us, or at the very least flower overload). No, we're talking about actions that are much simpler, yet could be far more meaningful in their reach and ability to cultivate love. To give love is to get it, after all, and by spreading love in all its forms — romantic, platonic and otherwise — that love is often reflected right back to you.
Should happens:
We all have those "shoulds" in our lives: We should call our mothers more often (or fathers or grandparents or guardians). We should keep our connections with friends more robust than simply a 'like' or two on Facebook. We should spend more quality time with the people who matter most in our lives. Now think about it — what's stopping us from doing these things? Often the nitty gritty of daily life easily takes over and overshadows time that could be better spent connecting with the ones we love. Instead of telling yourself you should, act on it. Turn just one should into a did, and you might discover a domino effect. Fill out that card for your grandma (and actually sent it), and suddenly you may find yourself inspired to make plans with your BFF (just be sure to keep them — ghosting is arguably worse than should-ing yourself).
Small acts add up:
Do you find yourself holding out for major events to show how much you care? Don't get us wrong, there's nothing wrong with surprising your beloved with something they'd appreciate on Valentine's Day, but an act of love could be even more meaningful on a random Monday or Thursday afternoon. Instead of using the holiday as an excuse to celebrate, try something new and break routine. Plan an early-morning breakfast date with your partner before you booth head to work, or bring in a box of goodies for your coworkers at the start (or end) of a particularly stressful week. Leave a sweet note of encouragement for a friend where they'll find it, or pay it forward and buy the person behind you at the café a cup of coffee. Cultivating love doesn't have to be grandiose, in fact, it's often the little things that add up over time that make the most impact.
Give your time:
When we think about cultivating love, we often think of the romantic kind of love. Of sweet nothings and candy hearts. In reality, cultivating love can look like a lot of things. It could be a phone call, a note, or an afternoon spent packing lunches or working with at-risk youth. If you reserve your time to volunteer during the holidays, try setting aside one day a month to work in your community. It's often the case that organizations are flooded with volunteers during the holiday season, then run dry the remaining 50 weeks a year. Whether you love animals or have a gift for working with children, there's likely a volunteer opportunity available to fit your time, personality and abilities — all it takes is a pencil to mark off the time in your calendar.
Love the planet:
Another unexpected way to give — and get — love? Picking up garbage on the beach in March. Or planting trees when spring finally arrives. Or working in a community garden. While you're cultivating love for your family, friends and community — it's important to think about the Earth as well. After all, without the Earth, there's nothing to love. If you've not yet signed up for a community composting program or you're noticing a build-up of trash on your street, take some time to get involved. Keep a small bag with you to pick up trash while you hike or connect with community organizers to green your city.
To cultivate love is to welcome it into our lives on a daily basis. It doesn't have to be grand. It often may not even look like our idea of what love is at first glance. Even if you're a staunch Valentine's Day critic, why not use this bubbly pink holiday as an excuse and reminder to give love throughout the year. You'll likely discover that the more you give, the more you get in return.
How are you cultivating love in your life? Share with us on social by tagging us @AvocadoMattress and #AvocadoGreenMagazine!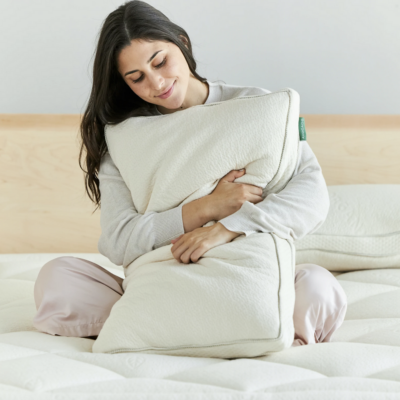 Shop Pillows
The Essential Organic Pillow Collection
Gentle, breathable, non-toxic support.
Buy Now