Too often, it seems, our desire to live a sustainable lifestyle is at odds with the realities of simply living. Organic produce sold in plastic packaging, that well-portioned meal kit arriving in a cardboard box with bubble wrap, and even your eco-friendly and non-toxic Avocado Green Mattress requiring cardboard and shrink-wrap packaging in order to be shipped right to your door.
What we may save in gas and time by shopping online can feel negated by the effort of shipping and packaging your items. In fact, as more and more people make more and more of their major purchases online — from mattresses to appliances to toilet paper — it's become increasingly important to be mindful of offsetting the packaging and effort involved in getting those goods to your door. Luckily, through recycling programs, being mindful of reducing your footprint, and creative reuse of shipping materials, it's easier than ever to give these materials a second life.
A Little Effort, Everyday
Try as we might, it often feels like it's one step forward, two steps back when it comes to reducing, reusing and recycling our waste. While Avocado Mattress is committed to reducing our footprint and shipping materials (we already use 60% recycled materials in our packaging), there are also small steps you can take everyday to ensure the cardboard and soft plastics that accumulate don't end up in a landfill.
Though you may already make the effort to bring your reusable bags to the market every time you shop (and if you're not, you should — there are so many great tote bag options out there!), with today's busy schedules, it's hard to avoid buying at least some essentials online. While online shopping — and the shipping that comes with it — may be inevitable, try to make an effort to condense your ordering into as few shipments as possible.
This often cuts down on the amount of shipping materials used and will reduce the overall energy required to get your goods from point A to point B. But even after you've made the effort to reduce, what do you do with the plastic and cardboard that comes with your order? Read on for ideas on how to recycle and reuse those seemingly un-recycleable materials.
Make a DIY Pet House
We all know that cats like boxes, so by that logic, your kitty (and pup) would really love a special house crafted from cardboard boxes just for them. With a few simple tools, some paint and a little extra love, you can transform a large cardboard shipping box into a custom VW bus, classic farmhouse or modern escape just for your pet. Try the DIYs linked below or come up with your own design — the possibilities are endless!
For the grooviest cats out there, this DIY cardboard VW cat house can't be beat. Deck it out with pillows and a snuggly faux-fur bed to keep the vibes high and the mood paws-itive.
Is your cat more of a classic colonial fan? Give kitty her own lovingly restored farmhouse (of restored cardboard, of course) with this clean and simple DIY from crafty genius Martha Stewart. Leave it plain or add some hand-drawn wallpaper to really tie the rooms together.
Does your pampered pup deserve his own balcony? Of course he does! Create a beachside bungalow for your small-breed dog with this crafty DIY.
Aim to Recycle Everything
Overwhelmed with soft plastic packaging, like plastic shipping bags, shopping bags, and bubble wrap? While it may not be the most convenient to recycle (most cities don't let you just drop it into the curbside recycling bin), it is possible to recycle these materials. This article from Recyclebank goes into detail about how and where to recycle those pesky plastic products.
Before tossing soft packaging, do a quick search in your area for drop off locations – the options may surprise you! Most grocery stores have soft packaging drops where you can recycle your plastic shopping bags and other shipping bags. Earth 911 also features a handy guide for recycling plastic bags.
Want to recycle the unrecyclable? Believe it or not, TerraCycle makes it possible! TerraCycle works with companies and individuals to collect and divert waste from landfills, preventing millions of pounds of waste from ending up in incinerators and landfills.
Make Reusing and Recycling fun!
Have kids? Have a box? Well congratulations, because now you've got the most fun rainy day ever. It's a proven fact: just like cats, kids love cardboard boxes, too. Let your little ones in on the fun by letting them decorate their very own cardboard box fort (we don't like to brag, but our mattress boxes make particularly great hideouts). This article from Buzzfeed has some excellent ideas for customizing your cardboard (check out that Airstream trailer!). No kids? No problem! Who said the younger set had to have all the fun? Learn how to make an adult-sized fort with this DIY Geodesic Dome tutorial or checkout these sophisticated cardboard crafts for the discerning and stylish recycler!
Do you have tips for recycling packaging? Share your with us on Instagram or Facebook with @AvocadoMattress or #AvocadoGreenMagazine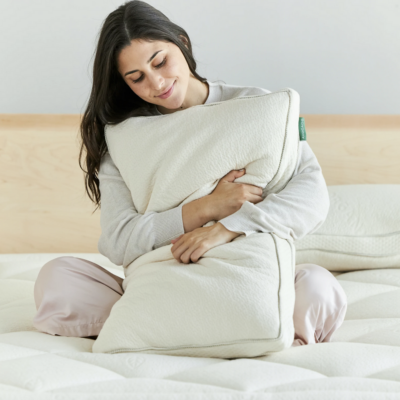 Shop Pillows
The Essential Organic Pillow Collection
Gentle, breathable, non-toxic support.
Buy Now