Edible landscaping is better for you, the environment, and all its critters — like birds and pollinators. Here's how to transform your grass to something that's more sustainable with Eat Your Yard.
Edible landscaping is the practice of planting food-producing plants in place of ornamentals that are meant to look pretty. In cities like Seattle, where I live, the practice is taking hold among many residents.
Fruit-bearing trees replace small ornamentals in medians and parks. When tomato plants and blueberry bushes replace hostas and daffodils, you have a surrounding environment that isn't just green but that's feeding the community.
By utilizing public spaces, edible landscaping allows anyone to collect food from their surroundings, without requiring them to own the property. A huge benefit for those of us who live in spaces where they can't have their own garden.
Michael Seligas, the owner of a Seattle-based edible landscaping firm called Eat Your Yard, consults with organizations and individuals to create more food sources in their own backyards. He says the main reason edible landscaping hasn't caught on is building and neighborhood policies.
"Cities as a bureaucracy don't have a motivation to do this kind of thing," says Seligas. "Landscaping itself is considered a luxury, and that's part of the problem. A lot of building codes don't even really address it."
Seligas says one of the main reasons he got involved in edible landscaping was to help people connect to their food.
"I started this company to help people connect with their urban environment," he says. "The way it's laid out leads people to disconnection. To me, food is a medium to help people understand how everything is connected."
If you see an opportunity to introduce edible landscaping into your community, start by connecting with local members of your community, get a plan organized, and figure out who the decision-makers are.
When it comes to an HOA, you can request a meeting for a presentation. Local government can be a bit more challenging, but start with your city council and planning committee to figure out who you need to talk to to get the ball rolling in your neighborhood.
Having a professional advocate with a proven track-record for successful edible landscaping programs goes a long way. Seligas advises finding a local consultant to help you approach HOAs and governing organizations to pitch ideas and find the right plants for your location.
Call it the catalyst for the next generation of food security, but 2020 has given us a unique opportunity to troubleshoot the various areas where we rely too heavily on industrialized agriculture to feed this country. Unlawning America is part of a national movement to move away from water-hungry ornamental plants to edible landscaping that can help create healthy food connections for all.
Is there a space in your community that could do with some edible landscaping? Daydream with us! Tell us about your big ideas on Facebook or Instagram, and tag us in the post — @AvocadoMattress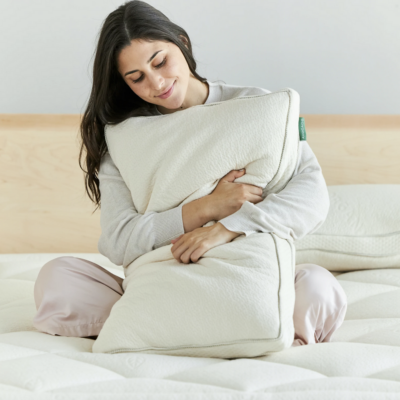 Shop Pillows
The Essential Organic Pillow Collection
Gentle, breathable, non-toxic support.
Buy Now