Father's Day is right around the corner, on June 17th, and if you're still looking for that perfect gift for dear ol' dad, you're not alone. Whether you're shopping for your pops, grandfather, uncle, or simply a favorite caretaker in your life, finding the perfect Father's Day gift can be a challenge. Of course you want it to be something he'll use and love. Something personal and special that tells him exactly how much he means to you. Should you go handmade? Store bought? Experiential? … Ultra cheesy?
And that's just the gift. Cards are another story entirely.
Wading through the options can feel endless, but one surefire way to make your dad feel special? Make him something! That's right, whether your dad is a golf guy, into art, or known across the neighborhood for his culinary skills, one thing that unites dads the world over is their inability to say no to a handmade creation. The best part? You can customize a handmade card or gift to fit his personality.

If you're looking for a DIY way to tell dad how much you care (or a super kid-friendly Father's Day project), the how-to below should do the trick. Using a few simple materials, you'll learn how to make a hand-stamped Father's Day card than can be tailored to any kind of dad. Make a pattern, make a scene, make a mess with your kids and give the dad — or dads — in your life a hand-decorated card that says just how special he really is. No cookie-cutter cards in sight.
Ready to get started? Grab some paint and a potato, and let's get stamping.
…That's right, potato. Intrigued?
Hand-Stamped Father's Day Card
Materials:
1 medium potato
Cardstock or blank cards
Acrylic paint
Paintbrush
Sharp knife and/or cookie cutters
Optional: Safety gloves
Directions:
Step 1
Use a knife to cut the potato in half width-wise.
Step 2
If using a cookie cutter, press the cookie cutter into the potato, about ¼ – ½ an inch. Use the knife to cut around the cookie cutter so that when it's removed, the design is raised, creating a stamp. You can also use a small paring knife to carefully cut out an original design.

*Safety gloves are recommended for this and parents should take the reins on this step if crafting with kids.
Step 3
Use a paper towel to dry off the potato. Then, use the paintbrush to lightly cover the stamp with paint and press onto folded cardstock or a blank card. Getting the right amount of paint on the stamp may take some practice. You may want to stamp a few times on some scrap paper to test it out.

What you make is up to you — cut several potatoes to make a scene, or create a pattern. You can even make a set of cards.
Step 4
Allow to dry and add additional decoration, if desired. Done!
Pro Tip
You can use the same process to make hand-stamped wrapping paper and even tea towels. Once you get the hang of it, the options are truly endless.
Are you making any Father's Day gifts this year? Share with us by tagging us with @AvocadoMattress or #AvocadoGreenMagazine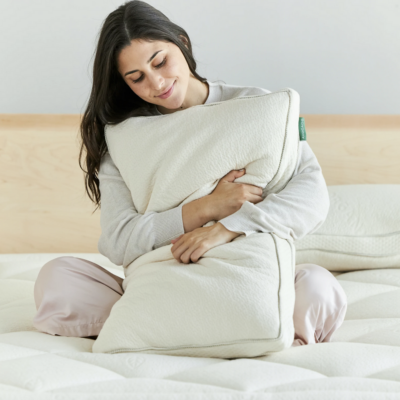 Shop Pillows
The Essential Organic Pillow Collection
Gentle, breathable, non-toxic support.
Buy Now