Ask anyone, pretty much ANYWHERE in the US, and they'll tell you — housing in the major cities is insanely expensive.
It's not regional, and it's not isolated. All over the country, real estate costs are skyrocketing in major cities, forcing people into outlying suburbs; further from jobs, further from schools, and further from the places they call home.
As the bubble continues to grow, even the far-flung suburbs surrounding major cities like Seattle are increasing. Reports show that home prices are rising at a rate more than twice the rate of wage growth across the US.
The surging urban housing costs are a problem that is perpetuating homelessness, driving families away from amenities and good jobs, and making the cost of living so high that it becomes impossible to save (and ultimately move away).
According to Curbed, more than 11 million Americans currently spend more than half their take-home pay on rent.
The Solution?
A lot of economists and real estate geniuses have their theories, but one lifestyle shift is gaining momentum on the heels of the urban housing crisis that may hold some answers—cohousing.
Cohousing
Cohousing is a community of homes clustered in what's known as an intentional community — a group of people who come together to live on a property or in a neighborhood because of their shared values and goals.
Cohousing scenarios are typically private homes clustered together, with shared common areas like kitchens, laundry facilities, and group activity spaces. Unlike communes, cohousing respects personal privacy and keeps all finances separate. Typically, an HOA is formed to handle the expectations and legalese.
A conventional cohousing arrangement may not save you much on rent, but for families who need community, childcare, and larger spaces, it opens a lot of doors.
Does Cohousing Save You Money?
Most modern cohousing setups involve a bunch of conventional houses, in what is essentially a really tight-knit neighborhood. You have your common areas, but you have a regular house with regular rent and regular bills.
But there are some cost-savings to be had here, depending on your lifestyle flexibility and situation:

If you have kids, you can share childcare costs with a nanny share, or by using an in-home childcare you establish in your community.
If you want a tiny house, but NEED some bigger spaces, you can live in a tiny house, and use the larger shared common areas for big family gatherings, play dates, or living room workouts.
If you're cool with sharing space, you can carpool with your community members to cut back on transportation costs.
The Perfect Solution for Tiny-House Lovers Who Need Space? Maybe.
I spoke with Karin Hoskin, Executive Director of Cohousing, a nonprofit dedicated to education and services for those interested in cohousing. As we discussed the potential for cost-savings in cohousing, one thing that came up was tiny homes.
Here's the deal: most know tiny homes can be a really, really eco-friendly home option. But many people like having a guest room. They hate going to the gym, so they need to be able to work out in their living rooms when it's too icy to run.
They need storage, and they like their space.
As my conversation with Karin developed, we found ourselves excitedly chatting about the possibilities with tiny home cohousing communities.
"I think having a tiny home cohousing community would be brilliant," gushed Karin excitedly.
"In my dream community, I would have a garage building on the edge of the community, and I would add a second floor to that, so that each carport space would have storage on top."
The possibility of one large shared house for family gatherings, exercise, and play dates surrounded by tiny homes is an alluring one. Karin says the biggest hurdle unfortunately stems from the tiny houses themselves.
"Tiny houses currently exist in sort of a gray area. Building code enforcement and regulators, they really don't know what to do with them. So there are lots of issues and red tape in getting permits and things like that."
For right now, it's food for thought, and fuel for a dream, but after an hour on the phone with Karin, it could just be a couple of housing code reforms away from reality in some states.
The Real Benefit to Co-housing: The Comeback of Community
Most people in cohousing situations reap some financial benefits from the scenario, but the biggest benefit by far to this way of living is having a deep, trusting connection with your community.
The comeback of the village.
For families, aging seniors, and people who live far from their family and friends, cohousing presents an opportunity to build a close, family-like network that you can lean on, connect with, and give back to — instead of just share a fence line with.
An Eco-Friendly Solution to An Economic Problem
Cohousing isn't a perfect solution to the urban housing crisis, but it affords some social and economic advantages that give struggling families a solid footing to actually start getting ahead.
Here at Avocado Green Magazine, what WE really love about it is that it's also more eco-friendly than just living on your own. You get your privacy, you get your financial independence, but you also live a little greener.
Shared spaces mean less energy consumption and a smaller carbon footprint. Carpooling means less fossil fuel consumption. In-home childcare means less transportation, and shared spaces means less STUFF is needed.
You have common areas, and suddenly, having a large, food-producing garden is an option. You can compost. Maybe raise chickens.
The point is, you have options, you have support, and you're no longer doing it all on your own.
Find a Co-Housing Space Near You
Cohousing is catching on, and all over the US, people are putting the feelers out there. Karin tells me that there are over 170 established cohousing communities in the United States, and the number continues to grow.
Finding the right group of people to cohabitate with is a little bit like dating. You need to be clear on what you want, understand the expectations of the group, and be a great communicator for this to work.
Cohousing.org has a great classifieds section to get you started, but if you don't see what you're looking for there, it could be time to start planning your own.
Tag some friends and family you'd want to co-house with on Facebook or Instagram, and tag us too! @AvocadoMattress and @CohousingUS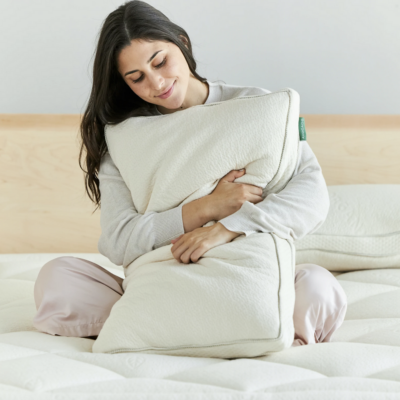 Shop Pillows
The Essential Organic Pillow Collection
Gentle, breathable, non-toxic support.
Buy Now