By now, you've likely heard about the incredible amount of waste generated by the fashion industry. Fabric scraps, textile waste, you name it – the exact amount of garbage created by the fashion industry isn't known, but it's estimated that the average American – we're talking you and me – throws away approximately 70lbs of clothing and textiles every year. And that's just individual people.
Scale that up to the actual factories and producers creating the clothes we wear and fabrics we use, and the thought of how much textile waste they're creating annually is enough to make you want to swear off shopping altogether. But with the bad often comes the good, and in recent years as more information has come to light on the dark side of the fashion industry – in the form of documentaries like The True Cost, countless editorials, and more – an increasing amount of companies are taking a sustainable approach, or transitioning to sustainable practices. But is "sustainability" good enough? What happens to the scraps and waste and trash generated by those producers? What if you could take that "trash" and turn it into something beautiful?
The founders of Portland, Oregon-based Looptworks had the same thought. So they went ahead and acted on it.
Looptworks isn't just a company producing sustainable goods like laptop cases, sling bags, backpacks, totes, apparel and more (yes, more). Looptworks closes the loop by actually repurposing and upcycling pre-consumer and post-consumer materials, like fabric scraps, turning them into unique, hardworking essentials for your everyday life. What's "upcycling" you ask? While similar to recycling, upcycling is the process of taking materials that would otherwise be thrown away – like scraps of fabric and leather, and deadstock clothing – and directly turning it into a new product. Because these scraps aren't being broken down to be turned into a brand new material (think of plastic bottles being turned into thread), the process of upcycling saves water, air and energy while creating a new product of higher value. Instead of breaking down the material, like recycling, upcycling utilizes the waste product directly. How much waste can upcycling save? It's estimated that the average American factory creates approximately 60,000 pounds of usable textile waste every week. Every. Week. Looptworks saves some of this waste from landfills by only using what already exists, working with a global sourcing network to search out, recover and create new products.
But Looptworks' goal isn't just to make beautiful, functional products. Looptworks' aim is to create a closed-loop system of manufacturing (loop works, get it?). If you're wondering what that looks like, Looptworks provides a great example in this blog post:
"Both upcycling and downcycling are important components of a "closed-loop" manufacturing system … In a true closed-loop scenario, a company owns the materials it creates forever. Any material created is collected and recycled to make the next run of products. Here's another example from our backpack illustration:
Company makes a backpack.
Person uses the backpack until it wears out.
Person returns it to the company.
Company downcycles it into yarn.
Yarn is turned into fabric.
Fabric is turned into a backpack.
Repeat!"
But Looptworks isn't just collecting random scraps of fabric, along with their classic designs, they've partnered with other sustainable companies, airlines, musicians, and more to rescue everything from excess tour merch to leather Southwest Airlines seat covers to NBA jerseys. They even create laptop sleeves from neoprene wetsuits, proving that no material is out of their wheelhouse.
So far, Looptworks has conserved nearly 80,000,000 gallons of water and diverted over 358,000 pounds of waste that would otherwise be destined for the landfill. By sharing their mission and partnering with companies like Southwest Airlines and the NBA, Looptworks not only rescues high-quality materials, but they're bringing the idea of upcycling and the closed-loop system to the greater consciousness, potentially influencing the next generation of business owners. If you're looking to add Looptworks to your repertoire, below we're sharing five of our favorite products:
Brooklyn Nets Upcycled Jersey Waist Pack: All hail the return of the fanny pack – cool slung over your shoulder and very, very handy. We like this black and white bag for its simplicity (can't go wrong with black and white), though there are plenty of teams to choose from.
Surf Sleeve: Upcycled using excess neoprene from wetsuits, this sleek laptop sleeve cushions and protects your laptop and includes a handy outer pocket for your charger.
In-Flight LUV Weekender Duffle: What was once a leather seat on a Southwest Airlines plane is now the sturdy duffle that'll be your go-to for weekends away and cross-country flights. We love the colorblock leather and handy internal organization pockets.
Women's Upcycled Softshell Duster Jacket: Perfect for chilly, wet fall weather, this stylish jacket is crafted from end-of-roll softshell fabric, backed in fleece for an extra cozy feel.
Moto Sling Bag: About as cool as a classic leather motorcycle jacket – and it should be, it's made from them. Crafted from Langlitz leathers, this sleek bag is made to withstand the rigors of travel, whether you're riding a bicycle or a Harley.
Have you used Looptworks products? Let us know your favorites by tagging us on social @AvocadoMattress and @Looptworks!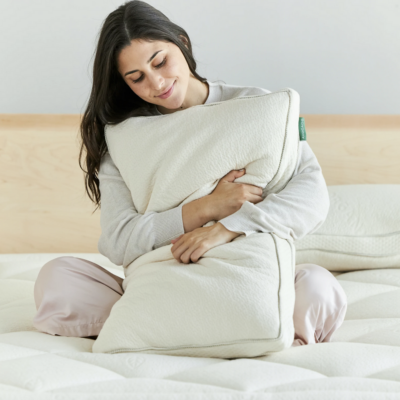 Shop Pillows
The Essential Organic Pillow Collection
Gentle, breathable, non-toxic support.
Buy Now