So you want to be an advocate for climate justice? Here are a five ways ways to deepen your commitment to positive change, wherever you are.
The worst effects of pollution and irresponsible resource use often fall on vulnerable and marginalized populations. People of color are far more likely to live with high air pollution than white people, which has been linked to higher rates of diseases like asthma and COVID-19. Invasive and polluting pipeline projects have been rerouted away from certain communities out of concerns for a safe water supply, only to be sent through Indigenous or economically disadvantaged communities. The places on the front lines of climate change's effects, from economic impacts to worsening natural disasters, will most often be poorer communities and home to large communities of color.
So it's not naive to say that environmental and climate justice starts right outside your front door. "Learning from, and following the leadership of, the folks who have been most impacted by extraction, pollution, climate change and their root causes — including white supremacy, patriarchy, and colonization — is what we need to do in order to solve the issues we face," says Mark Chavez, donor relations associate at the Climate Justice Alliance (CJA). "We aren't just fighting to stop bad polluters and systems; we're actively building something entirely new and liberatory." Here are a few ways to deepen your commitment, wherever you are.
#1 — Find Out What You Don't Know
It can be daunting to figure out where to devote your resources and time. Which issues are most pressing? Which could use your particular skills or more helping hands? "Building community and being informed are two important ways to turn that overwhelmed feeling into guided action," Chavez says. Do you know anything about your watershed? The closest extractive industries? Where are the threats to air and water quality, or native plants and wildlife? Is there farming near you? How's food security and support for farmers? Do you live in an area that's prone to natural disasters or potential sea level rise? And do you have a sense of who is most vulnerable to all of these direct impacts? Take a look at the EnviroAtlas, an interactive map that overlays different statistics (such as the number of nearby farmer's markets or green spaces, air pollution, percentage of residents living below the poverty line) on a street-by-street level. It may highlight disparities you hadn't realized before. It's also important to learn about the history of the climate justice movement in general, and find out who in your community has already been doing this work, because these disparities are already affecting them.
#2 — Drill Down to the Issues
Wherever you live, there are probably plenty of organizations that will give you a quick rundown of the biggest issues to keep an eye on. Your state's league of conservation voters will offer an idea of specific resource issues near you, and lots of cities have dedicated 350 groups or climate strike groups that compile resources on the area's specific climate challenges and actions. Your local environmental law center is likely to be doing important legal work in fighting environmental racism and other injustices. These are all good places to either focus on specific issues that call to you, or to direct donations and find out about protests and other organized actions.
"I've found it's really helpful to regularly ground myself in guiding principles for the movement, like the Jemez Principles and CJA's Just Transition Principles, or collective resources, like the People's Solution Lense and A People's Orientation to a Regenerative Economy, to determine the effectiveness of solutions to issues I'm thinking of supporting," Chavez says.
#3 — Find Grassroots Organizers
There are lots of ways to seek out environmental groups that align with your values and have direct impacts. It's always a good idea to seek out local Indigenous environmental organizations, support them and learn about their top priorities. If you're interested in energy, look for Just Transition-oriented efforts, which prioritize economic and political justice alongside efforts to transition to more regenerative energy sources. If you're interested in conservation and restoration of resources that everyone uses, you'll probably want to search for "alliances," "associations," or "friends of" natural resources or areas like your nearest watershed.
Sometimes it helps to keep an eye out for local news pieces on climate justice actions; who are the groups making the most noise? Also check out national organizations that support local hubs: The CJA points to grassroots organizations with equitable values in all kinds of areas, from agriculture to energy.
#4 — Ask What's Needed and Offer What You Can
"It's important to remember that the best way to know what is needed is to ask those directly affected and on the frontlines of crises," Chavez says. But in addition to that, think about specific skills you may be able to volunteer. "From cooking meals and organizing people, to financial advice or legal council, there's really no limit to what someone can offer," Chavez says. "Just try to be as specific as possible when you reach out." Even if that skill may not be needed immediately, it's always good for the group to remember that it's an offer if the need does arise.
#5 — Donate and Spend Wisely
Money is always needed in local activism, after all. According to a 2012 report by the National Committee for Responsive Philanthropy, from 2007 to 2009, "only 15 percent of environmental grant dollars were classified as benefitting marginalized communities, and only 11 percent were classified as advancing 'social justice' strategies." And it's the most surefire way to know that your donation will align with your values. "Environmental work has perpetually been the least financially supported sector, and a large amount of that goes to about 20 of the biggest, most well-known organizations that we've all heard of," Chavez says. "So donating to local grassroots climate justice groups will proportionally have a much larger impact." Try setting up monthly donations or a monthly calendar reminder to donate to a different grassroots organization.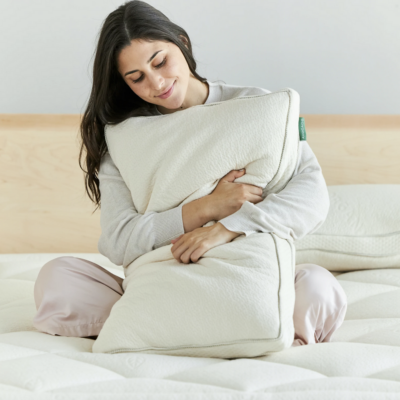 Shop Pillows
The Essential Organic Pillow Collection
Gentle, breathable, non-toxic support.
Buy Now