Chocolate is actually preetttty good for you, but finding something that isn't loaded up with artificial ingredients is easier said than done. Meet Hu Kitchen — makers of clean chocolates that are the stuff chocoholics' dreams are made of.
I'm obsessed with chocolate, like we go way back. From being a sticky-fingered five-year-old hiding Valentine's candies in her Barbie playhouse to the adult that not-so-shamelessly steals treats from her kids, I'm a self-described chocoholic.

And you won't catch me being sorry about it.

But my love affair with chocolate has not blinded me to the fact that conventional candies come loaded with saturated fats and processed sugars that do everything from make me break out to turn me into a grumpy, sugar-crashing beast.

The wrong kind of chocolate in the wrong amounts can wreck your health, but the right kind of chocolate in the right amounts is right up there with CBD oil and other health supplements.

The Health Benefits of Chocolate

I love talking about all of the reasons chocolate is good for me — helllllo, validation.

But let's be clear, chocolate that is good for you is not loaded with refined sugars and hydrogenated fats. It's lean, it's clean, and it gives you a higher concentration of the real stuff, cacao, that actually has some serious health benefits.

Chocolate has been clinically-proven to improve mood, reduce stress, improve memory, and even bolster immune system function. It's an energizer, a focus-enhancer, and makes the cut as a cancer-preventing antioxidant.

Team chocolate, FTW.

Is There Such a Thing As Healthy Chocolate?

As awesome as cacao is for you, that's a long ways away from a Hershey bar. Conventional chocolates like milk chocolate have a ton of added ingredients, including refined sugars, fats, and artificial flavors that definitely negate many of chocolate's inherent natural health benefits.

The cocoa bean itself is very beneficial. It's gnarly cousin, refined sugar, on the other hand — not so much.
When it comes to choosing chocolate that balances the need for a treat with the health benefits of cacao, it's important to treat it like a supplement or a treat. You can definitely have too much, and there will be side effects.

Because chocolate is a stimulant, many people find they experience the same effects from too much chocolate as they do too much caffeine.

Aside from the problems caused by too much sugar in your diet, too much chocolate can also make you jittery, elevate your blood pressure, and cause associated mood swings.

Why We Love Hu Chocolate

When you're looking for healthy chocolate, it's not enough just to look for dark chocolate, because even some of the purest blends come loaded with lots of artificial ingredients.

I really like Hu Kitchen's line of chocolates, because they're 100% no BS and made with clean, natural ingredients.

Stuff Hu Chocolate doesn't have in it:

NO:

Dairy
Gluten
Emulsifiers
GMOs
Soy lecithin
Refined sugars
Sugar alcohols
Cane sugar
We Tried It

Hu Chocolate was nice enough to send me a few boxes of their bars to try, and you guys, I am in love.

These chocolate bars are made with dark, clean, dairy-free, to-die-for chocolate, and filled with things like raspberry preserves and salted cashew butter.

Everything arrived in a box made with 100% recycled and compostable materials, with this crazy cool insulation material that WASN'T a styrofoam cooler. I'm a nut about compostable packaging — these guys had me won over before I even opened the first bar.

What I really love about Hu Chocolate is that even though it's clean dark chocolate, it's not so dark that it doesn't still feel like a treat. It's not insanely bitter, melts in your mouth, and has the most decadent flavor without being like a shot of pure cacao.

I'm obsessed, and truth me, you're going to be too.

Do you have a favorite clean chocolate brand? Tell us yours on Facebook or Instagram and tag us in the post! @AvocadoMatress and @HuKitchen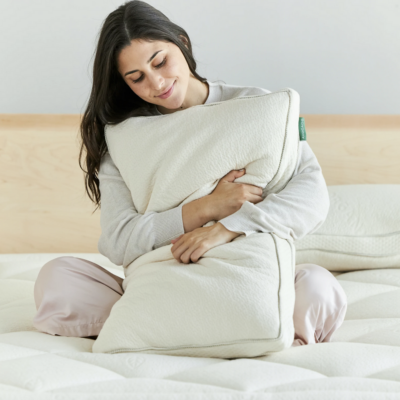 Shop Pillows
The Essential Organic Pillow Collection
Gentle, breathable, non-toxic support.
Buy Now