Earth Day is here! It's a day when we all observe the importance of caring for our environment and celebrate our Earth and all it gives to us.
It could be argued that each year, Earth Day becomes more and more important. The gravity of climate change only continues to become heavier, with 2016 as the warmest year in the books and more and more evidence pointing to the severity of the problem.
It's going to take all of us to really affect change in a way that stops and reverses climate change before it's too late. So here are eight ways you can observe Earth Day this year and do your part to save our world:
Get out and enjoy nature.
One of the best ways to celebrate the Earth is to simply get out and enjoy it! Think about it: you're so much less likely to take for granted something you genuinely enjoy. You're more likely to protect and defend something you take time to actively appreciate. So use this Earth Day to foster your relationship with nature and get out and become a part of it! Here are some ideas to get you thinking:
Take your family or friends for a hike
Head to your local park for some touch football
Grab your binoculars and go bird watching
Go stargazing with the Sky Guide app
Go on a picnic
If you're near a beach or lake, go for a swim (but make sure you're allowed to first!)
Go on a nature scavenger hunt
Visit a nature museum or conservatory
Read a book outside, lay in the grass, and soak up the sun
Go car-free.
Consider walking or biking to your destination today! Although New York City is holding an organized #CarFreeNYC day, you can celebrate alongside no matter where you live. Our cars and trucks account for about one fifth of the US emissions contributing to climate change. If you add in all forms of fuel-dependent transportation like planes, trains, and ships, we're looking at 27 percent of all US global warming emissions, which is more than almost every other sector, second to only electricity at 29 percent.
If you've already made plans or just can't walk or bike on Saturday, that's okay! You can celebrate and honor Earth Day any day of the year. Consider organizing a monthly car-free day with your friends, family, or coworkers, in which everyone commits to giving up fuel-based transportation for a whole day. Adding the camaraderie of people close to you makes it much more fun!
Sign up for a Climate March.
So much progress has been made over the past several decades by government funded organizations that are researching climate change and its effects and innovating solutions to stop and reverse its damage. Now, much of that funding is at great risk under our new administration. Those of us who care deeply about making sure these initiatives continue and understand the urgency of making sure they move forward must stand up and use our voices to say so. The People's Climate March takes place on April 29th, one week after Earth Day, in cities all throughout the world. Find a march near you, sign up, and speak up for the planet!
Plant something.
A mature tree absorbs about 48 pounds of carbon dioxide per year. In that same year, an acre of forest can absorb twice the carbon dioxide produced by the average car's annual mileage. That same tree provides enough oxygen for a person to breathe for six months. Not only that, but trees and other plants remove harmful toxins from the air for us.
As you can see, our need for healthy trees and plants is obvious. And yet, 46 – 58 thousand square miles of forest are lost each year (that's the equivalent of 48 football fields every minute!). This severe deforestation has detrimental effects on entire ecosystems, which include human beings.
At one point or another, you've probably heard the old Chinese Proverb: "The best time to plant a tree was 20 years ago. The second best time is now." So, what are you waiting for?!
Volunteer your time.
If you live near any major city, there are plenty of environmental organizations in your area that would greatly benefit from your time and energy! Simply head to Google or use an resource like VolunteerMatch.org to find an organization where you can use your specific talents and resources to make a difference. You can help educate others, use a skill you have, utilize your professional network, or simply volunteer your time.
Donate to a cause.
Time might be the most valuable thing we have, but our hard-earned dollars can be put to great use too! Use Charity Navigator to find a credible organization that is fighting to protect our Earth and consider giving a one-time or monthly donation to ensure these efforts continue.
Write a letter.
Although our daily, individual actions are crucial to decreasing our personal carbon footprint, government policy is so important if we are to hold businesses and organizations accountable for their contributions to climate change and continue to world together as global citizens to develop solutions for the problem. This is an opportunity to once again use your voice to affect policy change. Citizens' Climate Lobby makes it really easy for you to write to your Senators and Representatives, asking them to take action against climate change.
Make a commitment to be more mindful.
Much of living a conscious, eco-friendly lifestyle begins with your mindset. Many of us, without even thinking, take our Earth for granted and don't stop to appreciate it. This Earth Day, take a few minutes to express gratitude for our planet and how much it truly gives us! Stop and notice the geography around you – the mountains, the grass, the trees, the flowers. Without plants, we would suffocate. Without soil, we would starve. Without water, we would die of dehydration. Make a mental commitment to yourself to be more intentional about appreciating our planet, and you will inevitably seek to take better care of it.
As you can see, there are so many ways you can honor our Earth – not just on Earth Day, but every day! What will you be doing to celebrate and appreciate our planet this year?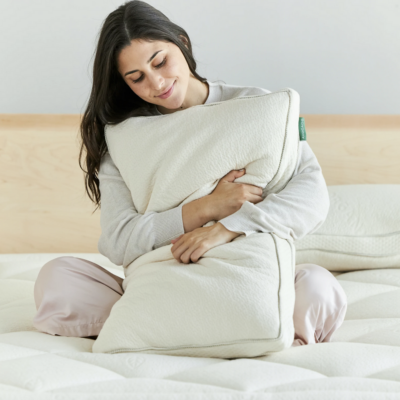 Shop Pillows
The Essential Organic Pillow Collection
Gentle, breathable, non-toxic support.
Buy Now