California continues to lead the way in effective climate change legislation. The state's newest laws target corporate emissions.
In early September, the California House and Senate passed two bills — SB 253 and SB 261 — to hold big businesses accountable for their contributions to climate change. Governor Gavin Newsom signed the bills on October 9, making them the first pieces of legislation in the U.S. to mandate emissions reporting.   
SB 253 requires companies that do business in California, and earn at least $1 billion annually, to report climate pollution across their supply and value chains, regardless of whether they are headquartered in the state. SB 261 requires companies with revenue over $500 million to report on their climate-related risks. In total, both bills will affect 15,300 companies.
Avocado is among the more than 30 companies, including Patagonia, REI, Microsoft, and Adobe, that endorsed both climate disclosure bills. For the past year, we've met with lawmakers to advocate for the legislation and added our name to sign on letters to voice our support publicly.
"We're proud to be one of 30 companies that endorsed both California climate disclosure bills recently signed by Governor Newsom," says John Davies, Sr. Director of Brand Editorial and Sustainability at Avocado. "As a Climate Neutral Certified company since 2019, we know that consistent, comparable, and reliable climate information at scale is an essential first step in the fight against climate change."
Read more: The Businesses Championing Climate Change Legislation
The importance of these bills is paramount to fighting climate change. Currently, the Securities and Exchange Commission's proposed emissions reporting rule only applies to publicly traded companies and doesn't require all of them to disclose Scope 3 emissions, which typically represent the largest share of a company's emissions.
Under the new laws, by 2026, mandatory reporting will include Scope 1 emissions — direct emissions from sources owned or controlled by the company — and Scope 2 emissions, indirect emissions from the generation of purchased energy like electricity, heat, and cooling. And by 2027, reporting will extend to Scope 3 emissions, or all other emissions a business generates, including raw materials, shipping, air travel, and other activities associated with the supply chain. Privately help companies will also be required provide Scope 3 emissions data.
Not only will California's climate disclosure legislation give consumers, investors, and other stakeholders a more transparent view into a business's climate impact — it represents a first step toward incentivizing corporations to reduce their impact and follow through on climate pledges. Climate advocates also hope the bills will have a trickle-down effect, because historically, when the world's fifth-largest economy acts, other states follow.
"In so many ways, California has been a leader in the nation and around the world by pioneering the bold climate and energy policies necessary to confront the climate crisis and capitalize on the massive economic opportunity in the clean energy transition," said Ceres President and CEO Mindy Lubber in a statement. "Now, the state is poised to set another leading standard to increase corporate transparency and help to mitigate financial and climate risk."
Read more: The Most Important Climate Legislation Ever
Have feedback on our story? Email [email protected] to let us know what you think!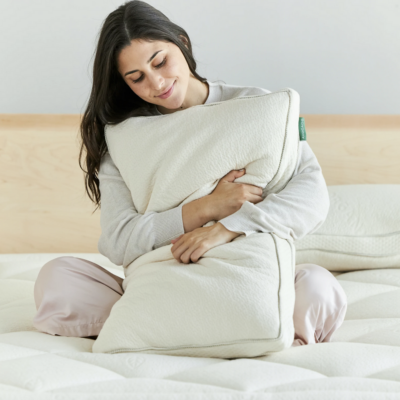 Shop Pillows
The Essential Organic Pillow Collection
Gentle, breathable, non-toxic support.
Buy Now