Butter? In coffee? Yep, it's a thing, and if you haven't tried it yet, it's time to throw away your preconceived notions about what a foamy latte is really made of and take a walk on the wild side.
Bulletproof coffee has become the common name for a beverage that actually had its beginnings with the company that coined the term. When Bulletproof Coffee started selling the buttery coffee concoctions in its California cafés, everyone got curious, and the idea spread like wildfire.
How Do You Make Bulletproof Coffee?
Bulletproof coffee, or buttered coffee, is very easy to make. All you need are a few basic ingredients, a French press or coffee dripper, and a high-powered blender. Here's a simple recipe to get you started.
Ingredients
– Freshly ground coffee
– Filtered water (about a cup)
– 1-2 tbsp grass fed butter or ghee
– 2 tbsp MCT or coconut oil
Flavor options
Spice things up a bit with a dash or three of any of these delicious and beneficial spices:
– Cinnamon
– Cloves
– Turmeric
– Cardamom
– A bit of honey or coconut sugar, if desired
Instructions:
Start by brewing a cup of coffee without a paper filter, so that you get all of the benefits of the oils in the coffee beans. Try an over-the-mug coffee dripper like this one, or use a French press.
Carefully pour your hot coffee into your blender, and add the remaining ingredients, including any sweeteners or spices you might like.
With your hand on the lid (hot beverages can sometimes force blender lids off), blend your concoction on high speed for 20-30 seconds, or until delightfully frothy.
Pour and enjoy.
Vegan? No need to compromise your dietary guidelines to enjoy a mug of bulletproof coffee! Just substitute full fat coconut milk for the grass fed butter and enjoy!
What is MCT Oil?
One thing that confounds a lot of bulletproof coffee newbies is this strange ingredient – MCT oil.
To understand it, and why it's somewhat interchangeable with coconut oil, we need a quick and painless lesson in chemistry.
MCT stands for medium chain triglycerides – a saturated fatty acid that does incredible things for brain function and focus. It's found in high amounts in coconut oil (about 62% of coconut oil is made up of MCTs), hence its interchangeability in bulletproof coffee recipes.
However, as any buttered coffee devotee will tell you, they're not the same thing, and coconut oil is actually lacking in some of the key MCTs that aid in weight loss and muscle-building. Coconut oil is a worthy substitute for those looking for a step up from their standard cup o' Joe, but if you want to feel the real magnificence of a bulletproof breakfast in a blender, spring for a bottle of MCT oil.
What's All the Fuss?
You have to wonder, why would a bunch of people jump on the bandwagon of blending butter into their coffee? Sounds pretty strange, right? There's actually some really solid science behind this health craze that has people ditching the most important meal of the day in favor of this stout cup of coffee.
The idea with bulletproof coffee is that it's not a companion to your breakfast, it is your breakfast. Instead of your morning eggs and toast, you take this bad boy on the go with you, and it sustains you well into your lunch hour.
Bulletproof coffee is touted for a number of health benefits, including:
Improved mental focus
Weight loss
Increased and sustained energy levels
No afternoon crash
In short, it's energy that revs up your brain, keeps you feeling full, and gives you the calories you need to power straight into your afternoon on nothing more than a cup of it.
Those in favor of ketogenic diets and intermittent fasting are particularly big fans because of bulletproof coffee's fat-burning magic and ability to keep hunger pains at bay until your next meal. Since there's no sugar, there's no spike in blood sugar, and no crash late morning. For this reason, "true" bulletproof coffee has no sweeteners in it.
Bulletproof coffee aficionados suggest using a brewing method without a paper filter so you can get all of those highly beneficial oils from the coffee beans that would otherwise be absorbed by the filter. Coffee bean oils are rich in antioxidants, which have been shown to fight free radical damage.
Sharper Focus, Reduced Appetite … Even Weight Loss
Bulletproof coffee seems like a miracle beverage in a mug, but the concept is simple – healthy fats sustain you, without the nasty sugar crash, and help to balance those caffeine jitters. The science backs up the claims, and sippers are singing its praises – buttered coffees, all around!
Have you tried bulletproof coffee? What did you think? Share your favorite recipe in the comments or tag us in your next cup on Facebook or Instagram with @avocadomattress.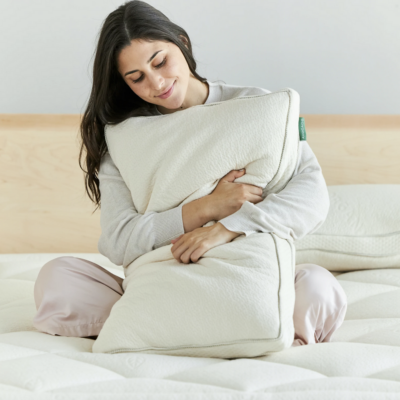 Shop Pillows
The Essential Organic Pillow Collection
Gentle, breathable, non-toxic support.
Buy Now