Brush, floss, rinse… by now, we should all be well aware of the important role oral hygiene plays in the health of our mouths. From teeth to gums, proper brushing and flossing keep bad breath and germs at bay… but did you know that maintaining a healthy mouth could lead to better health overall? It shouldn't come as much of a surprise, yet many people don't realize what a critical role oral health plays in our overall wellbeing.
The interconnected systems of our bodies are like a well-oiled machine, when everything is humming along and healthy, we can run, dance, leap and keep on trucking through life, but when that machine experiences a glitch, our happy, healthy systems can be put to the test. And because our mouths are a gateway of sorts to our bodies, our teeth, tongue, and gums act like the first line of defense against germs.
Like the rest of our bodies, our mouths contain both good and bad bacteria. The good bacteria, or probiotics, help break down food and protect gums against the bad stuff, which when left unchecked can quickly gain control. And the bad bacteria? When the bad bacteria grows out of control, it can lead to classic oral health issues like cavities, gingivitis, and bad breath, but, surprisingly, that bad bacteria can also contribute to issues like heart disease, diabetes, and even osteoporosis. Seriously.
The Good News
It's scary stuff, sure, but the good news is, supporting your body in defending against these dangerous conditions can be as easy as brushing and flossing properly and regularly. While there will always be some bad bacteria mixed with the good, creating a healthy oral hygiene routine is a simple way to keep bad bacteria in check and keep you out of the emergency dentist's chair.
The American Dental Association recommends brushing thoroughly with a soft-bristled toothbrush twice daily and flossing daily (as long as you're thorough it doesn't matter which one you do first), and following with mouthwash if desired. But of course, that's just the starting point. With new studies being done on the connection between oral health and full body health, a slew of new oral hygiene products have hit the shelves that promise a better brushing experience while being better for the planet. From timed toothbrushes to exfoliating floss, these products could make your daily brushing routine just a little more fun – and a little better for you and the planet, too. Read on to find some of our favorites!
Quip timed toothbrush
Many dentists recommend brushing your teeth for a full two minutes. Easy enough, right? But what if you brush too hard, or not long enough… or focus too much on one area of your mouth while ignoring another? Quip toothbrushes were created to address these concerns in a sleek and affordable way. With ultrasonic vibrations for a thorough clean and timed quadrants to ensure you're reaching all areas of your mouth, these streamlined electronic brushes do their job, and they do it well. Available at two price points with the option to auto-ship replacement brush heads every three months (the recommended replacement window for a regular toothbrush), Quip ensures you're never without a fresh brush for fresh, healthy teeth.
Cocofloss
We all know we should floss – but how many of us actually do it daily? Regular, daily flossing is integral to oral hygiene because it removes plaque and bacteria buildup from the hard-to-reach places your toothbrush can't get to. But actually, flossing can be a drag, thanks to ineffective floss that often breaks too easily. Enter Cocofloss. Made with coconut oil to soothe gums and vegan wax to easily slip between anyone's teeth, Cocofloss is more effective than regular floss thanks to microscopic filaments that grab grime and help slough it away. Kinda like a loofa for your mouth! In four fun flavors – the mint is all natural – this better-for-you floss could make even the most floss-averse want to start the habit.
Hello Toothpaste
View this post on Instagram
If you've ever questioned why most kinds of toothpaste are mint-flavored, you'll love the offerings from Hello. With flavors ranging from Charcoal + Dragon Fruit to Mojito to Blue Raspberry, this vegan and cruelty-free brand creates toothpaste that's not only fun to use – but free of dyes, artificial sweeteners/flavors, parabens, triclosan, microbeads, and gluten, too. Hello set out to make brushing your teeth fun again – and it's safe to say they succeeded with their friendly, approachable products that get the job done – no harsh chemicals in sight. In fact, they're so friendly, you can even Skype with the founder!
Dr. Brite Mouthwash
While mouthwash is an optional aspect of your oral care routine, it's hard to argue with that freshly rinsed and finished feeling that a good swish can give. But most mouthwash is highly astringent, packed with alcohol that kills off bacteria both good and bad. Not so with Dr. Brite! This alternative mouthwash harnesses the power of coconut oil and combines it with aloe and other cleansing ingredients to leave your mouth feeling fresh and healthy with your good bacteria intact and ready to defend against the bad guys. With flavors ranging from traditional Mint to spicy Coco Chai, there's a little something for everyone to smile about.
How are you brushing up on oral health? Share with us on social by tagging us @AvocadoMattress and #AvocadoGreenMagazine!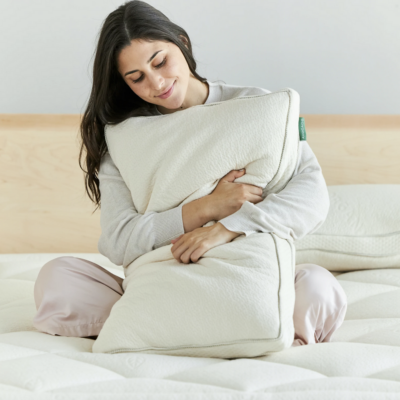 Shop Pillows
The Essential Organic Pillow Collection
Gentle, breathable, non-toxic support.
Buy Now