The Biden climate plan is ambitious. But it's not perfect. Here's a breakdown of the pros and cons.
It's not hyperbole to say that electing Joe Biden was the best possible thing that could have happened for climate change in recent memory. Policy matters! But so does specificity. How exactly does Biden plan to tackle environmental threats during his presidency?
His climate plan is certainly ambitious — and the most well-backed in history, with input from activists, politicians, and other stakeholders who pushed for more big-picture ideas than he'd initially introduced. It also aims to put more focus on racial justice and marginalized communities, often the first groups to suffer from the effects of climate change. And most of it sounds great, gaining praise from those who criticized his initial climate plan, like leaders of the Sunrise Movement.
Read more: Why Avocado Became a Carbon Negative Company
Of course, there are still sticking points, mainly to do with the simple fact that a plan is just a plan. So, it begs two questions: What strategies has his administration come up with to overcome hurdles to more progressive initiatives? And what are some of the weak spots to the overall proposal? Here's a breakdown of the positives and negatives of Biden's climate plan.
What's Already Been Done
Less than a week after the inauguration, Biden had already issued executive orders for a slew of climate-related actions, including rejoining the Paris Climate Agreement and pausing new oil and gas leases on public lands. He's also ordered a review of more than 100 environmental protection rules and regulations that the Trump administration undid or weakened. This is great news right now, and less-good-than-you-might-think news in the long term.
The reason it's pretty simple to quickly reverse a lot of Trump's damage is because he dismantled so many environmental protections using executive authority. That works just fine while any given president holds office, but can easily be reversed by their successor — as Biden is demonstrating right now. To enact lasting change, he'll need to pass laws through Congress and other legally binding actions in order to keep the next president from doing the same thing. Still, there are plenty of immediate victories Biden has already achieved.
His plan has made climate a central concern for areas of the federal government that haven't traditionally been asked to think about it — like national security. He also revoked the permit for the Keystone XL pipeline and reversed orders that sped up environmental reviews, reports on the potential environmental impacts that are required for any development project to move forward. Both of those actions alone cut off a lot of wrongdoing right away.
What Seems Promising
Some of Biden's most… promising… promises make good on important pillars of his climate plan and have fairly broad support — or a good chance of succeeding even without bipartisan backing. It finally addresses the fact that low-income communities and those made up predominantly of people of color are disproportionately affected by pollution (and often the effects of climate change). It promises to establish commissions to listen to fenceline communities — those situated near polluting sites — which is at least a step toward righting abuses by corporations that have been going on for decades.
The plan also makes good on one of Biden's central assertions, that fighting climate change can work in tandem with job creation. The means by which he'll make this happen is with the newly created Climate Conservation Corps. This program, modeled off the New Deal Civilian Conservation Corps, would put people to work in jobs related to biodiversity, recreation access, and carbon sequestration, among others. Associated departments will need to present a framework for mobilizing new workers within a brisk 90 days, but there seems to be little pushback as jobs and economic stimulus are needed more than ever.
Perhaps the most surprising initiative garnering out-spoken support is Biden's plan to invest heavily in electric vehicles, install 500,000 charging stations around the country, and implement stricter environmental regulations for automobile manufacturers. Of the three main emissions sources Biden plans to tackle, this will likely be the easiest. (Addressing power plants and methane leaks is a more complicated task.) That's because times are changing. Car manufacturers like GM are shifting away from gasoline-powered vehicles due to improved technology and increased pressure from climate activists and consumers for large corporations to be more responsible. In fact, a handful of years ago, the Obama administration attempted to pass similar regulations without much success, so momentum toward an industry-wide adoption of renewable energy is a huge win.
What Will Be More Difficult
Among the biggest challenges to an ambitious climate plan involve the impossible task of making everyone happy. Biden's push for a carbon-free power grid by 2035 is a prime example. It's clear that major adjustments to infrastructure are more necessary than ever. Case in point: the devastating shutdown of Texas's power grids during the February snowstorms, which highlighted the need for a more decentralized system. And as solar, wind, and battery sources get cheaper and cheaper, some studies show it's possible to make the switch on a fairly short timeline. But Biden faces an uphill battle in Congress as many Republicans have made a lot of noise about the cost of overhauling the grid — that's if they support the idea of a move toward renewables at all.
Although the president's climate plan pushes for adoption of cleaner energy sources, he's not keen on leaving people behind. He's openly recognized that overhauling the grid could potentially upend millions of jobs in extractive industries like coal and natural gas. So, he's promising to protect "the workers and communities who powered our industrial revolution," and has sought input from union representatives like the president of the American Federation of Labor and Congress of Industrial Organizations (AFL-CIO). Concerns from both parties still remain — one of which is compensation. For instance, the average yearly salary for a solar panel installer is about $45,000, according to the Bureau of Labor Statistics. Meanwhile, coal, oil, and gas workers can expect to bring in anywhere from $80,000 to $100,000 a year. That's a large gap to fill.
In the end, the Biden administration's ability to put check marks next to his proposed goals could come down to breaking logjams in Congress. In an effort to do just that, climate groups are pushing to abolish the filibuster, a rule that allows the now-minority Republican party to require Democrats to obtain a supermajority of 60 votes to pass anything in the Senate.
What's Not Ambitious Enough
Those who are thrilled to see the U.S. finally taking climate change seriously still feel more aggressive action is needed. The pause on oil and gas permits, for example, doesn't actually stop much drilling since it doesn't apply to existing productions or those located on federal land, which constitutes about a fifth of U.S. production. Killing the Keystone pipeline is great, but Indigenous organizers are still fighting lots of other pipeline projects, including Line 3 and the Dakota Access Pipeline — not to mention other extractive industries like the Oak Flat Mine.
There's also warranted skepticism about the plan's claim to make environmental justice a priority. The federal government's follow-through on such promises has a disappointing history. Biden's ability to make good will depend on a constant effort to diversify his administration and nitty gritty changes like making permitting processes and environmental reviews more inclusive. He'll also need to provide actionable processes behind his well-meaning but somewhat loosey-goosey goal to extend 40 percent of benefits from certain federal investments like clean energy to disadvantaged communities.
All in all, it's encouraging to see the leader of our country advocating for strong action against pollution, inequality, and the most devastating causes of climate change. And perhaps the most exciting part will be staying involved and continuing to hold those in power accountable to make sure real change happens.
Avocado is Climate Neutral Certified, a certified B Corp, and a proud member of 1% For the Planet. Have feedback on our story? We'd love to hear from you. Send us a message on Facebook or Instagram or email us at [email protected].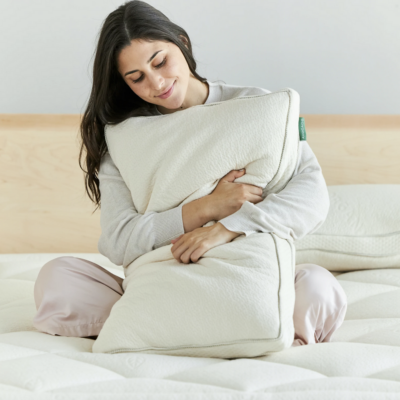 Shop Pillows
The Essential Organic Pillow Collection
Gentle, breathable, non-toxic support.
Buy Now